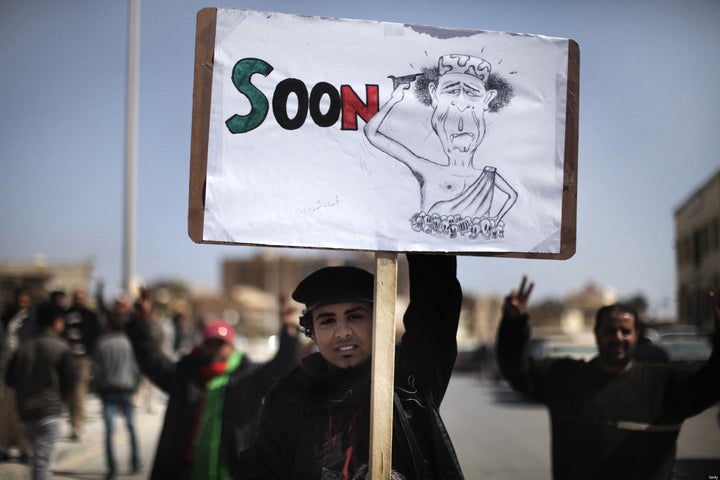 TRIPOLI, Libya - Moammar Gadhafi's regime passed out guns to civilian supporters, set up checkpoints and sent armed patrols roving the terrorized capital Saturday to put down a revolt in his main stronghold by residents inspired by the success of rebels elsewhere who hold about half of the North African nation.
SCROLL DOWN FOR LATEST UPDATES IN LIVE BLOG
Foreign journalists allowed into Tripoli for the first time since protests engulfed Libya saw the scars of rebellion: a burned police station with piles of ashes outside, walls covered with anti-Gadhafi graffiti and shattered glass and rocks in the streets.
On Friday, pro-Gadhafi militiamen -- including snipers -- fired on protesters trying to mount the first significant anti-government marches in days in Tripoli, residents said. The Libyan leader, speaking from the ramparts of a historic Tripoli fort, called on his supporters to prepare to defend the nation.
Outside the capital, rebels held a long swath of about half of Libya's 1,000-mile (1,600-kilometer) Mediterranean coastline where most of the population lives and even captured a brigadier general and a soldier as the Libyan army tried to retake an air base east of Tripoli. Several cities in the Gadhafi-held pocket of northwestern Libya around Tripoli also have fallen to the rebellion.
Militiamen and pro-Gadhafi troops were repelled when they launched attacks trying to take back opposition-held territory in Zawiya and Misrata in fighting that killed at least 30 people. The international community toughened its efforts to stop the bloodshed, with U.N. Secretary-General Ban Ki-moon saying some estimates indicate more than 1,000 people have been killed in less than two weeks since the protests broke out in Libya.
The U.N. Security Council met Saturday to consider sanctions to punish Gadhafi for violent attacks against anti-government protesters. The sanctions under consideration include an arms embargo and a travel ban and asset freeze directed at Gadhafi, his relatives and key regime members.
President Barack Obama signed an executive order Friday freezing assets held by Gadhafi and four of his children in the United States.
The Arab world's longest serving ruler has survived past international isolation, Western sanctions over links to terrorism and U.S. airstrikes. Now facing the biggest challenge to his 42-years as leader of the oil-rich nation, he cannot allow the rebellion to advance into Tripoli. But the capital was showing signs of the discord that has divided the country.
In Tripoli's Green Square, where state television has shown crowds of Gadhafi supporters in recent days, armed security men in blue uniforms were stationed around the plaza. Pro-Gadhafi billboards and posters were everywhere. A burned restaurant was the only sign of the unrest.
Supporters in about 50 cars covered with Gadhafi posters drove slowly around the square, waving green flags from the windows and honking horns. After nightfall, state TV showed only a few dozen pro-regime demonstrators.
Meanwhile, residents of Tripoli's eastern Tajoura district -- a site of demonstrations last week -- spread concrete blocks, large rocks and even chopped-down palm trees as makeshift barricades to prevent the SUVs and other large cars filled with young Gadhafi supporters wielding automatic weapons from entering their neighborhood.
Armed men in green armbands, along with uniformed security forces, checked those trying to enter the district, where graffiti that said "Gadhafi, you Jew," "Down with the dog," and "Tajoura is free" was still scrawled on walls. They turned away motorists who were then stopped at a second checkpoint by armed men in uniform. Those officers searched cars and checked IDs of drivers and passengers.
Despite the tense atmosphere, scores of people in the neighborhood turned out at a funeral for a 44-year-old man killed in clashes with pro-regime forces. Anwar Algadi was killed Friday, with the cause of death listed as "a live bullet to the head," according to his brother, Mohammed.
A law school graduate who lives in the Fashloum area said he had seen many people killed by snipers in recent days and he said the injured were being removed from hospitals by pro-Gadhafi forces. The Arada medical center, a modest clinic, had no patients. Standing at the hospital door were members of the governmental People's Committees, the local councils that run Libya.
In an interview broadcast Saturday on Al-Arabiya TV, Gadhafi's son, Seif al-Islam, denied the government had used any violence against protesters.
"The stories about the mercenaries are all lies. The stories about the strikes on neighborhoods are all lies. The numbers (of casualties) you hear are all lies," he said.
He dismissed the rebellion but also portrayed himself and his father's regime as reformers, saying they were willing to speak with citizens about freedom, democracy and constitutional issues.
"But this change has to be organized and not come through thuggery and terrorism," he said. In Tripoli, most residents stayed in their homes Saturday, terrified of bands of armed men at checkpoints and patrolling the city. In the Souq al-Jomaa and Fashloum districts, most stores were closed except for bakeries, where long lines formed. Several people had trucks that they were filling with food.
A 40-year-old business owner said he had seen Gadhafi supporters enter one of the regime's Revolutionary Committee headquarters Saturday and leave with arms. He said the regime is offering a car and money to any supporters bringing three people with them to join the effort. "Someone from the old revolutionary committees will go with them so they'll be four," the witness said when reached by telephone from Cairo. "They'll arm them to drive around the city and terrorize people."
Other residents said they saw trucks full of civilians with automatic rifles patrolling their neighborhoods. Many were young, even teenagers, and wore green arm bands or cloths on their heads to show their affiliation to the regime, residents said. All spoke on condition of anonymity for fear of reprisals.
"People are panicked, they are terrified. Few leave their house," the law school graduate said. "When it gets dark, you can't walk in the streets because anybody who walks is subject to be shot to death."
He said Gadhafi's use of force against protesters had turned him against the regime.
"We Libyans cannot hear that there were other Libyans killed and remain silent," he said. "Now everything he says is a lie."
Tripoli, home to about a third of Libya's population of 6 million, is the center of the eroding territory that Gadhafi still controls.
Taxi driver Nasser Mohammed, who had a picture of Gadhafi and a green flag on his car, praised the leader's speech on Friday night in which he promised cash payments to every Libyan.
Mohammed, 25, said each family will receive 500 Libyan dinars (about $400) after the start of the protests, plus the equivalent of about $100 credit for phone service. State TV said families also will be entitled to 60,000 Libyan dinars (about $49,000) in interest-free loans to buy apartments.
"Libyans don't want anyone but Gadhafi," he said.
In Misrata, a resident said the opposition was still in control. Libya's third-largest city, about 120 miles (200 kilometers) from the capital, was calm Saturday, with many shops open and a local committee running civic affairs.
But the opposition only held parts of the sprawling Misrata Air Base after Friday's attack by Gadhafi supporters, he added.
Troops used tanks against the rebels at the base and succeeded in retaking part of it in battles with residents and army units who had joined the uprising against Gadhafi, said a doctor and a resident wounded in the battle. The doctor said 25 people were killed in fighting at the base since Thursday.
The resident said pro-Gadhafi troops captured several members of the opposition Friday and now the two sides are talking about a possible swap since the opposition also captured a soldier and a brigadier general. Libyan state TV confirmed that an army Brig. Gen. Abu Bakr Ali was captured, although it said he was "kidnapped by terrorist gangs." The state-run news agency JANA also said regime opponents held the commander of the air defense's 2nd Division and several other officers.
An anti-Gadhafi fighter in Misrata said the rebels battled about 18 mercenaries dropped from a helicopter near an area called Mirbat, and three were captured while the rest fled. He said the rebels are planning to launch attacks from the eastern city of Benghazi in the direction of Sirte, Gadhafi's tribal home, and from Zawiya, Sibratha and Misrata toward Tripoli. Deputy commander of Libya's Special Forces, Maj. Gen. Khalifa al-Mismari told Al-Arabiya TV that he has joined the revolution against the Libyan leader adding that the people will soon march toward Tripoli and Gadhafi's compound.
"The people of Zawiya, Jabal Gharbi, Misrata, Bani Walid and Tarhouna are angry and they are marching toward Tripoli and Bab al-Aziziyah. God willing Libya will be victorious and free," he said from Benghazi.
State-run TV reported that the website of the JANA news agency was hacked. The opposition also held complete control of Sabratha, a town west of Tripoli famed for nearby ancient Roman ruins, with no police or any security forces associated with the Gadhafi regime, said Khalid Ahmed, a resident. He added that tribes were trying to organize a march on Tripoli, although a checkpoint outside the capital would stop anyone from entering.
"All of Libya is together," Ahmed said. "We are not far from toppling the regime."
Popular in the Community