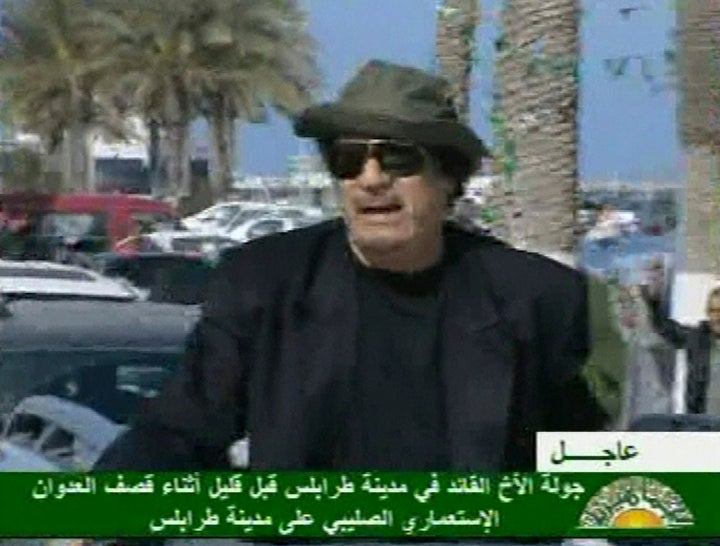 April 15, 2011 9:14:23 PM
TRIPOLI, April 15 (Reuters) - U.S. President Barack Obama acknowledged on Friday there was a "stalemate" on the ground in Libya, but said he still expected the three-week-old air campaign to succeed in ousting Muammar Gaddafi eventually.
Obama and the leaders of France and Britain earlier on Friday published a joint newspaper article pledging to continue the military campaign until Gaddafi leaves power, effectively making regime change the officially-stated aim of their air war.
More than a hundred government rockets crashed into Misrata on Friday, a second day of heavy bombardment of the city, the lone major bastion of the rebels in the western part of Libya. Rebels said government forces had reached the city's centre.
"I didn't expect that in three weeks, suddenly as a consequence of an air campaign, that Gaddafi would necessarily be gone," Obama said in an interview with the Associated Press.
He said the mission had succeeded in stopping large-scale civilian casualties, especially in the rebel-held city of Benghazi, and would eventually succeed in ousting Gaddafi.
"You now have a stalemate on the ground militarily, but Gaddafi is still getting squeezed in all kinds of other ways. He is running out of money, he is running out of supplies. The noose is tightening and he is becoming more and more isolated.
"My expectation is that if we continue to apply that pressure and continue to protect civilians, which NATO is doing very capably, then I think over the long term Gaddafi will go and we will be successful."
A rebel spokesman in Misrata said pro-Gaddafi forces had shelled both the centre and the road leading to the port, a lifeline for trapped civilians and the main entry point for international aid agencies, killing eight people on Friday.
"Today was very tough ... Gaddafi's forces entered Tripoli Street and Nakl al Theqeel road," he said by phone, referring to a main Misrata thoroughfare, scene of heavy clashes in recent weeks, and the road to the port.
"Witnesses said they saw pro-Gaddafi soldiers on foot in the city centre today. Except for snipers, they usually stay in their tanks and armoured vehicles," the spokesman added.
A government reconnaissance helicopter had flown over the city, he said, despite a no-fly zone mandated by the U.N. Security Council and enforced by NATO warplanes.
Hundreds are believed to have died in Misrata, under what Obama, British Prime Minister David Cameron and French President Nicolas Sarkozy described in their article as a "medieval siege as Gaddafi tries to strangle its population into submission".
"It is unthinkable that someone who has tried to massacre his own people can play a part in their future government," they wrote in the article, published on both sides of the Atlantic.
They acknowledged that their new goal of regime change went beyond the explicit terms of a U.N. Security Council resolution authorising force to protect civilians, but said Libyans would never be safe as long as Gaddafi remained in power.
The United States led the bombing campaign in its first week, but has since then taken a back seat, putting NATO in command with the British and French responsible for most strikes on Gaddafi's forces. Obama made clear Washington was not planning to resume to a more active military role.
"What we're doing is still providing jamming capacity, intelligence, refuelling, so we still have a lot of planes up there. We're just not the ones who are providing strikes on the ground for the most part," he said.
Britain and France have been trying to persuade other NATO allies to contribute more fire power. NATO ministers met for a second day on Friday in Berlin, where the divisions were clear.
British Foreign Secretary William Hague and NATO Secretary-General Anders Fogh Rasmussen voiced optimism that allies would supply more combat planes, but Italy immediately ruled out ordering its aircraft to open fire.
French Defence Minister Gerard Longuet said London and Paris wanted to extend strikes to Gaddafi's logistic installations to try to break a stalemate in the two-month civil war.
Russia attended the NATO meeting and said the alliance was going beyond the terms of the U.N. Security Council resolution. Russia abstained but did not veto the resolution in March.
On the fluid eastern Libyan front, rebels said Gaddafi forces advancing from the oil port of Brega had opened fire on the western outskirts of the insurgent-held town of Ajdabiyah on Friday, killing one of their fighters.
In the capital Tripoli, Reuters reporters heard intermittent gunfire on Friday evening. There was no immediate explanation.
Libyan state television said "the bombardment of the crusader and colonial agressors" had struck the al-Assah area, about 170 km (105 miles) west of the capital.
The rebels have begged for more air strikes to avert what they say is a potential massacre in Misrata.
A rescue ship carrying nearly 1,200 Asian and African migrants, many needing urgent medical attention after weeks with little food or water in Misrata, was expected in Benghazi.
U.S. Secretary of State Hillary Clinton said the NATO allies were searching for ways to provide funds to the rebels, including helping them to sell oil from areas they control.
"The opposition needs a lot of assistance, on the organisational side, on the humanitarian side, and on the military side," she said. (Additional reporting by Michael Georgy in Ajdabiyah, Richard Lough in Rabat, Hamid Ould Ahmed in Algiers, Joseph Nasr in Berlin, Erik Kirschbaum, David Brunnstrom, Adrian Croft in Berlin, Peter Graff in London and Frederik Dahl in Tunis; Writing by Peter Graff; editing by Elizabeth Fullerton)