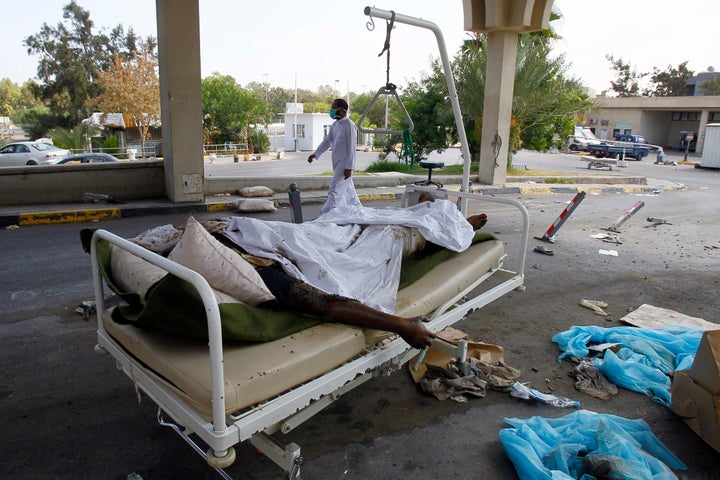 TRIPOLI, Libya (AP) -- Dozens of decomposing bodies were piled up Friday in an abandoned hospital in Tripoli, a grim testament to the chaos roiling the capital as Libyan rebels clash with forces still loyal to Moammar Gadhafi.
The four-story hospital was in the Abu Salim neighborhood, which has seen some of the heaviest fighting this week, although the facility was empty and it could not be determined when the men had been killed. The floors were covered with shattered glass and bloodstains, and medical equipment was strewn about.
One hospital room had 21 bodies lying on gurneys, while 20 others were in the hospital's courtyard next to the parking lot -- all of them darker skinned than most Libyans, covered with blankets. Gadhafi had recruited fighters from sub-Saharan Africa.
With Gadhafi still on the run and vowing to fight to the death, the rebels have struggled to take complete control of the Libya capital after sweeping into the city on Sunday. The fight in Abu Salim has been particularly bloody.
Bursts of gunfire were heard coming from an area near the neighborhood before daybreak Friday. Smoke rose from the area but a rebel at the scene early Friday said the fighting in Abu Salim had ended by nightfall Thursday.
Men believed to be Gadhafi supporters or fighters were left moaning and calling for water at a clinic attached to a fire station in Abu-Salim. Curious men from the neighborhood climbed stairs to look at the men, but none offered help. One of the wounded said he was from Niger and denied any links to Gadhafi. Asked why he was in Libya, he said, "I really don't know." He did not give his name.
Gadhafi had recruited fighters from sub-Saharan Africa, and many others are in Libya as migrant workers. In the turmoil since the rebellion broke out, migrant workers from southern Africa have been harassed.
Associated Press reporters flagged down a cab to take some of the wounded from the clinic to a hospital. The driver at first agreed, but men from the neighborhood intervened, saying the men would have to be interrogated before they could be moved.
The opposition's interim government, meanwhile, moved forward with efforts to establish political control despite the continuing violence.
The National Transitional Council announced it is moving from the country's second-largest city of Benghazi in the east to the Tripoli.
A minister in the rebel government said Gadhafi's capture is not a prerequisite for setting up a new administration in the capital.
"We can start rebuilding our country," Finance Minister Ali Tarhouni of the NTC told a news conference late Thursday. "He (Gadhafi) is the one who is basically in the sewer, moving from one sewer to another."
"I have a final message for everyone who is still carrying arms against the revolution," he said, "to let go of their arms and go back to their homes, and we promise not to take revenge against them."
Even with his regime in tatters, Gadhafi has tried to rally his followers to kill the rebels who waged war for six months to bring down Libya's ruler of 42 years.
"Don't leave Tripoli for the rats. Fight them, and kill them," Gadhafi said in a new audio message broadcast on Al-Ouroba TV, a Syria-based satellite station.
Outside Bab al-Aziziya, Gadhafi's main military compound that was captured on Tuesday, was another grim scene, one that suggested execution-style killings of civilians.
About two dozen bodies -- some with their hands bound by plastic ties and with bullet wounds to the head -- lay scattered on grassy lots in an area where Gadhafi sympathizers had camped out for months.
The identities of the dead were unclear, but they were in all likelihood activists who had set up an impromptu tent city in solidarity with Gadhafi in defiance of the NATO bombing campaign.
Five or six bodies were in a tent erected on a roundabout. One of the dead still had an IV in his arm, and another body was completely charred, his legs missing. The body of a doctor, in his green hospital gown, was found dumped in the canal.
It was unclear who was responsible for the killings.
Popular in the Community