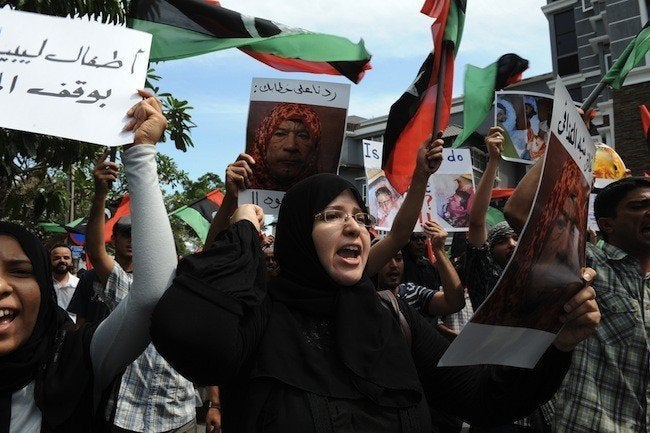 NEW YORK -- International outrage grew on Wednesday as reports of growing violence in Libya continued to proliferate, marking a growing crackdown by head of state Moammar Ghadafi.
The international community, including the United Nations Security Council, has begun publicly weighing potential intervention strategies. French President Nicolas Sarkozy called on European nations to suspend economic ties with Libya and pursue sanctions. Italy's foreign minister, Franco Frattini, said that estimates of more than 1,000 Libyans killed at the hands of security forces and government supporters "appear to be true."
Human Rights Watch told The Huffington Post that they had confirmed the deaths of 300 Libyan citizens, but stressed that the count was based solely on phone calls to doctors, hospitals and witness accounts compiled through Tuesday afternoon, before phone lines in Tripoli went down.
"It's certainly possible the higher estimates are correct," said Fred Abrahams, a special adviser at Human Rights Watch. "We've seen Gadhafi has been extremely violent, but it's getting more difficult to verify those numbers."
One of few humanitarian organizations currently operating in Libya, HRW can confirm a range of violent tactics used against protesters in eastern Libya and in the capital city of Tripoli, Abrahams said. "It is clear that security forces used gunfire against protesters, including high-caliber gunfire. There are very credible reports of helicopter attacks," he said, though he deemed reports of aerial bombings "unverified."
U.N. High Commissioner for Human Rights Navi Pillay addressed the possibility of imposing a no-fly zone on Wednesday, stating that if reports of aerial attacks are confirmed "I think there's an immediate need for that level of protection." But experts say a no-fly zone could do more harm than good. "There could be serious unintended consequences," Chip Pitts, a lecturer in human rights law at Stanford Law School, said in an interview with The Huffington Post. "Any foreign intervention will play into Gadhafi's hands because of the history of colonialism there."
HRW's Abrahams said such a move is "certainly not a cure-all," adding, "It could be problematic because foreign governments could claim to be doing something to stop the bloodshed when the fighting continues on the ground."
Besides sanctions and enhanced diplomatic pressure, international options include the seizure of the assets held by Libyan regime leaders abroad. But Pitts said it is unlikely these measures will have an immediate impact on the ground in Libya.
"At this point, Gadhafi is beyond reason, so those measures may not be worth pursuing with the expectation that they will save the lives immediately at risk," he said.
In a press briefing on Wednesday, U.S. State Department spokesman P.J. Crowley said the department is working with U.N. officials to decide on a response. "We're looking at a full range of tools and options," Crowley said, citing sanctions as one such possible answer.
Pitts, the human-rights law lecturer, wasn't optimistic. "Conservative estimates show a level of brutality that is unparalleled in the region," he said. "I have a high level of confidence that the situation in Libya is a catastrophe in the making."
REAL LIFE. REAL NEWS. REAL VOICES.
Help us tell more of the stories that matter from voices that too often remain unheard.