There is a feeling of intensity and anticipation in the air in Benghazi, a city in the northeast corner of Libya. There is enormous pride that last year's revolution started here; they were the first to stand up to Gaddafi. But people realize that there is much more work to be done. As is the case in many countries I've visited in my travels with the aid organization Mercy Corps, many women and young people are taking the lead.
Today, 14 months after the start of the war, and six months after the death of Gaddafi, they are still feeling the intense aftershocks. There is exhilaration, hope, and optimism. But they are also sobered by the heavy price they paid. As Dr. Hana El-Gallal, a human rights attorney, civilian leader of the revolution, and mother of two said to me, "Many of our brothers and fathers have been killed. They paid a heavy price for our freedom. We now have the responsibility to make that price worthwhile."
The entire population feels emancipated, but none more strongly than youth and women. I met with a group of young people in Benghazi at the Hamzat Wasl, a resource center established by Mercy Corps to help support and build skills and capacity in new civil society organizations. The center offers a badly needed place for groups to meet and network. Groups use the computer banks and attend trainings in strategic planning, communication, human resource development, and others.
The value of these services can't be overstated. Citizens groups are a new concept here, and they are desperate for resources. Under Gaddafi, people could not meet in groups or form associations. Over this past year they have formed a variety of civil society organizations - veteran support, youth leadership development, humanitarian aid, women's empowerment, etc. Dozens of new groups have come to the center for help, including a dozen or so new youth organizations.
This group of young people was irrepressible. Rawia Obide, a 30-year-old woman, had created "For Libya," a humanitarian aid organization. "Our energy has been released," she said. "Under Gaddafi, we had no voice, no opportunities. Now we feel that we can do anything. We can vote, we can organize, we can create our own organizations."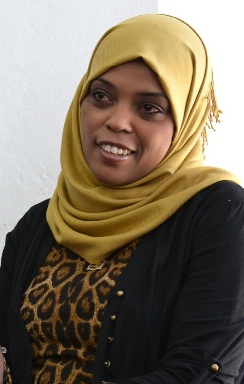 Ramadan Bader, a 27-year-old engineering student, said, "This feels like what democracy is. We are now free to talk and express ourselves." In fact, Ramadan Bader is running for a seat in the national assembly in the national elections in June. The group seemed almost in disbelief that this could be possible.
I asked the young women if they felt a big difference in their opportunities now. Rawia and the other women said that actually women always could work under Gaddafi. Jobs were open to them but people were not motivated. Everything was organized to support Gaddafi and his regime. Now they could create opportunities for themselves. "We are all excited now to become part of the new state."
Abdullah, an IT student whose role in the group, it seemed, was to make the others laugh, started to wave his hand to be heard, "Yes, women have changed, but this change for women is a problem! My girlfriend now only talks about politics, politics, politics. There is no more talk of love. There is no more talk of me!"
Yes, politics is in the air everywhere you go in Libya. Local elections in Benghazi will take place next month. National elections are scheduled for June. This is a moment of time in Libya's history where there is a feeling that anything is possible. But Libyans still need the world's support. Through August 2011, the month in which Gaddafi was overthown, the United States alone spent an estimated $1 billion in military and other support for the Libyan revolution. That support was critical, and the Libyans I met were wildly grateful for it.
But we should look at the overthrow of Gaddafi as a beginning, not an end, to one of the most promising political transitions since the fall of the Berlin Wall. Libyans are building a democratic society from the ground up, and that requires the world's engagement. Donor countries need to dig deeper than they are now and make investments in the future of Libya. That would be the right thing to do -- helping a heroic people finish the tough job we started together. It is also the smart thing to do, because a stable, democratic Libya would contribute significantly to a safer Middle East.
Libyans, for their part, are eager to get started. As Dr. Hana El-Gallal, the human rights lawyer and revolution activist, said, "The war was just the first step in our revolution. We will have to fight for independence, opportunity, transparency, democracy every step of the way. That is now our responsibility."
REAL LIFE. REAL NEWS. REAL VOICES.
Help us tell more of the stories that matter from voices that too often remain unheard.