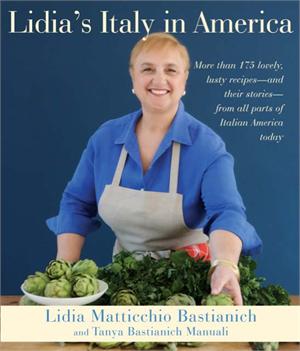 Lidia Bastianich is one of my personal heroes and, in a moment's notice, I would lead the campaign to make her our next Ambassador to Italy. (Mr. Obama, are you listening?) Nothing, of course, against our current Ambassador, but I can think of no one who is so recognizably respected. Lidia has all the makings: savvy business acumen, formidable intelligence, and the perfect demeanor fitting such a position. And I love the notion that political prowess may actually begin in the kitchen.
Lidia has introduced us, through her seven cookbooks, television shows, and as doyenne of a handful of Italian restaurants in America, to the complexities of Italy's culture and to the simplicity of Italy's authentic cuisine. For decades we have accompanied her on journeys across the culinary landscape of Italy and now, in her newest cookbook, Lidia takes us on a culinary exploration of Italian cooking in America.
And while you'd think there's nothing left to say about Italian-American food given the thousands of magazine articles and dozens of cookbooks that have scrubbed this particular gastronomical cupboard clean, nugget after nugget of good food and delectable ideas pop out of the recipes and stories lovingly told by Lidia and her daughter, Tanya Bastianich Manuali, in Lidia's Italy in America (Alfred A. Knopf).
Lidia Bastianich, who by most reckoning must be Our Lady of Italian Cooking, traveled the country, revisiting places where Italian immigrants originally settled and where, even today, there's great resonance. From Arthur Avenue in the Bronx to San Francisco and California wine country, with stopovers in robust Italian enclaves like New Orleans (think muffuletta sandwich), Philadelphia, Federal Hill in Providence, Chicago (think chicken Vesuvio), Baltimore and Boston, she adds places and faces to what certainly is America's favorite "foreign" cuisine.
I put the word "foreign" in quotes because, by and large, we eat domesticated versions of true Italian food here and in many cases we eat Italian dishes that never existed in the old country. Many of the dishes -- spaghetti and meatballs and veal parmigiano --were invented here by immigrants who made good and creative use of products then available to them.
Most of the time-worn dishes in this book no longer appear on menus of trendy, upscale Italian restaurants. After all, when was the last time you went out for lasagna or veal marsala or chicken tetrazzini? -- dishes that have been co-opted by the likes of Olive Garden. So you won't find sea urchins or burrata or guanciale or lardo here. You will find perfectly clear recipes of all your old favorites along with some interesting twists.
She notes that, contrary to most recipes in Italian-American cookbooks, the steak in bistecca pizzaiola should be cooked separately from the sauce so that both retain their distinct identities; most recipes have the meat simmered in the sauce. She has the same advice for those old standbys, sausage and peppers and veal marsala: cook the meats separately from the vegetables, then toss together at the very last moment.
Lidia theorizes that pasta alla puttanesca soared to popularity here in the 1970s because authentic Italian ingredients such as cured olives and cured capers were just becoming available, so the dish delivered what she calls a "wallop of flavor" that keeps people making it right up to today. She discovers that in Sicily they make pesto with pistachios instead of pine nuts, and notes that 98% of pistachios eaten in the United States come from California. And she explains that even though Thomas Jefferson had a macaroni-making machine and served his baked pasta doused with cheese, maccheroni al formaggio also has an Italian rendition, hers with sage, grated fontina, cheddar and parmesan cheese.
Hamburger fans ought to try Veal Hamburger Parmigiano as made in Rigazzi's restaurant in St. Louis (that's how they spell it), a breaded and fried patty made with ground veal and parmesan cheese and served in an Italian roll with marinara sauce and mozzarella. From Roberto's in the Bronx, she offer braised chicken breast with prosciutto and smoked provola.
Although they're authoritative, many of these recipes are nostalgic because they require an ingredient many of us no longer have: time -- time to make and fill ravioli with sausage and ricotta, or to assemble the various components of a first-rate lasagna, or to pound thin, stuff, roll and braise braciole. Where are our grandmothers now that we need them again?
There's one very up-to-date recipe for brined turkey breast, from the New York restaurant Torrisi Italian Specialties, in which the bird is cooked very slowly in a quasi-sous vide plastic pouch, then smeared with a fabulous paste of garlic, oil, honey and vinegar and broiled until the skin crisps.
I asked Lidia which recipes best represent the Italian-American kitchen. She chose Fried Marinated Artichokes, Clams Casino, Penne Rigate in Vodka Sauce, Spaghetti with Meatballs, Chicken Cacciatore, Sausage and Peppers, and Almond Pine Nut Cookies as the "stellar expressions."
I'm up for any of these dishes -- or for her voluptuous eggplant parmigiana -- next time Lidia plans to spend an afternoon at the stove.
The soulful pictures of Italian-American chefs, cooks, fishermen and butchers are almost worth the price of this lovely book. Ambassador Bastianich has a nice ring.
Rozanne Gold, award-winning chef and author of "Eat Fresh Food: Awesome Recipes for Teen Chefs"; "Healthy 1-2-3," and "Radically Simple."
Rozanne can be found on Facebook at www.facebook.com/RozanneGold.

Calling all HuffPost superfans!
Sign up for membership to become a founding member and help shape HuffPost's next chapter