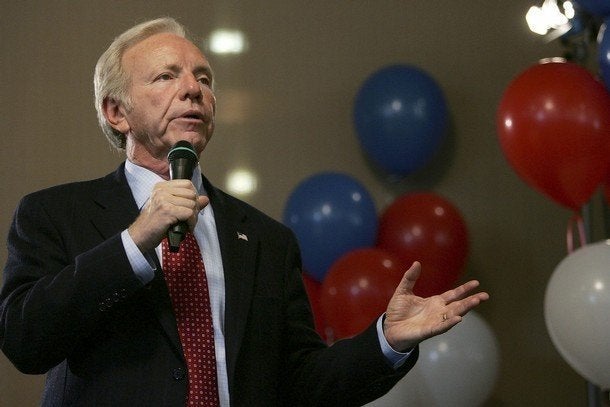 Fresh off his successful effort to keep his seat atop the Homeland Security and Governmental Affairs Committee -- in which he was often accused of being an absentee chair -- Sen. Joe Lieberman is now going after the Bush administration.
In a letter to the Office of Personnel Management, the Connecticut Independent demanded information about the outgoing president's "eleventh-hour transfers of political appointees to career government positions."
"At the end of each Administration, there are always concerns that political appointees may improperly convert to career positions," writes Lieberman. "The Office of Personnel Management (OPM) recently provided a briefing to Committee staff on the process of converting Executive Branch employees from non-career to career positions, often referred to as 'burrowing in.' While I appreciated the information provided at the briefing, I am requesting additional information to ensure that every request to burrow in is transparent, fair and equitable, and free from political influence."
The move by Lieberman comes weeks after a small portion of the Democratic Caucus voted have him removed from his post atop the committee. Their critique was directed primarily at Lieberman's advocacy on behalf of Sen. John McCain during the general election. But many critics of the Connecticut Senator also point out that as head of Homeland Security and Governmental Affairs, Lieberman had done next to nothing (save air concerns about the response to Katrina) to investigate the Bush administrations misuse of power -- something the committee is tasked with doing.
As such, there is a certain irony to Lieberman asking probing questions after his political hide was saved in a closed-door caucus vote. Either he got the message, or he has a growing interest in ensuring that the Bush administration's influence ends when the president leaves office.
The full letter is below.
The Honorable Michael Hager
Acting Director - U.S. Office of Personnel Management
1900 E Street NW
Washington, DC 20415

Dear Acting Director Hager:

At the end of each Administration, there are always concerns that political appointees may improperly convert to career positions. The Office of Personnel Management (OPM) recently provided a briefing to Committee staff on the process of converting Executive Branch employees from non-career to career positions, often referred to as "burrowing in." While I appreciated the information provided at the briefing, I am requesting additional information to ensure that every request to burrow in is transparent, fair and equitable, and free from political influence.

In March 2008, former OPM Director Linda Springer sent a memorandum to heads of department and agencies regarding the conversion process during the 2008 Presidential Election Period. According to the memorandum, OPM requires each agency to submit documentation for each selectee that includes the selectee's agency, current position, and proposed position. I request that OPM provide the Committee with the following information for the period of April 1, 2008 through the current date:

· for each agency, the number of completed requests for conversions from non-career to career positions, the number of requests that have been approved by OPM, the number of requests that have been denied by OPM, and the number of requests that have been withdrawn by the requesting agency;

· the date that OPM received each pre-appointment review request and the date that OPM completed the request for each selectee;

· any forms and documentation that provide an explanation of OPM's review of each appointee's pre-appointment review for conversion, including the individual's name, non-career position and proposed career position; and

· the number of staff responsible for reviewing and approving the pre-appointment requests for fiscal years 2005 through 2009.

If you have any questions, please contact Kenya Wiley on my staff at (202) 224-2627. Please contact Kenya Wiley to discuss how OPM will provide the requested information to the Committee. Please provide the requested information by Friday, January 9, 2009. Thank you for your assistance with this request.

Sincerely,
Joseph I. Lieberman
Chairman
Popular in the Community