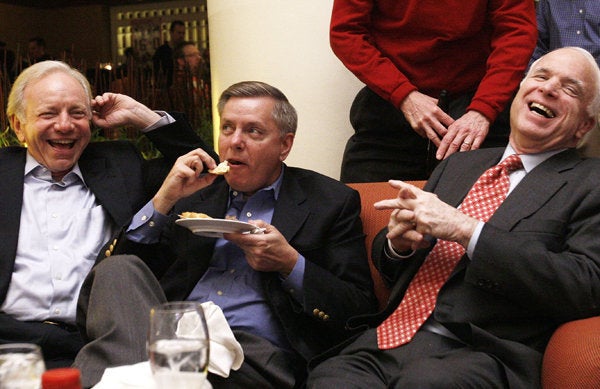 Two of Sen. John McCain's top campaign chairmen are serving on the board of an independent organization that is behind a new attack ad against Sen. Barack Obama, an apparent violation of the Arizona Republican's new conflict of interest policy.
A week ago these titles may not have been a political issue. But under McCain's newly-implemented ethics policy, Lieberman and Graham's role with Vets for Freedom is now proving problematic.
According to the policy: "No person with a McCain Campaign title or position may participate in a 527 or other independent entity that makes public communications that support or oppose any presidential candidate."
On Friday, Vets for Freedom, an independent group, did just that. In a commercial released on its website, the organization directly took on Obama over his willingness to negotiate with Iranian leadership.
"Obama wasn't available to meet with us [combat veterans]," Sgt. Garrett Anderson (Ret.) of Illinois' Army National Guard says to the camera. "But we weren't surprised. Because he hasn't once, sat down one-on-one with our in Iraq, Gen. Petraeus. Worse, he hasn't been to Iraq in two-and-a-half years. He's unwilling to get the facts on Iraq, yet he is willing to travel to Iran to meet with their leader or anyone else who hates our country... The question for America is, if Barack Obama won't listen to us, who will he listen to?"
Officials with the McCain campaign did not immediately return request for comment as to whether or not Lieberman and Graham's positions violated the campaign's new policy or, at the very least, the spirit of it.
In addition to the two senators, McCain's foreign policy adviser Max Boot also sits on the group's board.
Pete Hegseth, the executive director for Vets for Freedom, said that far from being campaign-motivated, the advertisement was an issue-based criticism of Obama's stance on the war.
"We are a one issue group, we want to win in Iraq and Afghanistan," he said. "If Sen. Obama was willing to come out and say hey, we want to be successful and the counter-insurgency strategy is working,' we wouldn't have an issue with him. We are not in this to elect a Republican or Democrat. We have been bipartisan from the beginning."
In the current president campaign, this has been true. Vets for Freedom's Political Action Committee, which was responsible for the advertisement, has endorsed several congressional candidates (all Republicans) but not McCain. The organization, moreover is officially non-partisan. However, the ties between the group and the Arizona Republican are extensive.
McCain famously appeared at a Vets for Freedom rally where the group's founder and current House candidate David Bellavia said of Obama, "You can have your Tiger Woods. We've got Senator McCain."
Moreover, at least two members of the group are listed, with their Vets for Freedom titles, as part of McCain's Virginia leadership team. One of them, Captain Wade Zirkle, also serves on the group Veterans For McCain. The other, Hegseth, says his inclusion on the Virginia list is an error.
"I've never lived in Virginia," he said. "This is a mistake."
In addition, Hegseth said that the advertisement was created out of the group's own volition to highlight Obama's position on war policy.
The McCain campaign's new ethics rules, which were designed to preempt the impression of conflicts of interest or campaign-originated dirty politics, has already claimed several victims. Craig Shirley, an influential Republican operative and McCain adviser resigned after it was revealed that he was working for the 527 Stop Her Now -- an organization that was initially dedicated to taking on Sen. Hillary Clinton but had turned its sights on Obama. Other aides have been forced to resign due to lobbying ties.
Calls to the offices of Lieberman and Graham, which are on recess schedule, were not answered.
Popular in the Community