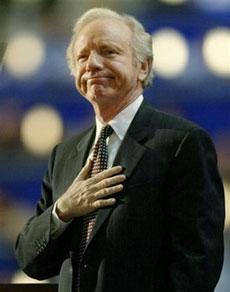 Joe Lieberman (I-CT), who chairs the Senate committee responsible for government oversight, says he has no plans to investigate Blackwater and other Iraq war contractors accused of potentially criminal wrongdoing. Roll Call reports (sub req'd):
Though Lieberman said he gets "angry when I hear about fraud or corruption in the spending of American dollars," he said he in part chooses what to have hearings on by "watching who else is doing what," noting that [House oversight chairman Henry] Waxman has held several hearings on Iraq oversight, as have the Senate Armed Services and Foreign Relations committees.

"You've got to set your own priorities, and it was clear to me that other committees were going to pick this up," said Lieberman.
Roll Call notes that on the day Iraq revoked Blackwater's license after the shooting of 17 civilians, Waxman immediately announced hearings on private security contractors. Lieberman "announced two firefighting grants for the towns of Bolton and Willington in his home state."
Lieberman has held only one hearing all year on "reconstruction challenges in both Iraq and Afghanistan," compared to eight hearings on Iraq and contracting abuses in the House.
Popular in the Community