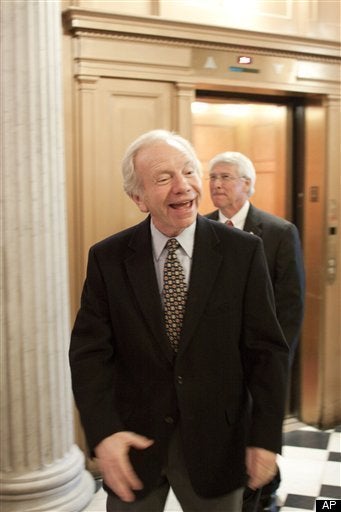 Joe Lieberman has forced his will on the Senate Democratic caucus and the nation as a whole. After the party reached a compromise last week to effectively drop the public option in exchange for allowing 55- to 64-year-olds to buy into Medicare, that compromise is now in doubt.
Lieberman, an independent from Connecticut, told Majority Leader Harry Reid (D-Nev.) on Sunday that he will block any bill that includes the buy-in. As the 60th vote needed to overcome a Republican filibuster, he can do that.
Following a caucus-wide meeting Monday evening, the measure was all but scuttled.
"It's looking like that's the case. I can't guarantee it. At this point, at this stage, that seemed to be the case," acknowledged Finance Committee Chairman Max Baucus (D-Mont.). Asked why it had been dropped, he said, "I didn't confirm that now. It's just a matter of getting support from 60 senators."
No. 60 himself emerged from the meeting looking at ease and spoke with reporters at length. He was asked if he'd been given a specific assurance from Reid that the Medicare provision was out. "Not an explicit assurance, no," he said.
"The more I understood about what they were trying to do, the less I liked it," he said. Lieberman's opposition to the Medicare compromise is not rooted in principle; he is a longtime supporter of just such an expansion and spoke in favor of it just three months ago. "This alternative was being constructed in a way that [created a] self-sustaining pool, separate from Medicare. It would have been extremely expensive," Lieberman said, although his opposition to the proposal came before the Congressional Budget Office could estimate its costs.
"I think it would have been more expensive than the subsidies would be, and that's the key," he said. The bill already offers "very generous" subsidies, Lieberman said, adding, "I thought I made myself clear all along."
Lieberman claimed to have company. "I wasn't the only one in the Democratic Caucus who was either concerned or opposed to the Medicare buy-in. There were many," he said. "Trust me, it's not just me."
A reporter noted that Lieberman is the only one who said he would filibuster. "Well, I'm more outspoken, for some reason, than the rest," he said. "I want to be for the bill, I want to be for health care reform. I've worked for it for years here."
Reid told reporters the bill would be "pro-consumer, pro-reform," but didn't mention the Medicare buy-in.
Sen. Chris Dodd (D-Conn.), who shepherded the bill through the health committee earlier this year in the stead of an ailing Ted Kennedy, emphasized the positive, as well. "It's always easier to envision the legislation that you want, than to pass the legislation that you need," said Dodd.
"Whatever differences exist within the Unites States Senate, those differences will pale by comparison to the differences we can make to the American public by the passage of major health care reform," he said.
Dodd predicted the bill would pass quickly. "I will tell you this tonight, without going in to the details: Before we leave here, in the next couple of weeks or less, we are going to pass national health insurance reform for all Americans," he said.
Dragging the party away from the core principles of its base carries with it the risk losing votes from the progressive end of the caucus. But several of those members emerged from the meeting open to supporting Lieberman's bill.
"There's going to be a good bill," said Sen. Sherrod Brown (D-Ohio). "I want to see health care reform. I want to see health care reform."
Sen. Jay Rockefeller (D-W.Va.) has been an outspoken supporter of the public option and a strong backer of the Medicare compromise, which Lieberman unilaterally rejected. Rockefeller, however, said he is open to the new bill.
"It's a question of 'can you govern?' Can you just simply fail to govern because you couldn't get everything you wanted so you just opt out of it. And then there's no bill. And that is not why we're here. We're here to make progress," he said.
Baucus was upbeat about the bill. "This is exciting. I hope you feel as excited as I do. This is a big deal. I mean, really, we all tend to focus on process and we tend to focus on individual provisions, which is really very important," he said. "But it's just huge for our country. This is going to be the biggest legislative effort that I've ever been involved in. And it's going to mean more to more people, I think, than anything I've been involved in."
A reporter asked whether the public option had been ditched. "What you read is not too far from the truth. What you've been reporting is not to far from the truth," he said.
Several senators said that a Medicaid expansion to up to 150 percent of the federal poverty line is still on the table, but will depend on the CBO.
And, of course, on Joe Lieberman.
The man who dictates legislation in the United States said he may have a few more things to object to in the bill before it's all said and done.
"I want to take a look at these proposals before I sign on," he said.
One thing he wouldn't tolerate were questions about his wife's longtime connection to the health care industry, and whether she should keep her position with a breast-cancer advocacy organization.
"I just think that's over the edge and offensive to me. My wife is a private citizen and she's working for a movement that aims at reducing or finding a cure for breast cancer," he said. "It's just deeply offensive to me."
With reporting by Jeff Muskus

Popular in the Community