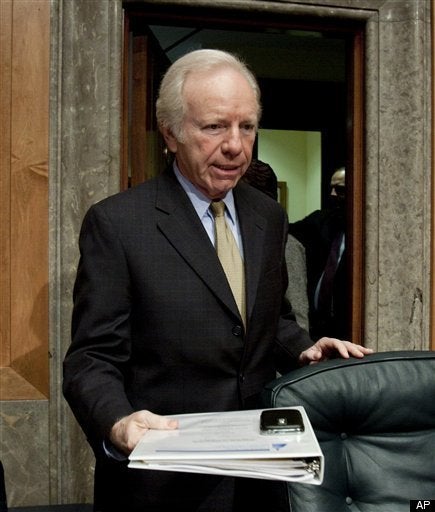 Senator Joe Lieberman (I-Conn.) insists that the White House did not pressure him to get in line behind either a public health insurance option or a Medicare buy-in compromise during the health care debate this year.
"Well, no. I think I got pressure from the president to be for health care reform," Lieberman said when asked by HuffPost about any pressure from the administration to support either the public option or the Medicare buy-in. "I'd have to think about this, but I didn't really have direct input from the White House on this."
He added that Nancy-Ann DeParle, a top administration health care aide, downplayed the public option's significance early in the debate.
"Early on, Nancy-Ann DeParle came in, I told her my argument, I said, 'Nancy, I don't remember this ever being in the presidential campaign debates -- or discussions. I don't mean just the debates. And she said, 'You know, it's interesting. We went back and checked and there's one mention in the bottom of a paragraph of an Obama presidential policy statement on health care where it's mentioned as an option.' But most of the negotiation I had on that was with Senator Reid."
When Obama addressed the Democratic caucus towards the end of the debate, as the public option was teetering on the brink, Lieberman said the president told him simply to work it out.
"When he came to the caucus he said, 'Just try to work this out as you get to the end here.' And I said, 'OK,'" explained Lieberman.
On Sunday, Sen. Russ Feingold (D-Wisc.), blamed the administration's decision not to push for the public option for its eventual demise. "Unfortunately, the lack of support from the administration made keeping the public option in the bill an uphill struggle," he said.
One of the first times that the White House was closely involved in public option or Medicare buy-in negotiations was two Sundays ago, when Lieberman told Reid he would filibuster the buy-in compromise, Lieberman explained.
"Most of my dealings were with Senator Reid until the very end, that Sunday, when I went in to his office and Rahm Emanuel was there," said Lieberman. Rahm, said Lieberman, "was relatively quiet."
Reid and Emanuel met privately before Lieberman arrived at Reid's office; HuffPost previously reported that sources familiar with the meeting said that Emanuel pressured Reid to drop the Medicare buy-in. Regardless of whose decision it was, by the time Lieberman got to Reid's office, Reid was ready to drop the Medicare compromise, said Lieberman.
"The truth is that the meeting was really run by Senator Reid. And at that point he was basically trying to put it together and he said, 'I hear you. I understand you don't want the public option, which is out, and now you don't want to expand Medicare. I understand your reasons. I don't agree with them. We've got to get to 60. And so we'll take them out,'" Lieberman recalled.
"Most of our active discussion that day was about this OPM [Office of Personnel Management] national private plan idea, because I wanted to make sure there wasn't any sort of fall-back public option in there, which had been in an earlier iteration, and he promised me there wouldn't be."
Emanuel didn't weigh in much on the Medicare compromise, said Lieberman. "He was relatively quiet. He asked a few questions about the national private plan discussion," he said.
Ultimately, said Lieberman, the president wasn't attached to the public option and repeatedly made clear that it was simply a preference.
"Personally, I feel that the bill does what the president set out as his goals: contain costs, expand coverage to some of the millions of people who don't have it now and regulate insurance companies so they treat consumers and patients more fairly. And I remember the president, in his address to Congress earlier this year, said 'I prefer the public option but what I'm really interested in is my goals. If you can achieve my goals in health care reform without a public option, then that's fine with me.' And I think that's what this bill does," said Lieberman.
UPDATE: Reader Bluesue points out that if Lieberman's correct that DeParle searched campaign documents for reference to a public option, she didn't do a very thorough job. The public option -- referred to in the campaign's platform as a "new public plan" -- is mentioned throughout the campaign's health care literature. (PDF)
Popular in the Community