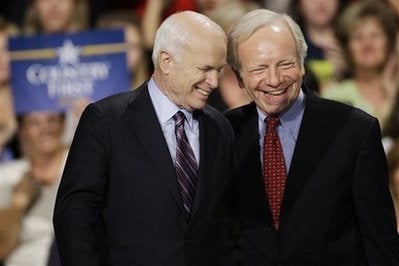 Asked again on Sunday whether Sarah Palin is ready to be president, Sen. Joe Lieberman went one step further than he has in past remarks -- virtually pledging to voters that John McCain "will live to 85 at least."
In an audio clip of the Tampa, Florida, event obtained by the Huffington Post, Lieberman acknowledged that he has spoken "to doctors and insurance actuaries" about McCain's health, "because I get asked this question so much."
"People say to me, oh jeez, he's 72 and he's got skin cancer," Lieberman said, adding: "I can tell you he's been in remission for eight years. Secondly, I talked -- because I get asked this question so much -- I talked to doctors and insurance actuaries. And they tell me based on McCain's age, his health, including skin cancer, he'll live till at least 85. And probably longer."
Lieberman once again offered a prayer that Palin would not soon have to serve as commander in chief: "I believe that he'll be able to serve through his first term for which he's elected, please God."
Next, Lieberman noted that the GOP nominee has a 96 year old mother, and proceeded to relate a story in which he said she looked great, and she asked Lieberman if he was "trying to pick [her] up."
The source audio from the event is a bit scratchy, but clear enough.
An MIT study found that the 72 year old McCain would have just over a 5 percent chance of dying in his first term. Separately, the AP put the odds at 1 in 4 that McCain might die during an ostensible second term.
While talking with a reporter last week, Lieberman answered a similar question about Palin's readiness to serve as commander in chief by saying "thank God she's not going to have to be president from day one. McCain's going to be alive and well." Elsewhere in that interview, however, the Democrat-turned-independent said Palin could be ready to take over "if, God forbid, an accident occurs or something of that kind" struck McCain.
Popular in the Community