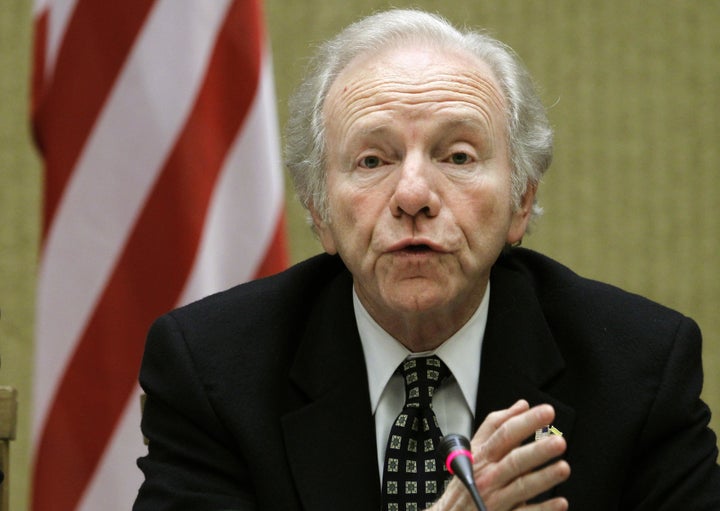 WASHINGTON -- Sen. Joseph Lieberman (I-Conn.), chair of the Senate's Homeland Security and Governmental Affairs Committee, said on Tuesday that Senate Democrats were likely to agree to an extension of controversial provisions in the Patriot Act, but only for a matter of months.
The Connecticut Independent, relaying talks that had occurred moments earlier in a caucus meeting among Democrats, said that discussion had centered around keeping the law in place "until May." [UPDATE: On Tuesday evening, the Senate approved a three-month extension of the bill by an 86-12 vote.]
"Then there will be a full-fledged debate on it," Lieberman told the Huffington Post. "That was what is discussed and that is okay with me. I support the Patriot Act as is. I think these three provisions are very sensible. There is no record that they have compromised everybody's rights but there is a record that they have helped protect our homeland security."
A three-month extension of the law, which grants wide powers to the federal government to survey potential terrorist threats, would reflect a scaling back of ambition on the part of the legislation's boosters, but fall short of pleasing those who view the law as a violation of civil liberties.
Sen. Patrick Leahy (D-Vt.) had been pushing a bill to extend provisions to 2013 with additional congressional oversight, while Sen. Dianne Feinstein (D-Calif.) was pushing for a three-year extension of the provisions without any modification. Senate Republicans, meanwhile, had called for the law to be made permanent. On Monday, after beating back objections from their Tea Party faction, House Republicans passed a nine-month extension of their own, allowing for the government to continue using roving wiretaps, national security letters, and the "lone wolf" provision that allows for suspected targets to be monitored even if they have no known affiliation with a recognized terrorist group.
Asked if the Senate, by pushing debate off for three months, was merely kicking the can down the road, Lieberman noted that can-kicking was "the metaphor for the week." Still, even the temporary solution pleased the senator.
"There are some ongoing investigations that really require some of the authorities that are in the Patriot Act, and if the Act expires on February 28, that would seriously compromise critical national security and homeland security investigations," he said. "So it's not the best result, but it is not a bad result to extend it a couple of months and then have time to debate it."
UPDATE: A senior Democratic aide said that both party leaderships are on board a temporary extension.
"We hot-lined a Reid-McConnell substitute amendment with a three-month extension (until May 27, 2011)," the aide emails. "If we pass this by Unanimous Consent then we may spend a week on the floor later this year debating/voting without jamming it up to election next year."
Popular in the Community