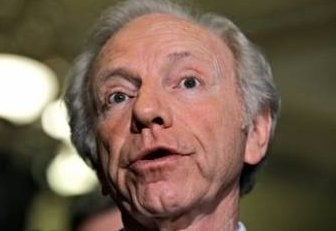 Sen. Ben Nelson spent the last two weeks either surrounded by reporters or huddled with centrist members of both parties, hashing out a deal to move the president's stimulus through the chamber.
On the way to the most critical of those meetings last Friday evening, a scrum formed around him. The Democratic caucus was ready to meet White House Chief of Staff Rahm Emanuel and debate the plan Nelson and Maine Republican Susan Collins had hammered out. Nelson, a Democrat from Nebraska, stopped to answer questions and looked to be settling in for an extended back and forth with the press.
Joe Lieberman wasn't having it.
"Let's go," he hollered from behind Nelson, pushing the pair through the scrum. "We've gotta get in there and get it done."
While national attention has been heaped on Collins and Nelson, the hidden story of the stimulus negotiations is the role played by Lieberman - a man only weeks removed from a vote that could have cast him out of the Democratic caucus.
The successful passage of the stimulus began with Obama's decision to pardon Lieberman for the sin of campaigning for Sen. John McCain (R-Ariz.) during the presidential election.
Lieberman initially stayed at the edge of negotiations, but as they dragged on, he inserted himself more forcefully, leveraging the close relationships he has with Republicans - after all, they asked him to join them - to peel away a few crucial votes.
"He does have a solid relationship" with Republicans, said Nelson. "He's been here quite a long time, so he and Senator Specter have been here together the longest of the group."
Campaigning for the other party's candidates can be quite a help when the election is over. "I think he has campaigned for a couple of the others, as well, so they obviously have a relationship and that's been helpful," said Nelson.
"Joe's longtime good relationship with Arlen Specter helped considerably," said Sen. Mary Landrieu (D-La.), who was in on the centrist meetings.
"He was important," said Sen. Specter, who, along with Collins and her fellow Maine Republican Olympia Snowe, broke ranks to join the Democrats. "But the critical talks occurred between Senator Reid, Senator Collins and, for awhile, Senator Voinovich. Those were the principal discussions."
Majority Leader Harry Reid spokesman Jim Manley said that Lieberman "played a crucial role in keeping this all together."
Lieberman is a liberal when it comes to fiscal policy and his vote was never in doubt. He attended the meetings as an observer at first, he said, but then saw the talks begin to fall apart and took a more assertive role.
In describing it, he was careful to give credit to Nelson and Collins. "Ben Nelson took the initiative here; I was very glad he did," said Lieberman. "Susan Collins, with him, took a lot of guts and they were leading."
But Lieberman confirmed the account told to the Huffington Post: that he only stepped up his involvement when the talks were ebbing. "I went to all the meetings and then I kind of felt there was a danger this was going to fall apart. And I know all the people pretty well over the years, including, particularly, the three Republicans. So, I jumped in and I'm glad -- and Ben welcomed me - I was glad to be able to be of help," Lieberman said.
When the bipartisan accord was announced last Friday night, Nelson, Collins, Specter and Lieberman stood before the cameras. Lieberman celebrated his colleagues as deserving the "medal of honor" for putting country before party - reminiscent of his pitch for McCain's presidential campaign.
Following the press conference, Lieberman was further rewarded. Reid, from the Senate well, asked that the deal just reached be consummated with floor speeches from Nelson, Collins, Specter and, in the honored anchor position, Lieberman.
Sen. David Vitter (R-La.) objected that the balance was unfair. Reid, with his response, subtly welcomed Lieberman back into the party.
"I would say that we are alternating," he said, "We have two Republicans and two Democrats."

Popular in the Community