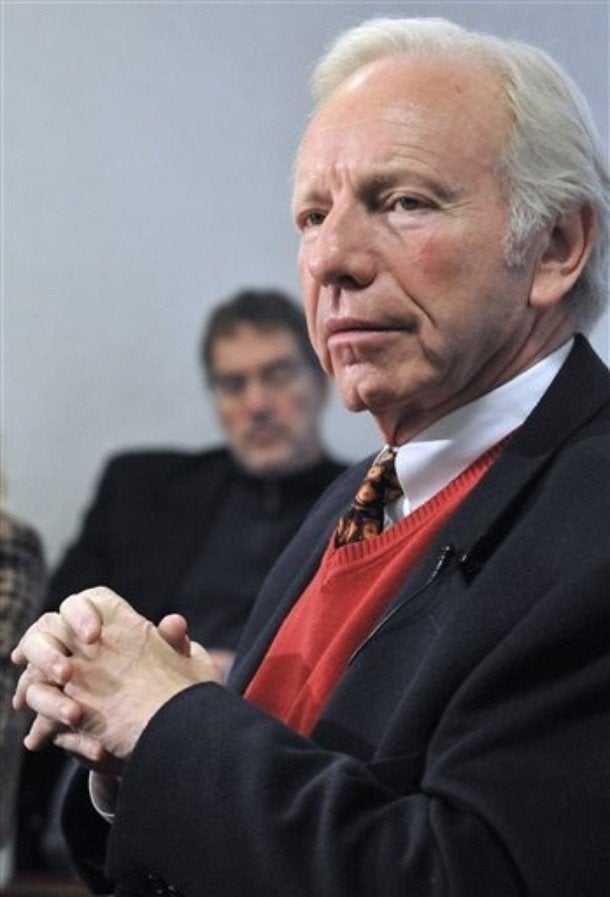 Senator Joseph Lieberman (I-Conn.) informed Senate Majority Leader Harry Reid (D-Nev.) in a face-to-face meeting on Sunday that he will vote against a health care bill that includes a public option or a provision that would expand Medicare, a Democratic Senate aide tells the Huffington Post.
The two senators had a discussion in Reid's office shortly after Lieberman appeared on CBS's Face the Nation Sunday morning. The Connecticut independent discussed with Reid some of his concerns about the legislation, elaborating on issues he had raised during the show. According to the source, who was briefed on the exchange, Lieberman punctuated the discussion by telling the majority leader directly that he will vote against the bill if the Medicare buy-in and public option provisions remain in it. Roll Call reports that Lieberman said he would also support a Republican filibuster of legislation that included these provisions.
"Leadership was definitely a bit surprised with the lines being drawn in the sand the way they were," said the source. "We expected that he would say critical things about [the bill]. But he is not even giving us a chance to get it scored."
The pledge by Lieberman to oppose the bill represents a potentially huge setback for reform proponents, many of who saw the latest round of policy compromises as the last true chance to corral the needed votes. That said, leadership has several fallback options (none of them promising) should Lieberman follow through on the threat.
The first is to convince the senator to support Democrats in breaking a Republican filibuster before casting a vote against the bill. This would allow for the legislation to pass with Lieberman still registering his opposition. Lieberman, however, has said he considers the procedural vote to cut off debate to be of the same significance as a vote on the bill itself.
The second path is to try and pick up a Republican moderate. But this too seems unlikely, as Sen. Olympia Snowe (R-Maine), Reid's best bet, has also expressed opposition to the Medicare buy-in provision.
The third path would be to appease Lieberman and wipe the provisions that he deems controversial from the bill. This, however, would likely lose Reid several progressive votes -- advancing the cause no further.
The final path would be to try reconciliation, the parliamentary procedure that would allow Democrats to pass chunks of health care reform by a simple up or down vote. There are a host of hurdles that come with going down this route, including questions over what, exactly, could be passed. And both the White House and Reid's office seem hesitant to use the procedural tool, even after Lieberman's latest round of opposition.
"It is not on the table at this point," the source said. "We are still trying to go through regular order."

Popular in the Community