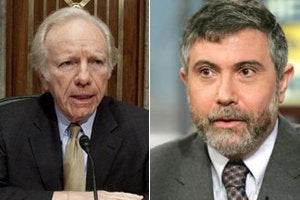 Paul Krugman has, at the apparent request of New York Times 'management,' clarified a column to make clear that he did not wish any physical harm to Sen. Joe Lieberman (I-Conn.).
Krugman wrote on December 18th that progressives should be angry about the way the Senate health care bill was compromised, but they should not try to kill the legislation.
A message to progressives: By all means, hang Senator Joe Lieberman in effigy. Declare that you're disappointed in and/or disgusted with President Obama. Demand a change in Senate rules that, combined with the Republican strategy of total obstructionism, are in the process of making America ungovernable.

But meanwhile, pass the health care bill.
Management wants me to make it clear that in my last column I wasn't endorsing inappropriate threats against Mr. Lieberman.
"There is no "inappropriate threat" to Lieberman the person here," he wrote. "Just an endorsement, self-consciously hyperbolic, of attacking his public image. Did Lieberman complain?"
REAL LIFE. REAL NEWS. REAL VOICES.
Help us tell more of the stories that matter from voices that too often remain unheard.