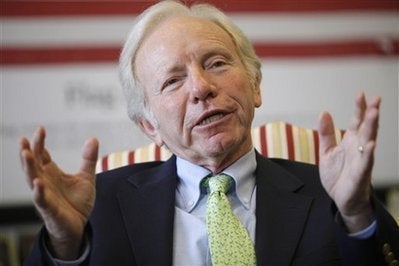 Senator Joseph Lieberman, (I-Conn.) said on Sunday that he thinks it would be a "real mistake" if Democrats used the parliamentary maneuver known as reconciliation to get health care reform considered by an up-or-down vote.
The Connecticut independent, who caucuses with the Democrats, told CNN's "State of the Union" that reconciliation would damage the congressional system and make it harder for the Obama White House to tackle other legislative priorities. As an alternative, Lieberman suggested that Democrats consider those aspects of health care reform that Republicans on the Senate Finance Committee have said they agree with, and save the rest for a later date.
"I think it's a real mistake to try to jam through the total health insurance reform, health care reform plan that the public is either opposed to or of very, very passionate mixed minds about," Lieberman said. "It's not good for the system. Frankly, it won't be good for the Obama presidency. Because he's got other fights to fight."
"People on the Finance Committee, which I think remains our great hope now, these six people, three Democrats, three Republicans working together, that's the hope to get things done. They've said to me that they agree on about 3/4 of what needs to be done," he added. "Let's do the 3/4 and save the other quarter for a day when the economy is growing and maybe we've done something to turn down the deficit."
The comments from Lieberman, who after campaigning Senator John McCain (R-Ariz.) during the 2008 election still earned Obama's blessing to continue caucusing as a Democrat, will likely irk progressives. Democratic leadership has continually hinted that they will use reconciliation if Republican lawmakers prove unwilling to compromise. Lieberman also remains opposed to a public plan for insurance coverage, a sacrosanct provision for many Democrats and the preference of the White House.
While Lieberman was urging the president and Democrats to tackle health care in a piecemeal approach, his co-panelist, Sen. Richard Lugar (R-Ind.) was suggesting that the whole package be pushed to the back burner.
"I would advise the president that bringing up the health care situation in the midst of recession... was a mistake," said the Indiana Republican, who is one of Obama's closest GOP allies in Congress. "And therefore he ought to postpone the decision... You can always go back and forth -- should he have had a plan as opposed to throwing it up for grabs for the Congress? Or should he have done this or that? -- [It's] too late for that. For the moment, let's clear the deck and try it again next year or in subsequent times."
Popular in the Community