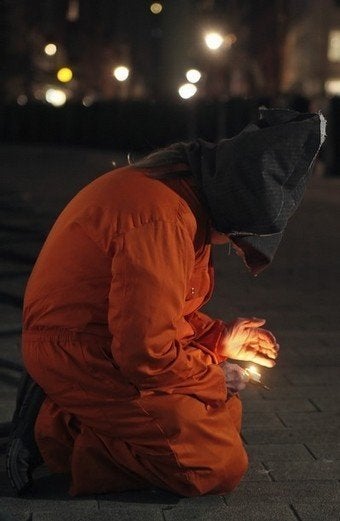 Jane Hamsher of Firedoglake.com is reporting that the Lieberman-Graham amendment to suppress detainee photos "is out of the conference report of the supplemental."
The Huffington Post confirmed that the provision has indeed been removed from the bill. The war supplemental had been weighted down both by it and a $108 billion line of credit for the IMF. With Republicans threatening to oppose the war money because of the IMF funding, Democratic leadership couldn't afford to lose left-wing Democrats who were opposed to the FOIA provision.
A Democratic aide said that leadership was whipping furiously all day Monday to try to line up support for the bill. Shaving the FOIA provision will get them closer to the votes needed, but might not get them over the top.
The IMF provision is still in the bill and is a top Obama priority. It came under fierce attack from House Republicans who wanted a "clean" war supplemental and many Democrats had no love the the extension of the credit line. Democrats on the left have long opposed the IMF for forcing developing nations to cut social spending in exchange for IMF loans.
Democrats in the center were having a hard time explaining to constituents at home why now was the time to extend the credit to the IMF, especially as Republicans -- aided by the conservative blog RedState -- ripped it as a US taxpayer-funded bailout for foreign countries.
Calling all HuffPost superfans!
Sign up for membership to become a founding member and help shape HuffPost's next chapter