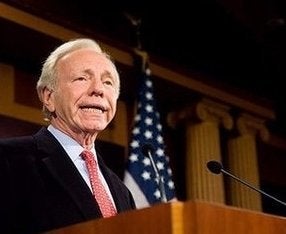 Two of Connecticut's five members of the House of Representatives accused the state's junior senator, Joseph Lieberman, of turning his back on the interests of his state by threatening to filibuster health care reform.
In a conference call with reporters, Reps. Rosa DeLauro and Chris Murphy (both Connecticut Democrats) expressed their "disappointment" with Lieberman for saying he would work to block legislation that included a public option for insurance coverage.
"I would hope that Senator Lieberman would re-think his position and I hope it is not a final decision on his part," said DeLauro, when asked by the Huffington Post to respond to the senator's concerns. "There is certainly overwhelming support from the state of Connecticut and there is overwhelming support in the country for a public option. And I think that has been recognized by the leadership in the Senate and certainly has by the leadership in the House. I think our obligation is to the people that we represent and as clearly as I see from the state of Connecticut that is where the sentiment lies."
"A lot of people in Connecticut where very disappointed by Senator Lieberman's announcement. I don't think there is any doubt that people in Connecticut are supportive of health care reform and the public option... I hope that over the coming weeks as this debate continues that Sen. Lieberman will come back to Connecticut and talk to the people I talk to and talk to the people who are in favor of strong reform and in favor of the public option...."
Murphy would go on to note that in the most recent round of polling -- done by the group Research 2000 poll and commissioned by the liberal website Daily Kos -- 68 percent of likely voters in Connecticut said they supported a public option, while only 21 percent opposed.
Such numbers are stronger than in other states, where conservative Democratic senators have not yet announced how they will vote on health care reform. But Lieberman is a weird breed - taking obvious pride in his self-proclaimed streaks of independence. So it is not particularly shocking to see him hold the Democratic Party hostage on this policy point.
What is a bit surprising is to see how open DeLauro and Murphy were to expressing their disappointment. Usually the formalities of Congress dictate that intra-party grievances (especially those that take place within a state delegation) are aired privately and glossed over in public. That has certainly been the way the White House and Majority Leader Harry Reid have handled Lieberman's latest statements. It could be that Lieberman's standing is so poor now among Democrats in Connecticut that his state colleagues simply don't mind giving him the occasional public whack.
Popular in the Community