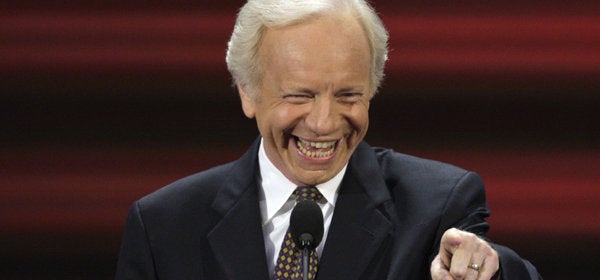 As Senate Democrats prepare for a vote on Sen. Joseph Lieberman's fate in the party, the political tea leaves indicate that he will likely keep his post as chair of the Homeland Security and Government Reform Committee.
Over the past few days, a growing number of colleagues have gravitated to Lieberman's corner. The most prominent of them is President-elect Barack Obama. The Illinois Senator issued indications this past week that he would like Lieberman to remain in the caucus, but he didn't tip his hand one way or another when it came to the chairmanship.
Since then, Obama has reportedly had conversations with multiple Senate allies including Dick Durbin, Ted Kennedy, Clair McCaskill, and Chris Dodd. One person he hasn't talked to is Lieberman himself.
"They have not spoken," said spokesperson Stephanie Cutter.
Nevertheless, Lieberman does seem to be developing the support he needs to stave off any attempt to strip him of his homeland security post. In addition to Obama, it was reported on Thursday that Dodd and Sens. Tom Carper, Bill Nelson and Ken Salazar had formed a group that was pushing for an alternative way to punish Lieberman while keeping him in the caucus. Sen. Evan Bayh, meanwhile, took to the "Rachel Maddow Show" to explain why taking away Lieberman's homeland security position -- even if the Connecticut independent didn't follow through on his threat to flee the caucus -- would be a bad thing.
"[He] might decide to stay and be bitter," said the Indiana Democrat. "What would happen is from time to time we have close votes... If Lieberman doesn't know what to do and we've exacted revenge on him, I think we could expect the same in return."
Indeed, the lingering question surrounding Lieberman's fate is not so much if he will remain as committee chair, but who - if anyone - will vote for him to be stripped of this title. Obama, actually, will not have a vote on the matter. A Senate aide explains that the issue will be decided by "New Congress, new caucus, new members," meaning that the incoming class will have a voice in deciding Lieberman's fate but not the president or vice president elect.
Contacted by the Huffington Post, nearly every office of newly elected incoming Democrats said they either had not looked thoroughly enough at the matter, were deferring for the moment to Democratic leadership, or simply couldn't comment. Jeff Merkley of Oregon has expressed disappointment with Lieberman's campaign conduct, describing it as a "knife through my heart." But his office, too, said he wasn't taking a position on his soon-to-be colleague.
With so many balls still up in the air, several aides said they did not expect a nail-biting vote next week vis-à-vis Lieberman's future. A position on what to do with his committee chairmanship will be forged, one source predicted, and the caucus would likely support it with minor dissension. One possibility, it seems, is a compromise punishment: to allow Lieberman to stay as chair of the Homeland Security and Government Reform Committee but take away a spot on either the Armed Services or Environmental and Public Works committee.
"There are people who clearly want to take some action and force some level of discipline," said a prominent adviser to Democratic leadership. "It is a complicated and delicate walk, but going forward one wants to keep him voting with the Dems as often as possible... My sense is there is a lot of discomfort and anger. On the other hand when passions cool and you see the margin that Obama won by you realize that Lieberman didn't have any impact. Even in the Jewish community, he was completely ineffectual in his advocacy for McCain."
Calling all HuffPost superfans!
Sign up for membership to become a founding member and help shape HuffPost's next chapter