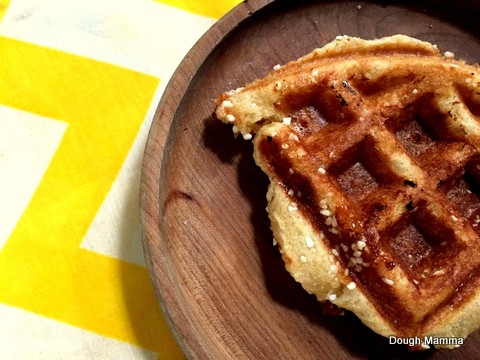 The Liege waffle, native to Belgium and loved around the world, is a thick, crispy, sweet waffle with dough similar to brioche. They feature large chunks of pearl sugar and when baked in a waffle iron, the sugar caramelizes, creating a lovely crisp bite on the outside while maintaining a soft chewiness on the inside. Sold primarily by street vendors, they are often served in a square of parchment paper sans toppings, as these little waffles pack a powerful sweet punch all on their own. No maple syrup necessary with these little triangles of love.
I was first intrigued by the Liege waffle during a visit to New York City several years ago. I was pushing the stroller with my four-year old (he's lazy) through Central Park when the waft of sweet dough filled the air and like a Disney cartoon character, I followed the scent down the path until I arrived at the waffle vendor. There was a long line of patrons patiently waiting for their Liege waffles. With an impatient four-year old in tow at the time, I decided we would circle back when the line died down. Unfortunately our paths did not cross again due to circumstances of which I have forgotten and I flew back to the west coast daydreaming of those deliciously smelling waffles I was determined to make myself one day.
After researching several recipes and ordering Lars Pearl Sugar, I finally set out to make the Liege waffles I had been thinking about for years. Though I didn't have a reference for taste or authenticity, I can report that these little waffles are Amazing, with a capital A. My husband who never gets excited about food ate them by the handfuls and even requested I make more. Another cool thing about these waffles is they freeze and reheat very well.
The first day I made these, I had served myself four little squares but due to how sweet they were, I could only eat half. I had already poured syrup on them, not knowing at this point in time that syrup wasn't neccesary. I placed the two pieces with syrup in plastic wrap as an experiment and reheated them the next day in the toaster oven. They were still crispy and as perfect as they were the day I made them. Don't you just love food that can survive our mistakes and still taste just as good as they were intended? These make a great breakfast on the go treat for kids and adults alike.
Title: Liege Waffles
Author: whippedtheblog.com
Prep Time: 1 hr 30 mins
Cook Time: 5 mins
Total Time: 1 hr 35 mins
Serves: 8
Notes: I do not own an old fashioned waffle cast iron which is often recommended for making an authentic Liege Waffle, but my standard electric waffle iron seemed to work just beautifully. You will need pearl sugar as it is required to create the beautiful caramelization which represents the Liege waffle. They will have abnormal shapes due to the texture of the dough, but I promise, no one will even notice after their first bite.
Ingredients
1 package of yeast (1/4oz)
1/3 cup of hot water (about 105 degrees)
1 1/2 Tbsp of granulated sugar
1/8 tsp of salt
2 cups of flour (10 oz)
3 eggs
1 cup of melted butter
1 tsp of vanilla bean paste
3/4 tsp cinnamon
1 cup of pearl sugar
Instructions
Mix the yeast, water, sugar and salt in a bowl and let it develop or sit for 15 minutes. Place the flour in the bowl of your standard mixer fitted with a paddle attachment.
Pour the yeast mixture into the flour bowl and mix until blended on medium speed. Add the eggs (one at a time), melted butter a bit at a time, and the vanilla and cinnamon. Be sure to mix well after each addition to the batter. Keep in mind the batter will be thick and VERY sticky (this is normal).
Remove the bowl from the mixer and cover with plastic wrap. Allow the dough to rest until it doubles in volume inside the bowl. (About 1 hour) Gently fold in the pearl sugar and let the dough rest for 15 more minutes. While the dough is resting, heat the waffle iron.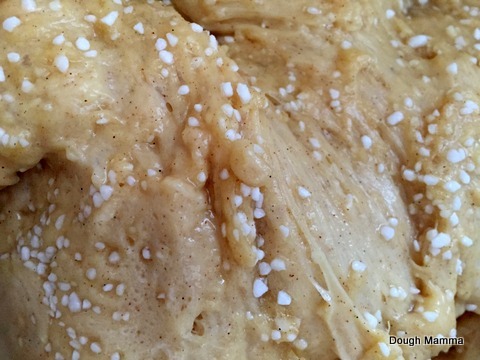 Spoon about a 2″ ball of dough into the center of the waffle iron (this should yield a waffle that is about 4″ in diameter). I know that sounds small, but these rich waffles pack quite a punch. Waffles will take 3 to 5 minutes to bake.