On playing the odd, the weird, the outsiders... and why that's alright with me.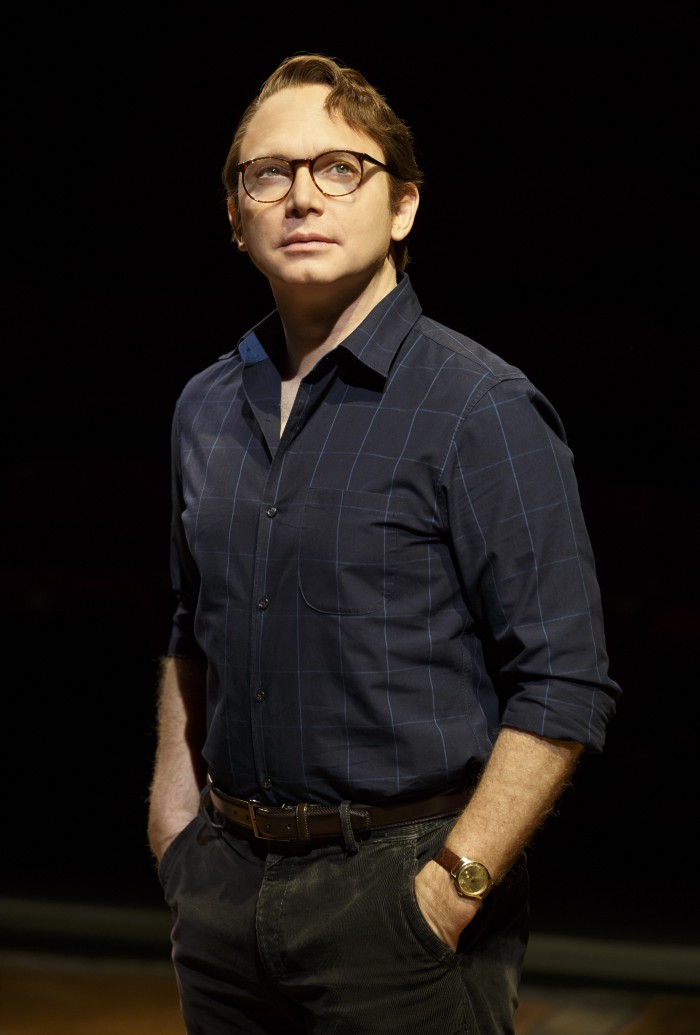 As Bruce Bechdel in Fun Home on Broadway
For much of the past two years, I have been wearing someone else's hair and pretending to be someone else's father. I've never met the person(s) whose hair was so artfully woven by master wig maker Paul Huntley into the strikingly natural creation that nightly turns me into Bruce Bechdel at Fun Home. But I am proud and grateful to say that I have not just met, but am getting to know the person whose father I am pretending to be, because that person is the remarkable genius, Alison Bechdel.
But for all the falseness and illusion and pretending that is at the very heart of acting and playing a part, the last couple years of work on this heartbursting and heartbreaking little show have been more marked with real and true things than any work experience I can recall.
And when I sit here to think about it, a lot of it seems to bring me back to thoughts of my family, my childhood, and my father.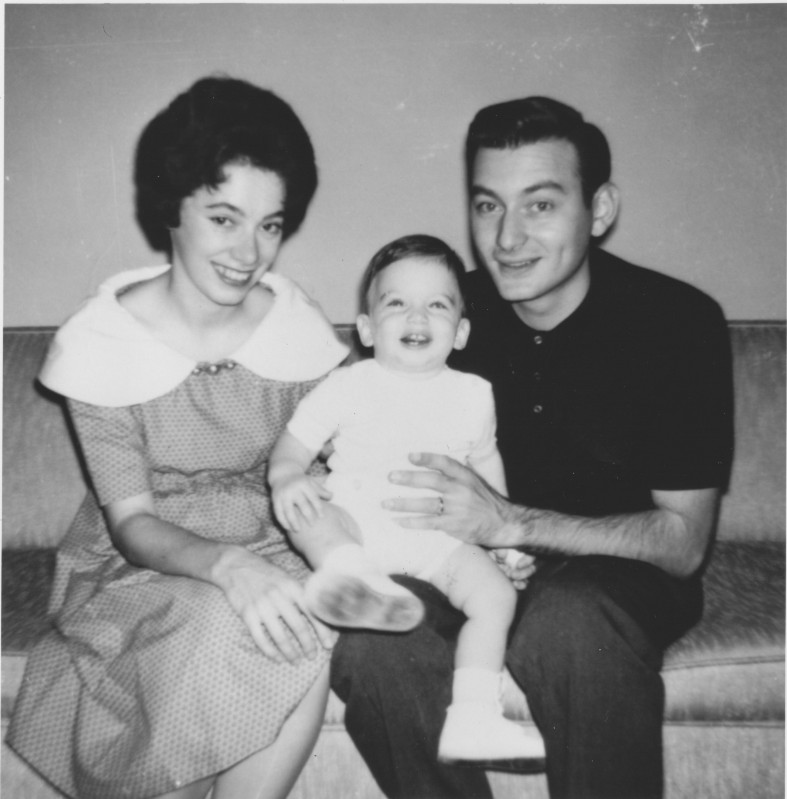 Mom, Dad and me
There is a time in most actors' lives when they cross some intangible line that divides their young actor days from, well, the rest of their career.
For some, it's that first commercial call to play a soccer mom. For others, it's realizing that your characters seem to wear coats and ties a lot more than they used to. My angsty young man period consisted largely of several stints as Romeo in regional theaters across the country and playing London born guitar student Ian Ware on tv's Fame.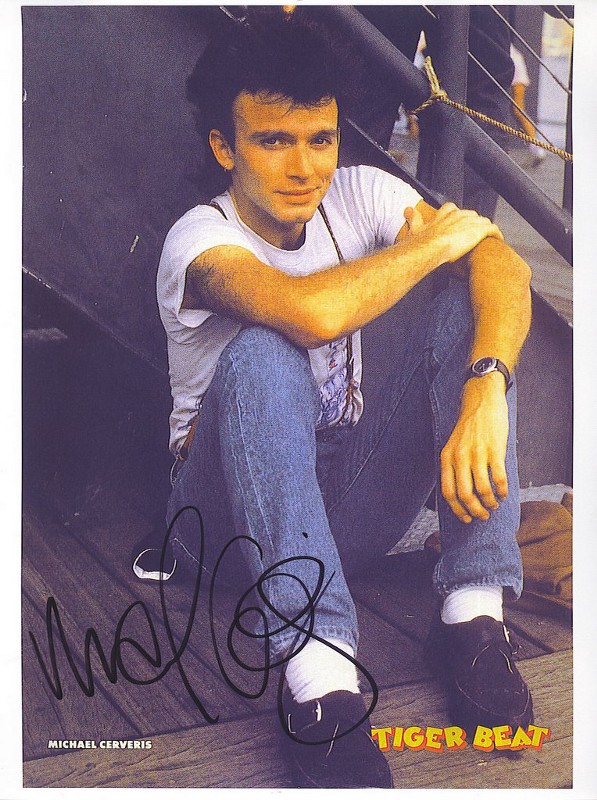 As Ian Ware in the television series 'Fame'
While it wasn't an especially long heartthrob period, I look back on it contentedly, given that one Romeo was opposite Phoebe Cates at Chicago's Goodman Theater, and the Fame gig did at least merit a poster in Tiger Beat Magazine and a few years with a great '80s Duran Duran hairstyle. But then, I remember one day being offered Mercutio in another production of Romeo and Juliet, this time at San Diego's Old Globe Theater, and having two "come to Jesus" realizations. One, Mercutio is the really good part in that play. And two, I was leaving the traditional leading man lists for the mysterious and hard to define world of the character actor. For some people, this is a dark day a' dawning, but for a boy who grew up idolizing people like Ed Harris and Robert Duvall --  not to mention early Pacino, DeNiro and Harvey Keitel -- this was not an unwelcome new world of roles. And when you find yourself often playing the odd, the weird, the outsiders, you discover the additional advantage that age is a much more malleable thing.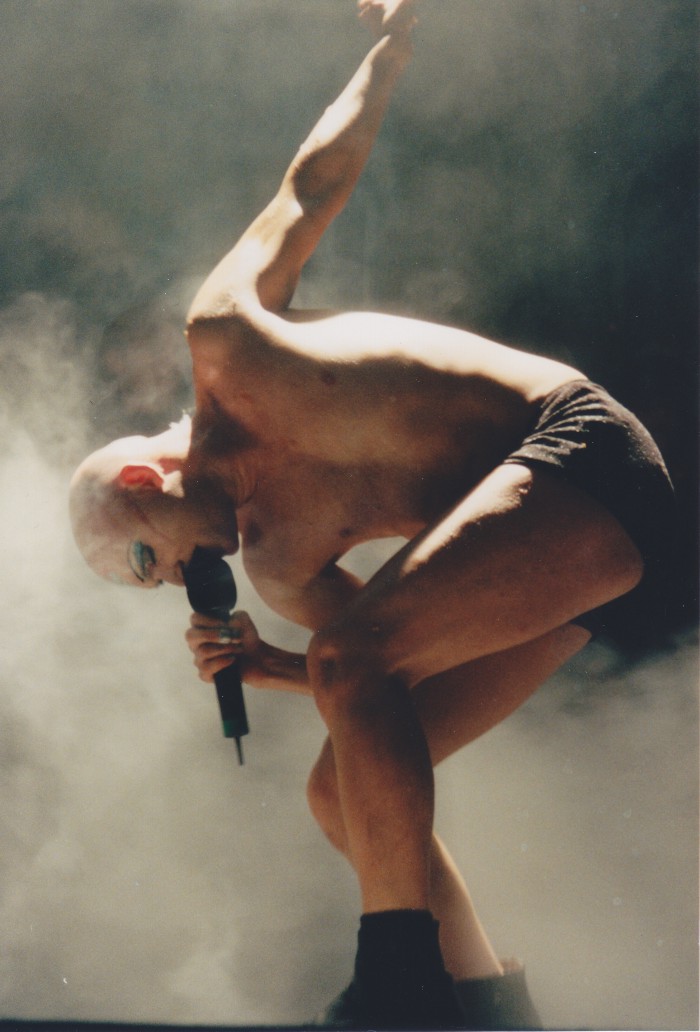 As Hedwig Off Broadway
I mean... how old is Hedwig anyway?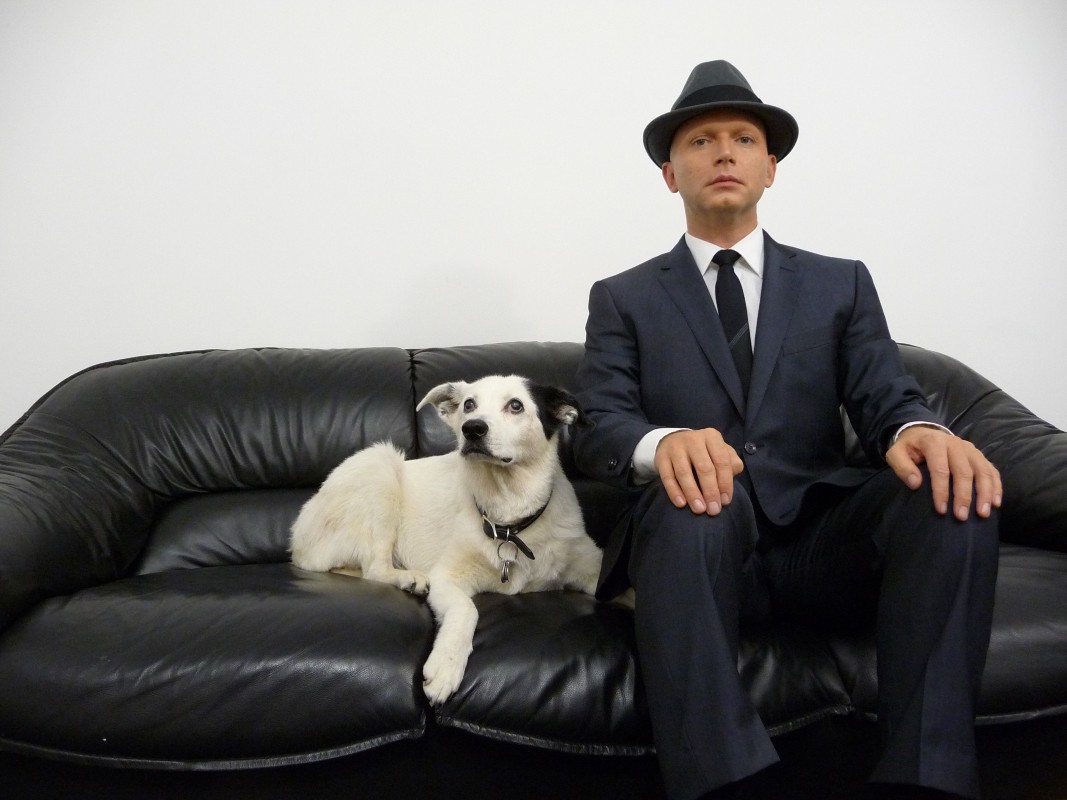 Or September, the Observer from JJ Abrams' series Fringe, who spent five TV seasons crossing time and universes at will before he became human and got a little salt and pepper at the temples in the series' final episodes?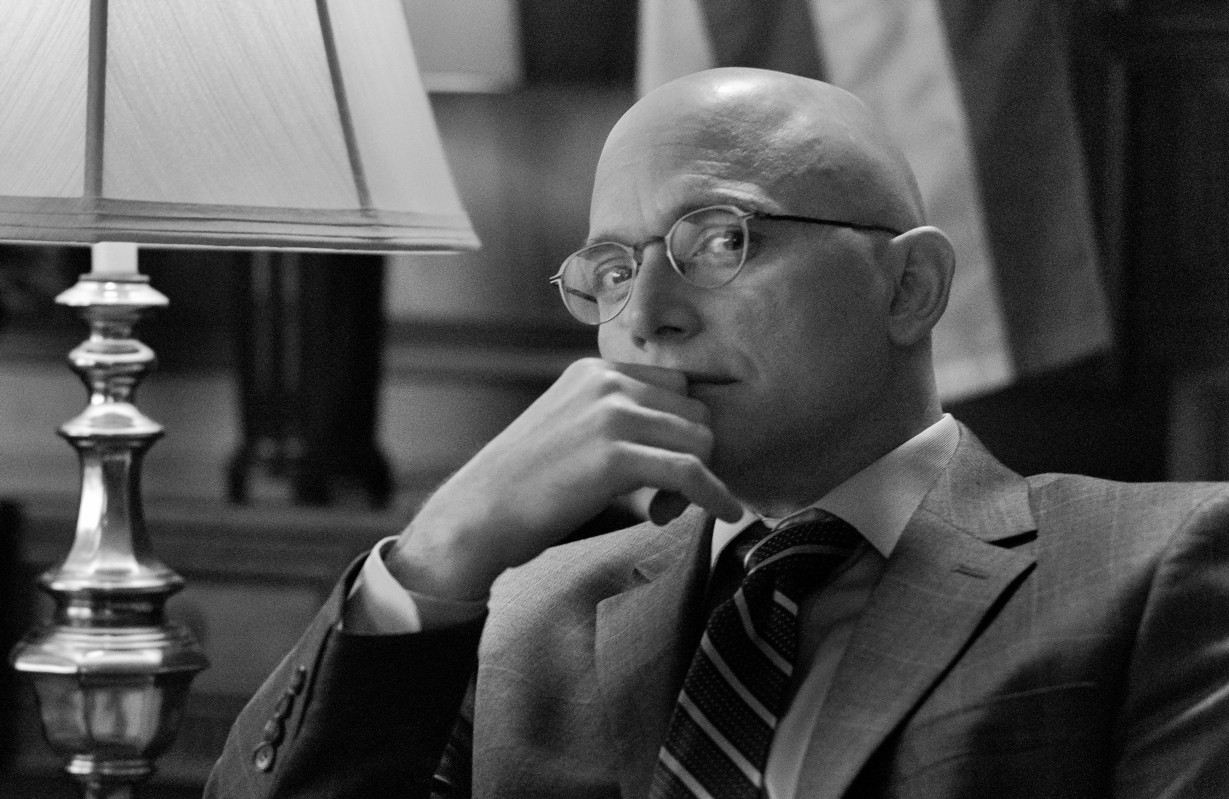 As State's Attorney James Castro on CBS' 'The Good Wife'
Or slippery State's Attorney James Castro on The Good Wife...
So before Fun Home, I'd never really played a father. Well, September was a kind of test tube Dad, and Sweeney Todd does take the search for his daughter rather seriously, but I don't think anyone wants to even think about James Castro procreating... For the most part, if there were kids in a show, they were kept a safe distance from my characters. Usually with good reason.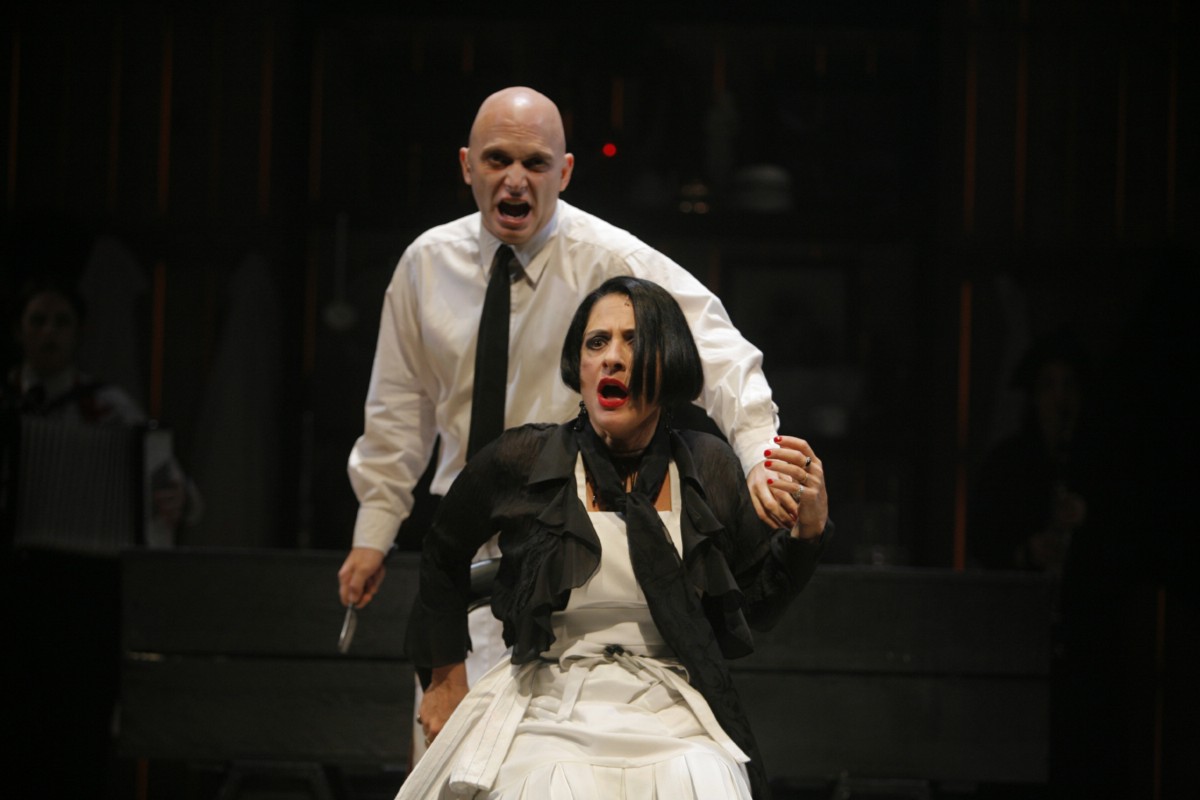 With Patti Lupone in 'Sweeney Todd' on Broadway
When I signed on to be the last piece in the cast Sam Gold, Lisa Kron and Jeanine Tessori were assembling to bring Fun Home to the downtown stages at the Public Theater, I was focused on Bruce Bechdel's struggle with his sexual identity and his inability to find peace with who he was. It somehow escaped my notice that one of the primary things he was, regardless of his sexuality, was a father. That oversight was immediately corrected before lunchtime on the first day of rehearsal, as Sydney Lucas, Griffin Burney and Noah Hinsdale, my instant Off Broadway offspring, adopted me as their "new dad" and began climbing on me, hanging from any unoccupied arm and falling over themselves to tell me about whatever vitally important thing they'd just thought or heard.
It was a lot. And I loved it immediately.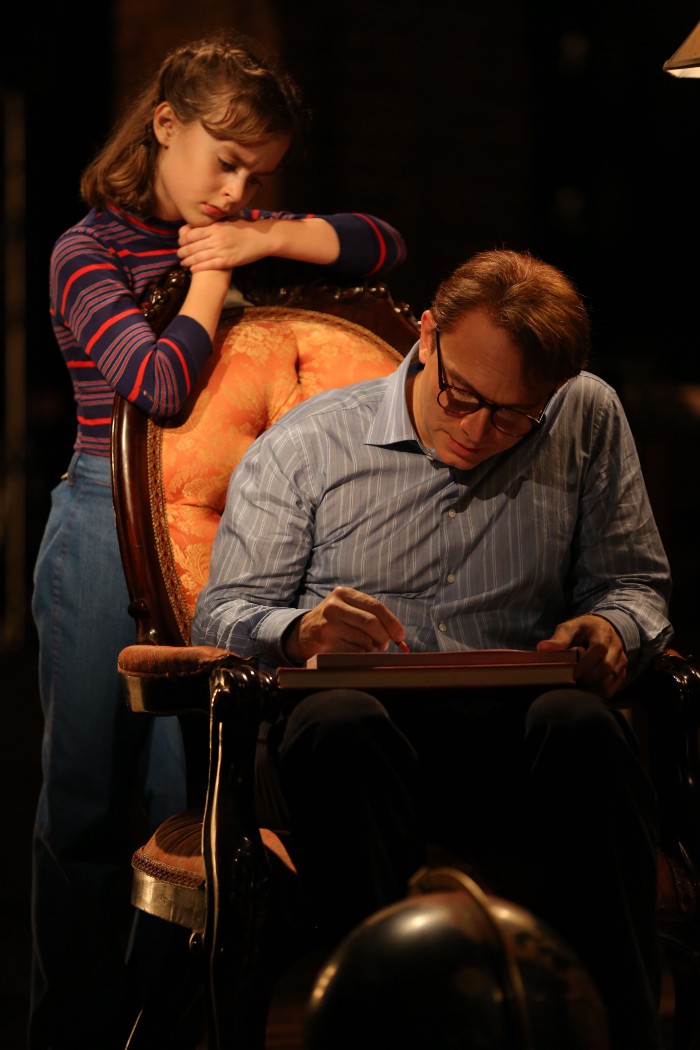 With Sydney Lucas in Fun Home at the Public Theater
W. C. Fields' famous advice to "Never work with children or animals" is often misunderstood to mean they're difficult or problematic -- and of course some show kids and some show pets can be a little, well, insufferable. Divatude knows neither age limit nor species. But these kids were marvelous. Not just because of their prodigious performing skills, but mostly because they were real kids. And Sam, Jeanine, Lisa and choreographer Danny Mefford were masterly in their ability to coax and elicit nuanced performances from each of them without ever sacrificing or polishing away their essential "kidness". So the real wisdom of Fields' dictum became apparent: Kids and animals are real, and if you're going to be onstage with them, you damn well better be real too.
Fortunately, the "grown ups" in our show (I include myself, out of convenience) had material that not only allowed but demanded all the reality and bold sincerity we could muster. And underneath all of our artifice lay the reality that this was Alison's real life. And not just hers, but her brothers'.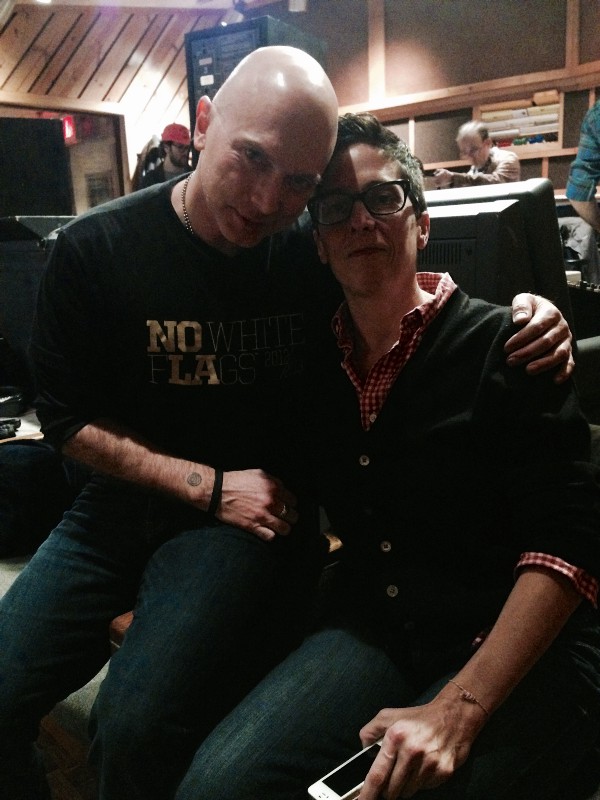 With TRAB (The Real Alison Bechdel) at Avatar Studios recording the Fun Home Original Cast Album
The day, early in previews at the Public, when Alison came to a matinee with Christian and John is the day what had been a really terrific job became something infinitely more meaningful to all of us. And then a field trip that I took with Beth Malone, Emily Skeggs, and Joel Perez to meet Alison and Christian at their former Beech Creek house and tour the town with them -- including the actual Fun Home, Bruce and Helen's graves and the spot where he was struck and killed -- made the reality of the story profoundly concrete.
We knew, of course, that this was a real story, and I've played lots of historical figures before. But I never met John Wilkes Booth or Juan Peron's kids, and I never listened to them trying to contend with their emotions and the surreality of talking to the people they'd just watch "be" them and their family. And what became clear was that we had been granted this tremendous trust and responsibility of telling their story. Not truly to be them, but to convey something true about them. And in my case, to convey something true about an incredibly complex, mysterious and tragic figure. Tragic in the classical sense of the hero whose sad fate is brought about by his inability to know himself. And along with my colleagues, I felt a great need to get it right. Really right.
So where to find that person when all you have to go on is his daughter's graphic novel account and a handful of family photographs? Well, I started looking the only place I could. Home.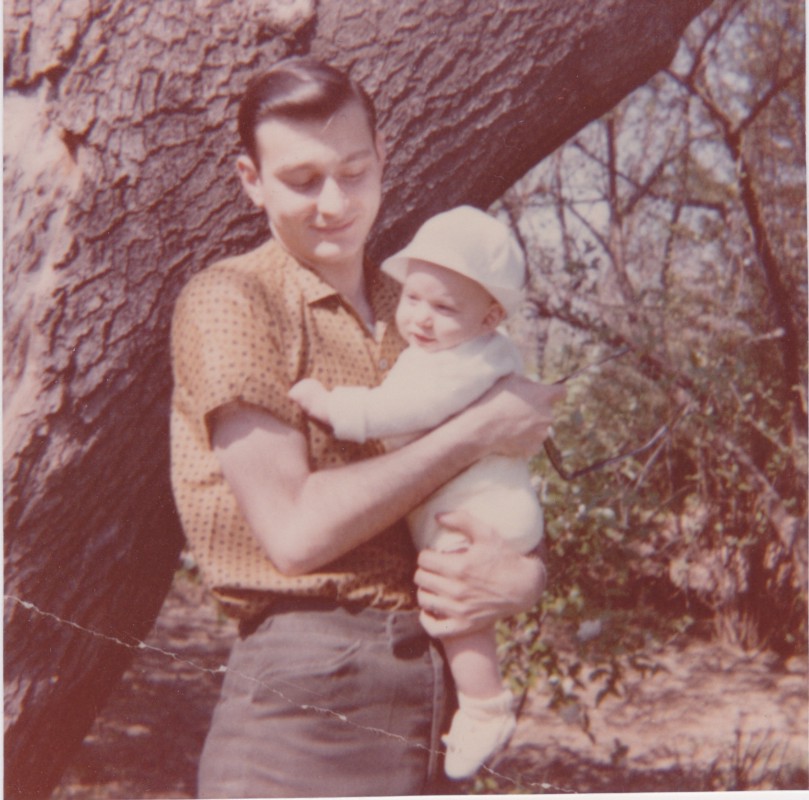 With Dad, 1961
One of the most familiar comments I hear from audiences after Fun Home begins "My family was nothing like this," and usually continues, "but I mean, my family was exactly like this." For all the singular aspects of Alison's story, the thing that has been uniting very disparate groups of people in our audience night after night is precisely its universality. Journalist and author Mark Harris explained on Twitter that our show is "a beautiful musical but specialized. You shouldn't go unless you're a father or daughter or mother or son."
My own family was nothing and exactly like Alison's.
I was raised by brilliant, creative parents in a West Virginia town. And though not small or rural as Beech Creek, PA, it was still not remotely cosmopolitan or socially progressive. And, like Alison, I came of age in the '70s, dreaming of my family being the Partridge Family. Except I also dreamed of Susan Dey being my first girlfriend, which would have made her being my sister problematic, even in West Virginia. And I was extremely close to both my parents and my brother and sister, but especially identified with my dad. That I looked like him and sounded like him was alternately my proudest attribute and sometimes (through no fault of his) a real challenge to my figuring out who I was beyond being his creation. As I've gotten older, I proudly see much more of my mother in me than I used to realize, but I am decidedly who I am and do what I do because of who my father is and the artistic life he has devoted himself to.
So when I am being dad Bruce, I feel like I am hearing my dad's voice come out of my throat. And when I scoop up little sleeping Zell and hold him with one arm while I clumsily lay out his sleeping bag with the other, I'm my dad at the end of countless nights taking his three children to see theater or symphony or ballet that will stay with them their whole lives and shape who they will be. And when I look at Oscar and see my earnest little ten or eleven year old self in him, I am suddenly my dad seeing himself in me. And though I am (thus far) not a dad myself, I find myself full of paternal care for these kids -- who are not mine, except they are. Just on loan.
And while we work as a company to refine our storytelling and our deft bond as an ensemble, memories swirl around me -- memories of my father and wonderings about what it was really like for him to have made and be making these little selves my siblings and I were.
And questions about how he was understanding himself as his life changed from son to father. And what he and my mother learned and shared and sacrificed and found in making our family. Or how my brother and sister's experiences mirror and differ from mine. And whether I'll ever know those fatherly things more than I have by parenting my dog Gibson for 16.5 years, and pretending for a couple hours eight times a week with someone else's children.
The great gift I have is that I can still ask my parents these questions. And they, as they always have done, will lovingly and selflessly share as much of themselves as they know, and will support me entirely in continuing to become whoever I might be.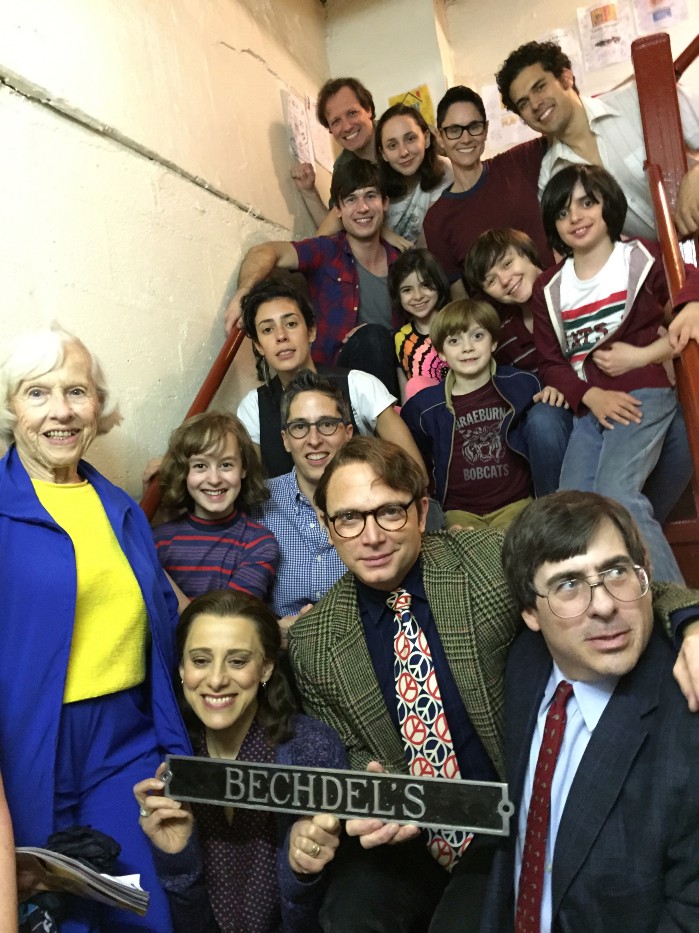 The company of 'Fun Home' on Broadway with The Real Alison and Christian Bechdel and Bruce's sister, Jane
I wish Alison could do that. I wish she and her brothers had had that. And in the smallest way, my prayer --  shared, I'm sure by my colleagues -- is that something in what we are doing with her story does give her and her family back something that is no longer or never was. Not for real, obviously, but maybe for true.
And even more devoutly, I pray that this little human-sized musical, sitting in the belly of the commercial theater beast, might be finding its way into the lives and hearts and minds of people who have a chance to see themselves and their families and their neighbors more clearly, more lovingly and with greater compassion and acceptance. If I get to play the part of father as a small part of that... and with great hair... well, it's not a bad legacy.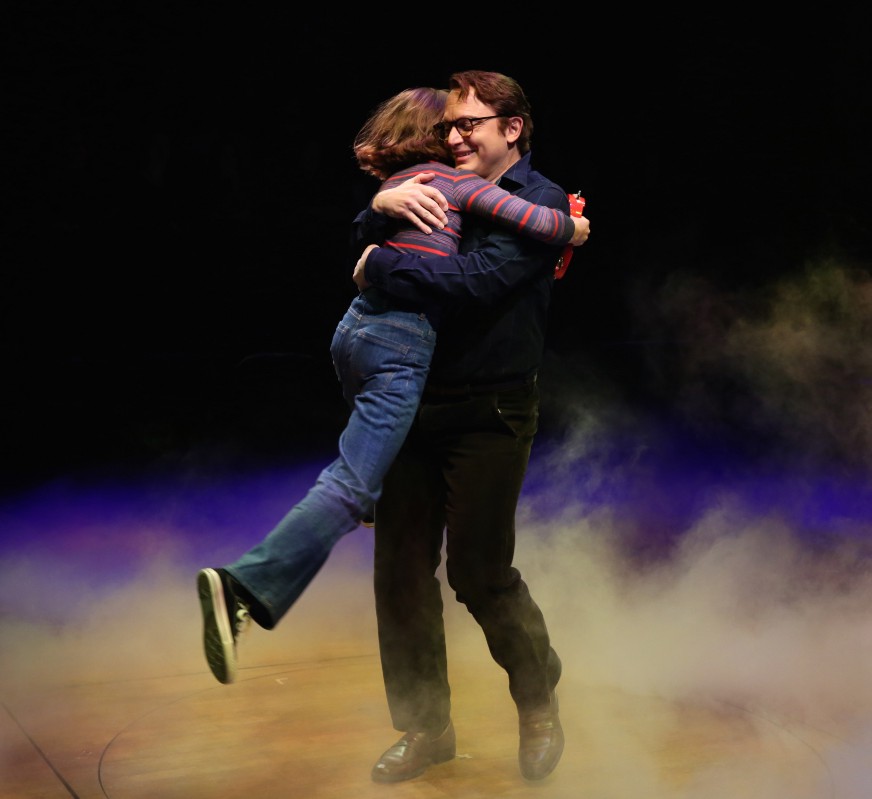 This post originally appeared on Medium.
Calling all HuffPost superfans!
Sign up for membership to become a founding member and help shape HuffPost's next chapter