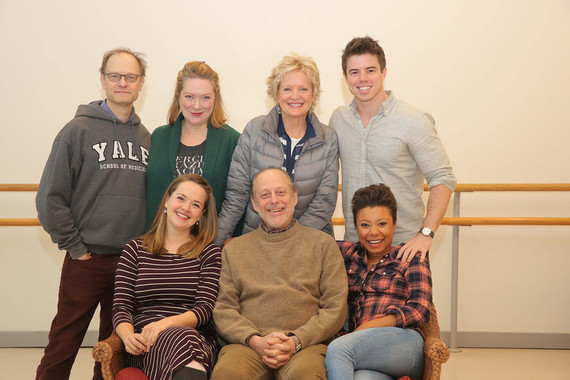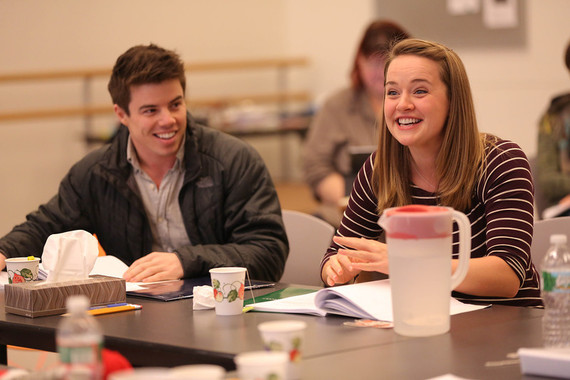 Hello Liesel. With experience in both television and theatre, how do you differentiate the two in terms of the way you go about preparing for a role?
That's a great question, and the truth is that I am still figuring that out since I am at an early stage in my career. But I think the biggest difference for me is that in theater I am attempting to craft a performance that will be repeated over and over. I think the whole point of the rehearsal is to be able to come up with moment to moment work in a way that you can repeat it every night. With television I think you have those bits that you have to be able to repeat and to be able to hit your mark, but I think what you are aiming to accomplish in television is to be genuine and in the moment. And within that medium you are showing up with your whole self so that the director, editor, and cinematographer can craft the long lasting product. But being really present is incredibly important in both mediums.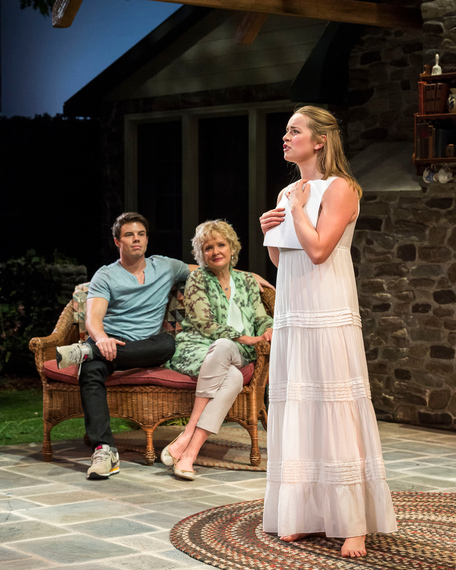 Who were some of your earliest inspirations that led you to commit yourself to the entertainment business-was there any particular actress or group of performers?
Well I have had several but I think the first lady who inspired me (and of course I became totally obsessed with) in high school was Katharine Hepburn. I have always been a big fan of old screwball comedies, and Bringing up Baby with Hepburn and Cary Grant was one of my all time favorites. But then I went to live in London for six months and while there I saw a bunch of theatre. And there was this one Eugene O'Neil play, Mourning Becomes Electra that I saw Helen Mirren and Eve's Best perform in. That was definitely an "a ha" moment for me. When I was watching them on stage I was just so enraptured by what they were able to accomplish in such a huge theatre. And I was sitting way in the back because I had very little money and I just remembered how magic the evening was. I had never heard of Eve Best at the time, but she is an incredible theatre actress and wonderful on television as well. And isn't that so funny because in this play, Vanya and Sonia and Masha and Spike, I play a young aspiring actress who is really excited to Masha, a character who is an established, famous actress. And I sort of run up to her with excitement and tell her how thrilling it is to meet a famous actress. The truth is that I have had several experiences just like that character. I met Eve Best backstage when she came to New York, and I gave her flowers and a card and was so overwhelmed I could barely speak. And so I often think about that while doing this play.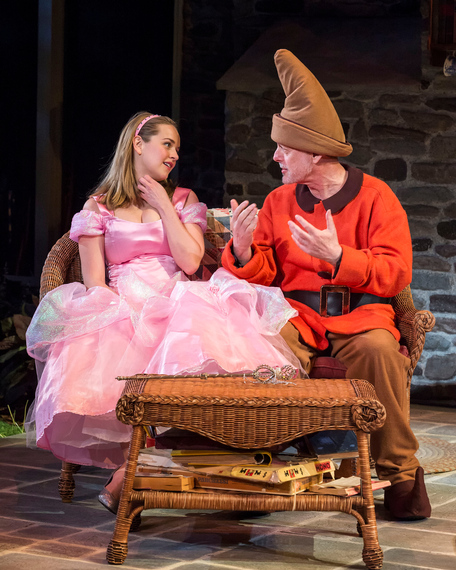 How did theatre in the U.K. differ from what you have seen here in the U.S.?
Well that was ten years or so ago, but I think the West End is very similar to Broadway in that you have a lot of very well done commercial theatre with big shows and big names and a very exciting atmosphere. But one of the things that I came away with was that London has a great young theatre scene. The Royal Court is a great theatre that is dedicated entirely to new works and the National Theatre is analogous to perhaps London's Lincoln Center or Center Theatre Group here in LA. They do a lot of really great programs and new works or have ticket prices available to young audience members to enable a wider group of people to attend. And so I felt that a lot of poor people were able to attend plays as well. They also had a lot of little "pub like theatres", or theatres located directly above bars. They'll do small shows for like thirty people or so and that was awesome!
What initially drew you to this particular production, and can you tell us about the audition process?
I was really fortunate in that I knew the writer Christopher Durang from my days at the Juilliard School. He is the co-heard of the play writing program there along with Marsha Norman. And so since my absolute passion as far as theatre goes was new writing; I kept close watch on the the playwrights at Juilliard because I knew that they were an incredibly talented, fun group of people. And some of my favorite memories from Juilliard were working the new plays that I had the opportunity to either workshop or read in class so that the playwrights could hear there plays out loud. And so Chris knew of me through school and I did an early reading at Lincoln Center of the play. This turned out to be such a thrilling day because I had no idea that I was going to be sitting next to Sigourney Weaver! So I walk in the room ready to read, and I was just floored. So that was my first experience with this play and how I heard about it. I kind of knew Chris had something in the works but didn't know too much about it. And that reading went really well and they asked me to audition for the show in New York, where I actually ended up starting out as the understudy. It's sort of like an old fashioned Broadway story in that after the play went to Broadway (about two months in), I got to take over the role and do the entire rest of the run which was amazing.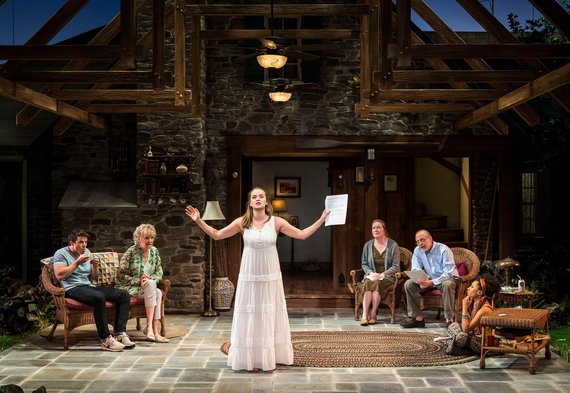 Aside from Christopher Durang had you had any interactions with the current cast or director before?
Well Shalita and I both went to The Juilliard School together. We attended the same class there, and have remained great friends ever since our first week of school. That has been a total blast, going through this entire process with her and doing it in different places and being able to stay close to her -- it has been amazing! She is a wonderful actress, and I have always been floored by her at school. I even met her before we went to Juilliard because we had the same audition day there and I remember her because she was just so full of life. I remember calling my mother after the audition and saying that I would totally eat my words if this one girl didn't get into the school, and I was talking about Shalita. She is a wonderful human being and I love to share the stage with her. The director David Hyde Pierce is a lovely gentleman who is so kind and so generous. I refer to him as a prince among men because sometimes when talking to family about him I tell them that he always seems to know how to put people at ease and make them feel loved, welcomed and valued. That is so admirable to me. Kristine Nielsen is one of the most hilarious people I have ever met, and super fun and supportive to be around. When in New York Sigourney was incredible, and Christine Ebersole is just a hoot. I love working with her because she is really, really funny and has this gorgeous voice that she sometimes sings with when you are least expecting it!
To close out, as a young performer in this smash hit that's taking L.A. by storm, what do you want the audience to come away with when the show concludes its run here?
I think that with this show; what I have noticed, (and this makes me very happy), is that the audiences not only come away laughing. When we have done our job right, it seems as though they are leaving with a deep sense of joy and community. The show is very much about flawed people sharing each others lives with one another, and it is hilarious. However; on much deeper level, it gets to the things that are so valuable in life that are easy to overlook with the speed that modern society is going at. You are seeing people together; the young and the old, laughing at jokes throughout the play. Lastly, because the play is so elegantly written and performed I think you can hear exactly what would make the play funny to my dad, and I can laugh simultaneously with him. To share a joke that is referencing something from pop culture that he grew up with and I have no way of knowing about but can understand it throughout the performance is so special. You will come out of the play flowing, happy, and reminiscing. And I think that it is awesome to be able to give people a little joy to end their evening with.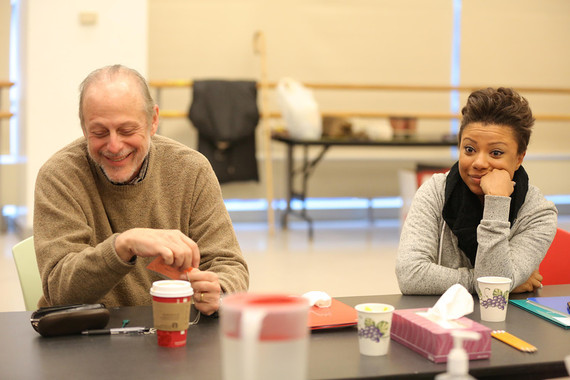 It's now no secret to the world that you and Liesel have The Juilliard School as a common link between you. Can you recall some of those early experiences?
Yeah we were in the same class actually, and it doesn't really happen often, I mean you may work with someone here and there who has gone to Julliard, NYU or Yale. Very rarely will you have the chance to work with someone that you were actually in the same class with, professionally.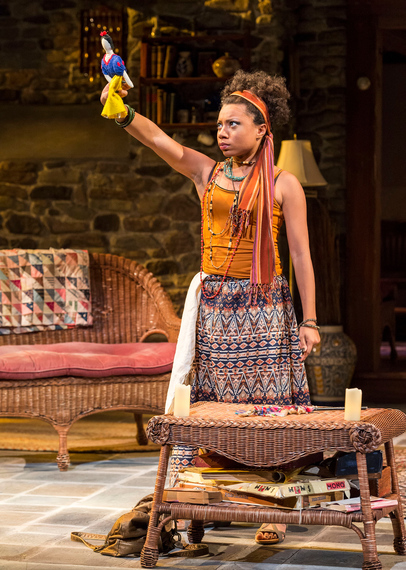 How was your experience at The Juilliard School, and how did that experience enable to you to become the performer that you are today?
Well its so funny because I kind of got started in acting by accident. I am originally from Petersburg,Virginia-and so is Liesel, yet another connection that we had even before getting into this school. And so there was a Governors school -- the Appomattox Regional Governor's School for the Arts and Technology that had opened up, and I didn't want to go to my regular high school but I couldn't read music or wasn't formally trained as a dancer, and so I said to myself I guess I'll go in for acting. So my mom helped me with the audition to get into the high school and it was terrifying.

I did a whole scene from a Raisin in the Sun, a whole scene playing both Mama and Beneatha instead of doing a monologue in the scene, and I slapped myself in the audition and they let me in. And then I wound up moving to Baltimore and getting into the Baltimore School for the Arts. It was then at that point that I decided that I should go to a college that would be about what I was doing because I was excited about this. And so by the time I had graduated I had become a presidential scholar in the arts and had done this national competition called NFAA Young Arts (now known as the National Young Arts Foundation). I went in its 25th year and there was a documentary done about the foundation and they followed me as part of the story and then in 2006 it was nominated for an Oscar for Best Documentary Short.
And so all of this was happening right about the time that I was accepted into Juilliard. So my experience there was also accidental and not really intentional. I had an acting teacher tell me that I should audition there and I didn't even know what the school was. So the audition for Juilliard would up being my first college audition and I looked at it as practice for the other school that I wanted to get into. And I got into all of the schools, but Juilliard gave me the most money-so I was like I guess I'll go to that Juilliard school. And when I got there I was like oh my God, this is incredible because I had no idea what this was going to be about. And so my experience there was very much about my process. The school was great for that because when I got there a new artistic director was coming aboard and it was great training because had I not gone there, I would not have gotten this job. Chris Durang, of course, had written the play; and was and still does teach play writing there. Back when I was 15 in Baltimore, I first read some of his work. And when your 15 and someone is really good, you think that they must be dead! And so I thought he was dead because the work that I had read was so great and so funny I kept thinking to myself there is no way this guy is alive. So when I got to Juilliard someone was like "hey, there's Chris Durang over there" I was like what? I thought he was dead! And so over the course of my four years of being there we eventually became friends. He eventually wrote a monologue for me for presentations, and I had really respected his work and he came to respect mine. So when I eventually graduated, he called me in to do a reading for the McCarter Theatre and read one act of this play, and one act of another one. And so I can honestly say that if I hadn't gotten into Juilliard, I seriously wouldn't be where I am right now.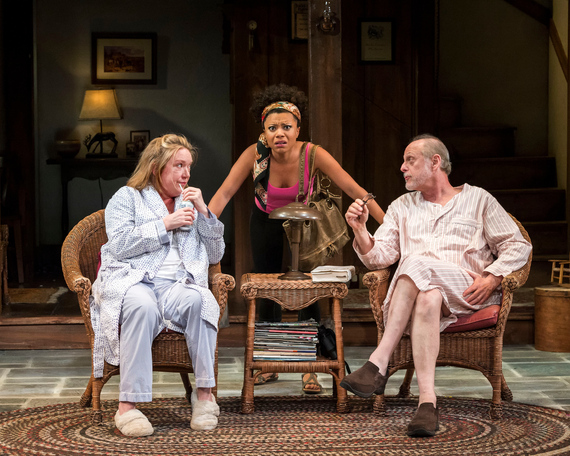 How was it like to receive your first Tony nomination?
Oh my god. Like I said, if I hadn't gone to Juilliard I would be be here. When we did the one act reading, the first act was classical Chris Durang and so I knew that backward and forward. I knew what I had to do. With this play, I was like what do you want me to do? And when we were in rehearsals he was like, just figure it out. And I'm saying we are about to do this in front of about 150 people in like 45 minutes. Are you not going to give me anything? And Chris was like lets just play around with it and see what you have. So I thought that the character he had written had reminded me a lot of my grandmother in Virginia. And so I played around with a couple of things and Chris liked it. So the McCarter commissioned him to finish this play. And so when he wrote the second act of Vanya and Sonia and Masha and Spike he did so with me in mind for the role of Cassandra so this is very special to me because this is the first time that I have been involved in a play where there was such a creative and unique process involved with the development of the character so early on. So again its very special to me because Christopher Durang is a playwright that I have admired for so long. And so when we got to Broadway (I believe we were on for a month), I honestly did not think it was going to happen (being nominated for the Tony), and so I went out the night before. I had been told that the nominations would be broadcast at about 8 a.m. that next morning, and said to myself that there was no way in hell that I was going to get up that early to not see my name. And so I went to this HBO gala that was honoring Robert Dinero. After that, I went clubbing and got home at like 3:30 in the morning, and went to sleep. Now my publicist; before we left the gala had told me that she would text or e-mail me if it was not going to be a personal nomination, and that she would call me if it was. So I completely expected a text or an e-mail. And so at around 8:45 a.m. I got a phone call from her (and I'm thinking why is she calling me so damn early!) and she told me that yes, it was a personal nomination. And so those two months of press and shows -- it was a whirlwind and was amazing.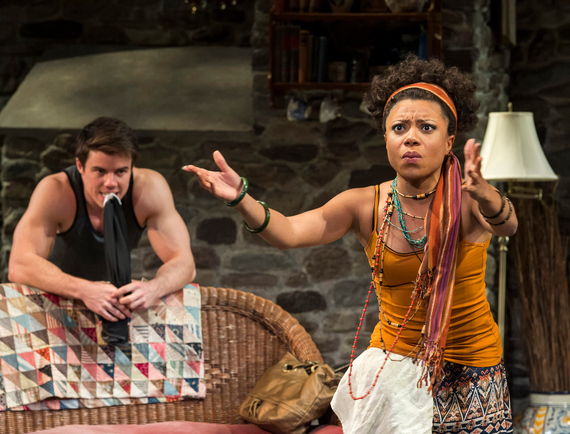 Are you looking forward to working in the other mediums such as television and film?
You know, I graduated in 2010 and essentially reached the top of the industry in New York (which is Broadway) and so yes I am now focused on other parts of my career which would include TV and film. I have tested for a few TV pilots after the show closed in New York. We'll see whats next, but I have a feeling that it will be very soon. I feel like a pioneer, and I want to move on and tackle other projects as they come along.
To conclude, what do you want to see an audience take with them from seeing this play?
Well this is a very mature piece, and I feel as though we need plays like this for both culture and as a society. This play allows you to keep the laughs, and it evokes genuine feelings. And it seems to me that the audience leaves the theatre with a feeling that of "its going to be fine". That's important to me.
Rehearsal photos courtesy of Joan Marcus. Production photos courtesy of Craig Schwartz.
Clockwise from left in the top photo: Director David Hyde Pierce, Kristine Nielsen, Christine Ebersole, David Hull, Liesel Allen Yeager, Mark Blum and Shalita Grant in rehearsal for Christopher Durang's Tony Award-winning play Vanya and Sonia and Masha and Spike.
Calling all HuffPost superfans!
Sign up for membership to become a founding member and help shape HuffPost's next chapter