The sun shone bright on a huge blanket of snow. It was a cold morning with temperatures touching freezing point yet a serpentine queue stood outside the doors of Bear Valley Mountain. The resort hosted an array of skiers who had driven several miles up the beautiful Central Sierra Mountain to enjoy nature's abundance of snow. My two boys couldn't wait to hit the white terrain in their ski gear as I stood patiently to buy tickets.
Watching in awe and delight, I marveled at how the skiers came down the steep slopes, twisting and turning skillfully - guided by orange colored flags. The resort swelled with visitors, and young snowboarders maneuvered cautiously, gliding smoothly on the snow. Many fell but were quick to spring back on their feet and start again. Several took lessons to improve their game. The coaches helped the aspiring students navigate the smooth and rough terrains. I became keenly aware of how the skiers responded to their own struggle as they learnt this sport. Some showed persistence while others demonstrated resistance as fear gripped them. However, within a few hours, what seemed to be a struggle became enjoyable as the participants gained confidence and kept moving ahead. Indeed, skiing is a sport of dexterity.
As I tuned into new terms such as gliding wedge, foot steering, parallel turning, controlling speed with turns, it struck me how life is so much like this sport. In fact, it is the ultimate sport - one that teaches us to live with equanimity and dynamism, passion and dispassion, holding tight and letting go - so that we can live it fully. It's a sport that brings continuous learning and unlearning until lessons of unconditional love, patience, faith, compassion, acceptance, resilience, balance et al are learnt. It's a sport wherein every moment is unfolding - beckoning us to live at 100%.
The Power of Meditation
Whether one chooses to ski or snowboard on the green, blue, or black slopes of life, having a wellness toolkit can go a long way in making the journey pleasant. Global humanitarian, world leader and peace ambassador, Sri Sri Ravi Shankar travels around the world teaching techniques that allow individuals to live with great enthusiasm and a smile on their face, unfettered by failures. He emphasizes on the importance of meditating regularly to cleanse the nervous system and becoming fresh every single day to face life's challenges.
Just like to drive a car, we have to learn how to operate the steering wheel, clutch, brake etc., to move towards stability of the mind, we must know the basic principles about our life force energy. This is the whole science of pranayama. When our prana or life force keeps fluctuating, our mind also goes up and down through the roller coaster of emotions. Meditation helps awaken and strengthen the life force within us.
Many senior business leaders including CEOs have shared how meditation gives them a business advantage. Several organizations today offer mindfulness classes to their employees and have recognized the importance of a mentally and emotionally fit workforce who can stay engaged to make a greater contribution to a company's profit.
Julia Tang, a senior breath and meditation teacher from the Art of Living Foundation says, "Meditation helps me clear my mind, gain energy, and feel connected to my self. When my mind feels like a snow globe shaken by events and people around, meditation helps the snowflakes to fall to the side gently allowing me to see life more clearly."
Narendar Shankar, president of a Silicon Valley start-up and a meditation instructor says, "Meditation has literally helped me buy time. With over 125,000 miles of travel this year, and several professional and personal commitments, it has kept me sane, grounded and productive. I have had the privilege of teaching many people around the world and it is extremely gratifying to see their lives being transformed through meditation."
World Culture Festival
When we meditate in a group, it has a greater impact on our consciousness. There is a power in numbers. For the first time, nearly 3.5 million people will come together to meditate for world peace at the World Culture Festival (WCF), March 11-13, 2016. New Delhi is hosting this grand extravaganza where cultures from around the world will be celebrated and world leaders from social, political, business and religious organizations will collaborate to renew their vision and work towards the welfare of society. The event will showcase how a medley of world cultures can coexist peacefully and add value to each other. In the midst of the widespread terror and panic in the world, it's important for all the good people to stand together for peace. Only people who are peaceful within, can spread peace outside--to families, communities, societies, nations and the whole world.
Sri Sri Ravi Shankar says, "We have many global sporting events but there is no platform where people from all parts of the globe come together to share their culture and spirituality. World Culture Festival is a platform that will unite people and send a message to the world that we are all connected from deep within. This event will be a phenomenon that will send positive vibes throughout the world."
A voice of peace and human values, Sri Sri has often called out that non-violence, friendliness and cooperation must come to be recognized as the hallmarks of today's true hero. This festival marks the Art of Living Foundation's 35 years of service to humanity and celebrates diversity and peace.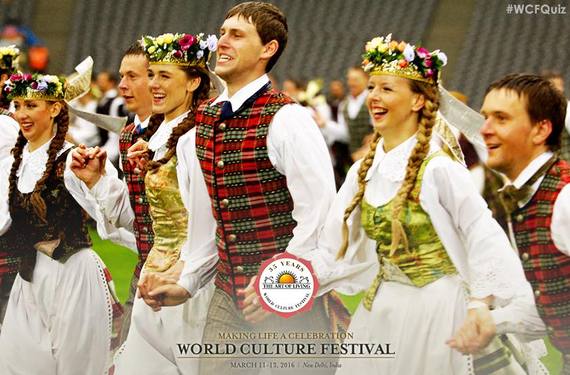 Every Day is a New Day
The ability to stay fresh every single day is no easy task but meditation allows one to drop the past and be in the present. Research shows that meditation relieves anxiety and stress, increases feelings of well-being, optimism, mental focus and productivity. The practice of meditation plays a big role in allowing one to become self-reliant in one's emotions.
In my personal experience, the practice of Sudarshan Kriya augmented with Sahaj Samadhi (Effortless Transcendence) has helped me de-stress and bring resilience to a demanding life. Breath and meditation are very important tools to manage the energy within - and play the sport of life with great enthusiasm and joy.
To join World Culture Festival and be a part of the change, click here.
Watch Sri Sri speak about World Culture Festival