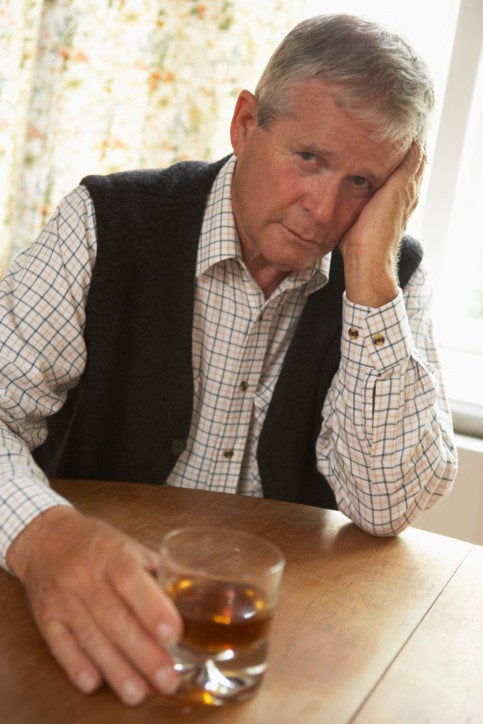 This is an on-going dialogue about living your best life after 50. Please join me, and other Huffington Post readers, in discussing and debating the issues that are important to us.
Right this very second, in my head I'm screaming at the top of my lungs: "Put down the newspapers! Turn off the computer! Switch off the TV and radio! Stick your fingers in your ears and sing as loudly as you can to drown out the noise!"
While reading it, I felt my shoulders sinking lower and lower, my head started to ache and my heart seemed to grow heavier by the second. This visceral reaction wasn't because I was buying into what they were reporting. Far from it. It was because I knew that the media would have a full-blown field day with the findings, and the only thing that people, especially those over 50, would get from it would be that we are depressed, anxious, in a funk, glum and gloomy.
Right on cue, news outlets reported the findings of the study, and each one I read or heard made sure to play up the gloom and doom aspects of the findings.
After reading the study, though, I was encouraged:
61 percent of Boomers say that they feel younger than their actual age.
Most are generally accepting and tolerant of social change.
Over 50 percent of Boomers use social networks, which is a more rapid rate of growth than for younger generations.
75 percent follow the news most or all of the time.
43 percent say they are strong members of their religion.
This doesn't sound like a group of people who are ready to throw in the towel just yet.
What did cause me to get a little anxious, though, was this: according to the study, "Fully 80% say they are dissatisfied with the way things are going in the country today." This feeling of "being out of control" might be one of the reasons why so many people who participated in the survey came across as glum. But it doesn't have to be this way.
What happened to the generation of activists who changed the status quo, helped shape the world and fought for the rights of women and minorities? If we're not happy about the way things are, then we need to dig deep down and find that anger and sense of injustice and do something about it. Get involved. Vote. Rediscover the activist in yourself. If you see a problem, be part of the solution. We were the leaders of change for decades. We can lead again.
There certainly are enough of us to have a huge impact. And, it's growing. Every seven seconds, someone in this country turns 50.

According to the Pew Research survey, "The 79 million member Baby Boomer generation accounts for 26% of the total U.S. population. By force of numbers alone, they almost certainly will redefine old age in America, just as they've made their mark on teen culture, young adult life, and middle age."
It should be noted that of the 79 million, only 1,500 were consulted for this study. A good sample size, yes, but, as with all studies, we need to analyze the findings with a grain of salt.
We are a huge and very powerful political, social and economic force. We are also aware of the economic realities and how they specifically affect us, including the fallout from the recession, and the job market, and all of this could absolutely cause one to be anxious and lose hope. But it could also make you take action. It's a choice.
In this youth-centric world in which we live, it is often hard not to feel as though we've lost control. Far too often, society tells us that we should move over and be invisible because we don't have anything left to offer. Ignore it. Every day, I meet men and women on Facebook, and when I lecture, who are reinventing themselves, starting new careers, running marathons, taking up new hobbies, volunteering, creating new ways to earn money, staying engaged and connected. Right here on The Huffington Post there are wonderful, inspiring articles about people over 50 who are aging gracefully and with spirit. These people are not glum, gloomy or anxious. Concerned? Yes, but they continue to help shape our world in some very meaningful and important ways.

When I turned 50 a few years ago (I'm celebrating my 54th birthday this week), I was confused about aging, because I wasn't ready for it. It sneaked up on me so quickly that I was ready to do anything to hold onto my youth. Instead of running away from it, or trying to pretend to be, or look, younger, I made a life-changing decision: I embraced my age and decided to be the best I could be, at whatever age I was. That meant getting and staying fit, engaged, connected and enthusiastic about the world in which I live.
Singer Melissa Etheridge says, in "Daring to Be Ourselves," We are getting older, and we are getting wiser, and we are getting freer. And when you get the wisdom and the truth, then you get the freedom and you get power, and then look out. Look out."
My message is simple: Do not let this new research shape your view of aging, of yourself, your life, your opportunities, and what is ahead. We are the biggest generation in history, with a big responsibility: to show future generations how to age with grace, dignity and courage. This could be our legacy, and our gift.
Staying connected is a powerful tool: Join me on Facebook, and connect with me on Twitter!