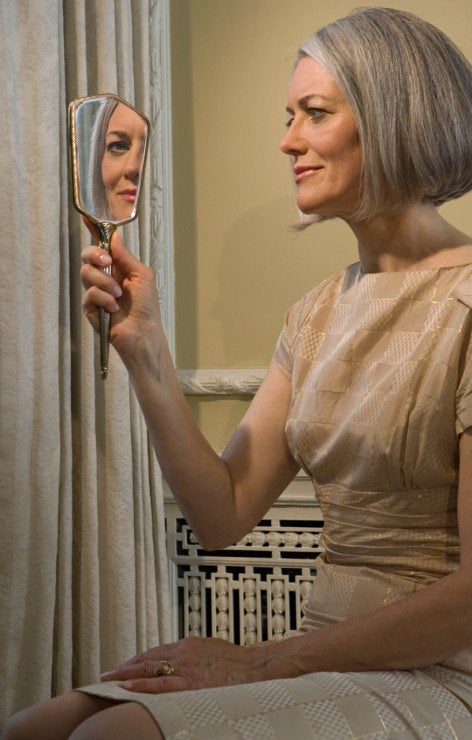 An article in the U.K. Daily Mail stopped me in my tracks recently. New research, it reported, shows that more than 90 percent of women in their 40s and 50s are deeply unhappy with how they look and are suffering from what experts have dubbed "Midlife Mirror Angst Syndrome."
Curious and apprehensive, I read the article. Not surprisingly, the women who were interviewed for the story were quite down on themselves:
"Ever since I turned 40, my reflection has upset me. I loathe what's happening to my body, I am riddled with hang-ups -- and I hate the fact I can't control the changes I see."
"Before the ageing process kicked in, I used to take all those sideways glances from men for granted. I've had to accept that I simply don't turn heads any more."
"I'm going through the menopause and it's a shock every time I catch sight of myself in the mirror: I expect to see the woman I was in my 20s, but there's a 50-something woman staring back at me."
I used to feel that way -- but no more.
A few years ago when I turned 50, this is what was staring back at me when I looked into the mirror:
was starting to feel invisible and ignored
hadn't exercised regularly in many years
had very little energy
had hair that looked like road kill because she had been blow-drying it to death for decades, trying to make it something it wasn't (straight)
assumed that the 15 pounds she packed on after going through menopause was normal and would never come off
believed that she was no longer attractive
focused on her wrinkles
was feeling insecure about her place in the world
I looked in the mirror and thought, "Okay, this is it. This is what being middle aged is all about, and I'd better just accept it." Then, I mentally tucked myself under the proverbial blanket and was getting ready to stay there -- until I pulled myself up by my bootstraps, declaring, "Giving up is not an option."
Deciding that drastic action was required, I took it upon myself to get the best information from the best experts on nutrition, fitness, style, hair, makeup, health, finances, careers after 50 and everything else you could possibly think of to feel good and look good so that I could stare at that person in the mirror with a renewed sense of pride and confidence.
Armed with my new "look" and new attitude, I appeared on the Today Show to talk about how I learned to embrace my age instead of fighting it. During the interview with Ann Curry (see video below), I shared what I believe is the simple key to being fearless after 50: "Embrace your age, whatever it is. Love your life, get as healthy as you can, move your body every day, be informed, stay engaged, connect with others, use your mind, live with style, be bold, be brave and walk with confidence."
The message has resonated with men and women around the country because we're tired of being told that we are invisible and no longer relevant. I meet people over 50 every day who are engaged with life in ways they never thought they could be.
I can honestly say that turning 50 changed my life for the better. Instead of giving up and giving in, I did a bit of "tough love" on myself and took action. But more than that: I also realized that I didn't want to just be alive; I wanted to have a life, a great, big, wonderful life after 50.
Before sitting down to write this piece, I looked in the mirror, and this is what I saw:
just came back from running nine miles (with walk breaks and quite slowly)
will run in the New York City Marathon this year to celebrate her 55th birthday and raise money for the Pancreatic Cancer Action Network (see the "NYC Marathon Training Weekly Update" at the end of this article)
can do 20 push-ups (just a few years ago she couldn't even do one)
is starting a new business and has outlines for two other books
has come to truly understand and appreciate the power of connecting with other women who are, or have been, going through similar midlife experiences (take a look at a few of the comments from Facebook friends who were asked this question, "What do you see when you look in the mirror?" below)
can see the pride in her daughters' faces when they look at this confident, happy and unstoppable woman their mother has become
smiles more often than not
is the happiest she has ever been
That is what I see. Oh, about those wrinkles. Yes, they are still there. I love them, and I hope you come to love yours, too. They are the most empowering things I possess.
I put this question, "When you look in the mirror, what do you see?" on Facebook, and here are a few of the responses, reprinted with their permission. If you're on Facebook, join me and these wonderful women so we can all learn from each other about living our best lives after 50:
I see a different face every day. The face may change, but the reflection remains the same. There's always a smart, loving, talented woman looking back at me. (Karen Hanley Taylor)
I see wisdom in the lines around my eyes, happiness in the lines around my mouth and joy reflecting in my eyes. (Denise Taylor Tremaine)
I see a youthful spirit with a new wisdom that can only come with life experience. I take care of myself and do the best that I can with my looks, and have accepted the physical change as part of growing older. I feel very blessed. (Marsha Silver-Kessler)
I see a woman who believes that dreams can come true again and again! (Amy Wise)
I see an older version of myself, but a much more serene and confident version. I see a woman who can handle just about anything with a little time to get used to whatever it is. I see a truly happy woman who has found contentment, has lost her judgementalism, has found her groove and who can find common ground with anyone and who can enjoy herself in any situation....take that you 20 year olds! ;) (Maureen Ardron)
Tell us: what do you see?
2011 New York City Marathon Weekly Training Update
Saturday: 5 miles with a run/walk ratio of 3 minutes/30 seconds
Monday: 5 miles with a run/walk ratio of 3 minutes/30 seconds
Thursday: 9 miles with a run/walk ratio of 1 minute/1 minute
Every other week I'll be adding another mile or so to the long run (keeping the two short runs the same distance), and will be adding "speed work" to my training.
For more information on the Jeff Galloway Run/Walk/Run Method, check out his website, jeffgalloway.com.
Popular in the Community