Do you remember that song in the late '90s where Cher asked us that fateful question, "Do you believe in life after love?" And we were all like, "what are you talking about?" Well chances are, if you're in your twenties or thirties right now, you probably understand that song with a whole new meaning since your childhood days.
Life after love. Does it exist?
My answer is a very clear and resounding YES! In fact, it's possible that your best life is waiting for you beyond the long-term relationship that has ended. If you recently have gotten out of a long-term relationship, it's time to fall in love with yourself.
1. Figure out what you have always wanted to do and DO IT! Maybe there was always a childhood dream or goal that you had set out for yourself and your last relationship didn't quite fit with that idea – NOW IS YOUR CHANCE. Taking a step back from your grief about your life falling apart (it really didn't) is a great time to look at yourself in the mirror and ask, "What have I always wanted to do?" The truth is, nothing is in your way now. You can do what you want, when you want, and how you want to do it. Plan that trip to Thailand, move to another state, register for that class or degree program – the world is your oyster. Being newly single can help you get in touch with parts of yourself that you may have buried in your long-term relationship
2. Reconnect with your friends. If you were in a long-term relationship, it is possible that while you were pouring all of your energy into a relationship that wasn't working, you might have neglected some of your friendships. Finding and reconnecting with your friends is a great way to give yourself emotional support from others and also allow you to open up your social arena. Maybe in your last relationship you did a lot of Netflix & chillin' – this is your opportunity now to make new friends, experience new environments, and flaunt your stuff again (it's great stuff, by the way). Putting yourself back out there in front of others will expose you to new opportunities.
3. Just say yes! Often times, people in long-term relationships have difficulty committing to plans without first consulting their partners. While this is fine and dandy, being single presents you with the opportunity of only having to ask yourself, "Is this something I want to do?" I suggest that you JUST SAY YES. Saying "yes" will open you up to new adventures, friends, job opportunities, and experiences that you maybe never had the chance to experience while you were busy making plans for two. You now have the freedom to try out new things on your own, visit new places, and meet new people. Saying yes to more things will add positivity and novelty to your life.
4. Make room for your feelings. Let's not deny it – ending a long-term relationship is sad. Regardless of whether or not it ended sweetly or on a sour note, losing a person who used to be so integrated in your life can feel like the death of a loved one or friend; In essence, it sort of is. This person who you once put above everyone else is no longer in your life. It's possible that you may never see or speak to them again. Feel this. Feel the pain and know that it will pass. Try to understand and learn that happiness can exist alongside sadness – and that's okay! In fact, it is very healthy to feel and notice both feelings existing side by side. A break up of a long-term relationship can certainly supply you with those confused and mixed emotions of happiness and sadness. Feel them both.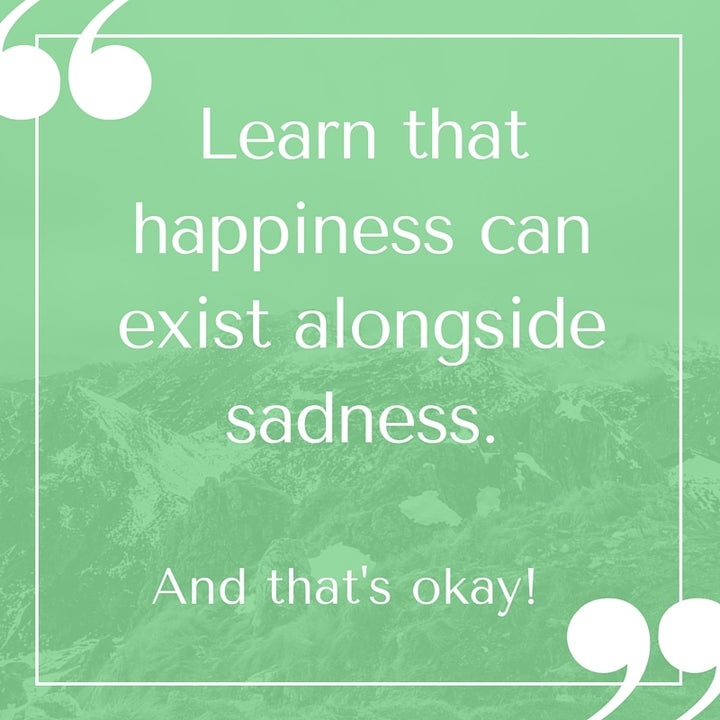 5. Love yourself more. Try to look forward once you have ended a long-term relationship. Most of the time, the relationship has broken up because it was broken. Maybe one or both of you needed to work on yourselves a bit more for things to work and if maybe some day down the road it is meant to be, it might work out. For the time being, choose to love yourself more. Examine what part you played in the ending of this relationship and do the work to heal and help yourself grow. Maybe that means therapy, maybe it means developing your interests, moving, or all of the above. Take the time to find yourself and fall in love with you.
Before you meet your soulmate, you must first meet your soul.
Alyson Cohen, LCSW is a psychotherapist in NYC who works with teens and young adults work through life transitions and the development of a positive self identity. Alyson provides individual therapy as well as life coaching for those looking for more concrete techniques of achieving your goals. For more information on Alyson and her practice, please visit her web site at www.alysoncohentherapy.com .
Related
Popular in the Community