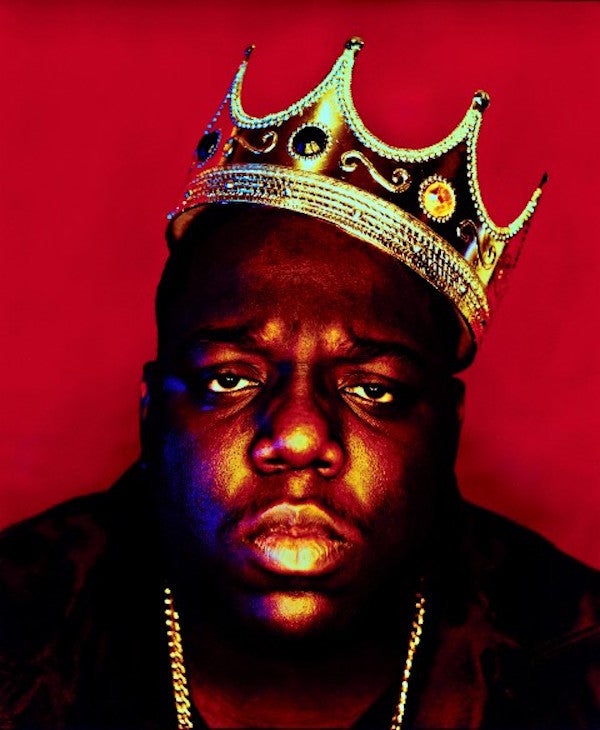 Life After Death dropped posthumously on March 25th, 1997, two weeks and three days following the still-unsolved drive-by murder of Christopher Wallace, better known as Biggie Smalls, Biggie, The Notorious B.I.G. or Frank White (the pseudonym acquired from the highly underrated of drug kingpin frank White in King of New York played by Christopher Walken).
D and I sat in our mother's two-bedroom in the Bronx, and I watched him unwrap the double-CD packaging (a feat in and of itself, seeing how Tupac was the only mainstream Hip-Hop artist to venture into the double-disc territory with "All Eyez on Me," which was released a few months prior to Tupac's unsolved murder), and listened―all the way through―with our added hood-side commentary ("yooo, rewind that back...lemme hear that again" and "He said what?!") to what I still consider a masterpiece of modern art. This is before the days of LimeWire, Napster, and what would follow thereafter ― SoundCloud, iTunes, Spotify, Tidal and a bajillion other streaming music sites. Our only source of music information and purchasing at the time was the bootleg man (if you don't know, ask me) on Fordham Rd., or Music Factory, Circuit City, HMV, and Tower Records. Yes, you had to purchase CDs! But for Biggie, we took no shorts; D went to Music Factory on the Fordham Rd., copped the cd, and came back to the crib, and we listened ― no different than families would do almost forty and fifty years prior, tuning into FDR or JFK on their radio stations. Biggie was giving us news, he was giving us the "Ten Crack Commandments," he was giving us skits a la Prince Paul in the De La Soul days ― Jay Z offering up his thoughts on Mike Tyson and boxers pulling Pete Rose moves, R&B magic with a pre-peeing on underage girls Robert Kelly ― the full arsenal of artistic emcee prowess. On display with Life After Death was the full arsenal of what Biggie possessed: charisma, wittiness, a sharp and distinct flow and a powerful lyricism with remarkable story-telling.
I used to be a rapper. Well, sort of; similar to the way Michael Jordan used to be a ballplayer, or Lebron used to have a hair line ― I still rap, but it's not the same. However, that would be a different essay. This story is more important, because this story about Biggie, a giant among giants, both figuratively and literally, considering his 6'2 and 395-pound. frame. To tell this story properly, I'll have to start backwards. It's me getting off the 2 train with my brother D. or maybe I was by myself – details get hazy when looking back at things from the rearview mirror of life, I guess.
D and I get off the train and walk a couple blocks and ring a doorbell to a private house, located somewhere in the Bronx. Buckwild opens the door. For those not in the know, Buckwild is the prolific producer of the famed Digging in the Crates crew (D.I.T.C.), home to Hip-Hop legends Big L, Fat Joe, Diamond D., Lord Finesse, Showbiz and AG. Going down the list of names of D.I.T.C reads like a discography of epic proportions. Buckwild and I were there to talk business―music business―but all I could do while sitting on his all-white plush seating sofa was stare at the plaques. The space was minimal, affording room for the records to breathe their breath over whomever hovered over them. But, there would be one record that I would never forget, with the frame nailed to the wall and paint attaching itself to its history: The Notorious B.I.G.'s Life After Death album. Certified platinum. Buckwild produced the now infamous I Got a Story to Tell. Buck would also claim ― flat out ― B.I.G. never wrote his rhymes. "I Got a Story to Tell" was one of ― if not the ― greatest Hip-Hop stories never told, due to the sheer genius of its lyricism, wit, and wordplay; but the fanaticism involved in trying to find out which Knick player Biggie was referencing in the song?
Anthony Mason. Fat Joe, on ESPN's "Highly Questionable," suggests Biggie was talking about Anthony Mason on I Got a Story to Tell. The multiple backstories and innuendos on various tracks are a litany of Hip-Hop breadcrumbs: potential Tupac references in Long Kiss Goodnight, subliminal NaS disses on Kick in the Door, west coast affinity on Going Back to Cali, Biggie was spreading thought-starters across all twenty-four tracks. It's hard to say now how a thirty-four year old me would respond to the album if it first dropped; if B.I.G. had not died; if Angie Martinez did not cry relentlessly on our radio dials (when she was still the king of Hot 97) the day of B.I.G's funeral; if the Daily News did not give the "King of NY" the front cover treatment; if Brooklyn did not shut down for the funeral procession; if Diddy had not danced in the white suit with Faith Evans and those kids―those beautiful kids―running the background; if we still didn't have stills of a crying Lil' Kim being held up by Mary J. Blige; if there were no Biggie Duets LP's or mixtapes or remixes or tributes; if Pac had not died a year prior; if we had solved his murder already.
I don't remember where I was, or who I was, when B.I.G. was murdered on March 9th, 1997. I do remember that I was in 8th grade, going into my freshman year at the performing Arts High school, better known as the FAME school―better known as the place Onika Maraj started, pre-Remy Ma roasting sessions. I do remember printing out the words to Notorious Thugs (still a no-no if you're a real Hip-Hop aficionado), my friends and I trying to learn the words at a rapid pace. I do remember re-reading The Source's "Hip-Hop Quotable" for Kick in the Door's first verse over and over again. I do remember Biggie's interview on BET's Rap City with Joe Claire, his last televised appearance before his death; how introspective and cool he still was, Versace shades in full effect. I do remember Biggie on an episode of the Fox sitcom Martin, auditioning the whole city of Detroit, Biggie showing the promise of acting chops, another chapter, a little more potential seeping out of that "blacker than ever" skin. And I do remember an older me staring at Buckwild's plaque and thinking, I would love to have one of those on a wall of my own one day. My dreams of platinum plaque far away in the distance (I peddle scribbles for mainstream publications now), the me that I am now still misses, still remembers, and will always love, Big Poppa.
REAL LIFE. REAL NEWS. REAL VOICES.
Help us tell more of the stories that matter from voices that too often remain unheard.
BEFORE YOU GO