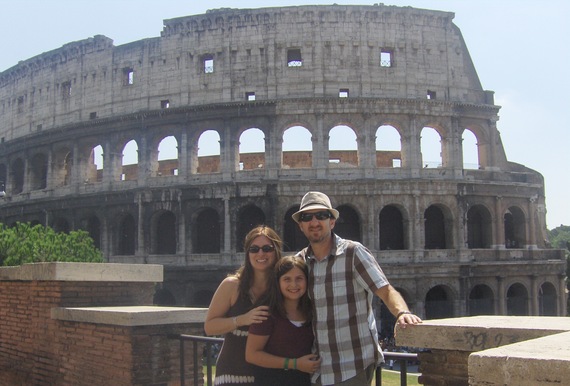 I just got back from a family vacation with my dad and stepmom, my sister and her two kids, and me and my daughter. We were on a cruise that went to South America, Central America and a few of the Caribbean Islands. We were gone for about 12 days and rung in the New Year together -- something that hasn't been done, maybe ever -- in the history of our small family.
This is my sixth cruise -- but my first one without Joel. The last one we took was just the three of us -- Joel, myself, and our daughter -- and it was our favorite cruise by far. We woke up in Barcelona, went to sleep in Monaco... then woke up in Rome, circling back to the French Riviera... it was an amazing time, a "Best Of" tour of the Mediterranean. The impetus for that trip was that Joel had been diagnosed with MS a few years prior and was concerned, even before his symptoms really starting to plague him, about his mobility. He wanted to "take a trip with our daughter while I can still walk." So of course, we went.
It was August and the weather was hot. Heat exacerbates the symptoms of MS. Joel could walk, but at times it was labored. I remember our day touring Pompeii. Even though it was early morning, it was hot, humid, and crowded with tourists. Like most families, we each had our duties. I was the planner, kept track of our itinerary, passports and gum, and Joel did the "heavy lifting" -- carrying the backpack with extra waters, the camera and maps, etc.. On that day however, I did it all. I managed the excursion plans, made sure we had hats and sun block, and I was also the one shlepping the backpack. Joel just wasn't feeling well, and the heat didn't help.

This was a harbinger of things to come: His not feeling 100 percent, having difficulty doing the usual things... but he put on a brave face. We navigated the narrow passages of the ruins, soaked up the history of this beautiful site, but looking at the pictures today, I can see that Joel did his best to smile through his discomfort. He never complained, my husband, and for the sake of our daughter, he forged ahead... that day in Italy, and here in our village where some days were hard for him to just walk her to school.
When we got back from our trip last week, friends were excited to hear about it -- "Did you like Costa Rica?!" "How was the Panama Canal?" "Did you miss Antonio?"
Antonio and I have been seeing each other well over a year and a half. We are in love. He makes me happy and I can't imagine what my life would be like without him in it. But it wasn't he whom I was missing on this last family vacation. It was Joel. Joel would be the one to go with the kids down the water slide. The one to join a pick-up basketball game on the highest level of the ship. And since 1993, he was the person I would kiss on New Year's Eve.
The majority of my family lives on the East coast -- my daughter and I, and Joel's family -- are in Los Angeles. It's not for lack of support or interest, but because of the distance and timing, Antonio has only very briefly met my mom, and also my niece who visited us last summer. As we were discussing this one day, he commented, "Strange how I know Joel's family pretty well, and I don't know yours at all." He's right. But after nearly 20 years together, Joel's family has become my family, and when it comes to Antonio, it's a mutual love fest. My mother-in-law may be Antonio's biggest fan. She's seen him perform, buys him gifts, mentions him in every conversation.
We've had dinners and spent quality time with Joel's dad and step-mom, and to everyone's credit, they have welcomed Antonio not just into my and their granddaughter's life, but into theirs as well. It's a strange and beautiful thing for which I am truly grateful.
Vacations are different without Joel, everything is. Life without him, a little over two years later, is still difficult to comprehend. I haven't moved on, but I have moved forward. Whether it's teaching my daughter to drive, meeting the family for dinner, or the ocean waves carrying me half way across the world, the momentum keeps me sane.