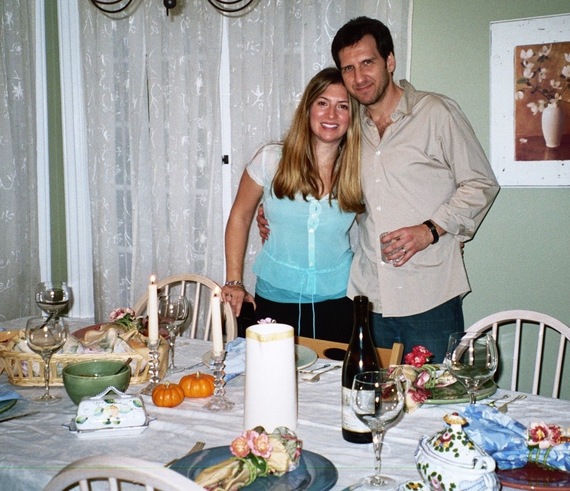 One weekend last October, Antonio and I were staying at a beautiful Bed & Breakfast in the central coast of California. We met another young widow there. She owned the B&B and was inspired, she told us, by the book "Under the Tuscan Sun." Her life changed upon reading it. She and her husband gave up their corporate jobs in So Cal, sunk their life savings into building this magnificent Italian-style villa, and upended their lives. They bought at the top of the real estate market, broke ground, and then found out that her husband had stage 4 cancer. They had no idea. He died before the building was finished.

As we spoke, teary eyed, she told me how she soldiered on, what choice did she have? Construction was completed just as the recession hit... her fully booked reservation list was cancelled within weeks. Her dream could have ended there, a broke and broken widow, a nightmare. But now, 9 years later, her inn is in high demand, she's remarried, and is a step-mom to 3 beautiful kids. We agreed that when people say "I don't know what I would do if that were me!" the only response is, "You're right. You don't know... until you do."

My weekend at the villa marked two years since Joel has been gone. It was also my birthday, and I was closing escrow on both the house I lived in for the past 13 years, and a new place my daughter and I were moving into.

Due to a series of events, escrow on my house closed on my actual birthday. Escrow on the new place, closed on the anniversary of Joel's death. The ease of the whole exchange -- of selling and buying -- seemed meant to be.

My house wasn't even for sale. A nice family wanted to see it, I told my friend and realtor, they can look but unless they want to pay "this much," it's not for sale. They took one look at my house -- okay, maybe two or three -- and basically said, "we'll take it." I never had to put it on the market, I didn't have to deal with strangers traipsing through during various open houses, I didn't even have to negotiate... for all of this, I thank Joel.

He loved our house -- the openness of the floor plan, the outdoor spaces, the pool. We absolutely had a wonderful life there -- birthday parties, and Thanksgivings, and barbecues.... Our daughter grew up in that house, and it's the longest I've ever lived anywhere my whole life... but Joel loved the house more than I did. I enjoyed the same things he did about it, but I didn't see it as our forever home. Joel believed we would grow old and die there. Amazing that he was partially right.

Joel.... who I think about, miss, and talk to every day. It continues to be so strange -- how happy I am -- time spent with my new love, watching my daughter learn to drive, excited by upcoming travel plans-- and at the same time, how sad -- yearning to hear Joel's voice again, to share something new or funny with him... and hoping that his death is the Worst Thing our daughter will ever have to face...

I brought a picture of Joel over to the new place and hung it on the mantel before we moved in. I wanted him to get used to our new environment and I wanted his energy to infuse the space. I believe it has, and not just because his face is prominently on display in family photos throughout the house.

The fellow widow, owner of the villa, told me that she still sees her husband, all the time, in the nature that surrounds her. There's even a particular bird who comes around, a bird she is convinced is her husband, as it flies and chirps and gets comfy on her windowsill. I accept this notion without question.

She brought out a birthday treat for me one morning, another guest who was sitting nearby, said, "Hey it's my birthday, too!" "When?" Antonio asked, both of us expecting him to say "Today!" Instead he said, "Next Monday!" That was the date that Joel died. I started to cry. So did Antonio. Happy/sad tears because we knew that even here, away from home, as one chapter was closing and another was beginning, that Joel was with us.

Our loved ones may leave, but if we're lucky, we feel them, even when they're gone.
Calling all HuffPost superfans!
Sign up for membership to become a founding member and help shape HuffPost's next chapter