Last November, I wrote for the Huffington Post a tribute to Dr. Sorini: "The Luminosity of Dusk: Portrait of a Healer in Illness." It was an attempt to paint the mysterious contrast within this man between the fading of his life and the brightening of his light.
Three months later, I walked into a warm and crowded room that felt colder and more desolate than the February night. My friend Pete had just died. His final breath took away the last glimmer of dusk. It left behind only the gentle features of his face. Stephanie, his wife and their three daughters had placed their face of his shoulders, his chest and his feet. Some were in complete silence, others weeping loudly. It was a sacred yet heartbreaking image of inconsolable loss.
A few days later to accommodate the number of mourners and the outpouring of sympathy towards the family, George Thomas, Bishop of Helena gave me permission to have the Funeral Mass in a sports arena, the Butte Civic Center. In that most intimidating environment, in front of more than 3,000, each daughter in turn, with an authenticity that shines brightest in grief, found the perfect words to capture a man whose greatest talent may well have been Fatherhood.
Both life and light had faded to extinction. The three teenage daughters, with the help of their truly admirable mother and of their faith began a quest of rediscovering life after death and of recreating self after loss.
"It was a life changing experience for each of us." Marietta
July 31st was a perfect summer day. A small group of people stood silently at the front of the Immaculate Conception Church, in Butte MT. The congregation was clearly moved and prayed over them. As they received the blessing their facial expressions reflected a spectrum of emotions, including a hint of nervousness. It was the eve of a grand adventure.
The nights in Uganda do not cool down very much. The humidity feels even higher than during the day. It was only 6 am - Gia, Marietta, and Bella were starting their day. They were still sleepy but what they saw in the streets made them alert. Crowds of colorfully dressed, smiling and fast walking people were everywhere. Minus the smiles and the colorful dress, a New Yorker would find the sight familiar but not Montanans.
The four Butte young women were on a medical mission under the direction of Dr. George Mulcaire-Jones and a very passionate and capable team. The general objective was to train local health professionals to improve the care of expectant mothers and the newly born.
Improving care does not take place in a medical exclusion zone. It is the result of a slow and beautiful process of developing trust and earning respect. With smiles that exude sincerity the trio engaged in a mission of friendship.
"The littlest things made the biggest difference." Gia
She describes a number of very simple gestures that generated gratifying reactions. They gave tooth brushes to a woman with her four children in a hospital and to many others. They brought toys and games to 115 orphans in Kamuli. They shared Montana stories to very young school children crammed in a tiny classroom. Everywhere they went, they took Polaroid photos of people whom they met on their journey: Literally hundreds and hundreds of happy, appreciative faces who were all so easy to love.
Some of these Ugandan faces belonged to highly memorable people. Like John Mark, made wise by poverty and faith, bright as daylight and a born leader. He was mature way beyond his 15 years. Or the delightfully lighthearted and kind Henry who selflessly and joyfully ran a youth camp in Masaka.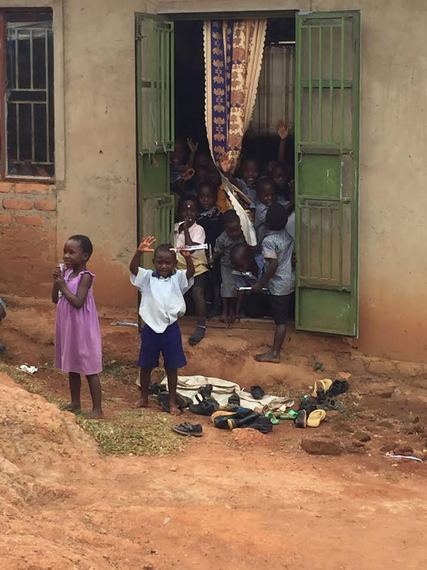 Orphanage in Kamuli
"My dad would have been so happy that we were able to put a smile on the face of so many.' Marietta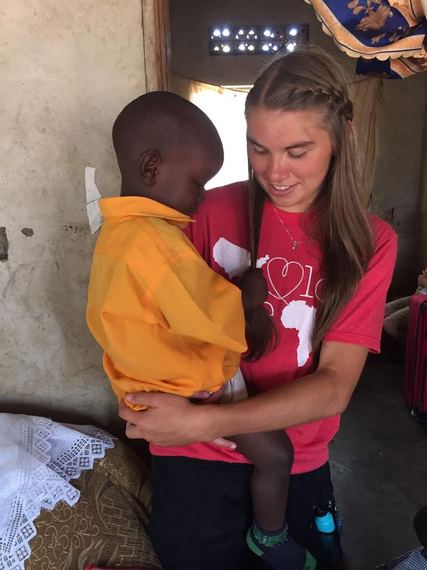 Marietta and Little Boy
Gia, the eldest daughter, explains: "Dad always wanted us to do a mission trip as a family. In a sense, I did go for my dad because he wanted us to help as many people as we could."
One encounter proved particularly poignant. They met two precious little children suffering from untreated hydrocephalus - a condition their surgeon father was particularly skilled at correcting: "My dad could really have helped them." Gia remarks.
The groundbreaking for the "Dr. Pete Sorini Family Center" in Masaka was a very powerful moment. At the emotional ceremony, Gia gave a remarkable speech.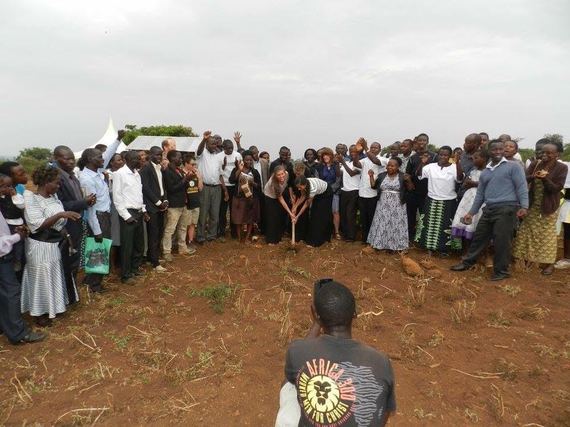 Groundbreaking Ceremony in Masaka
Her words were received with unique warmth, gratitude and kindness. Sympathy and condolences were extended to the sisters. They were hugged as they were enthusiastically being adopted by these Ugandan families. No longer were they visitors. They now belonged.
That night Bella texted her mother: "It was like the best day ever Mom. It does not matter the color of your skin, we are one big family here."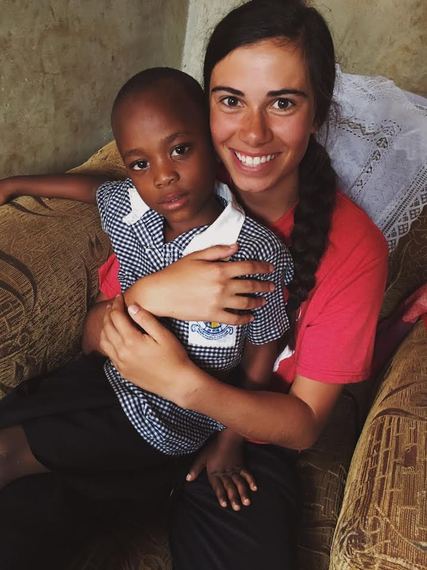 Bella and Little Girl
In the weeks leading up to their African mission, I thought a lot about Gia, Marietta and Bella. I wondered how the memory of their brilliant father was going to influence their lives. Were Dr. Sorini's astonishing accomplishments going to represent for them a source of inspiration or rather intimidation?
I no longer wonder. It is clearly all about inspiration.
"As his daughter I feel lucky to carry on his legacy and going to Africa on a mission trip is part of that." Gia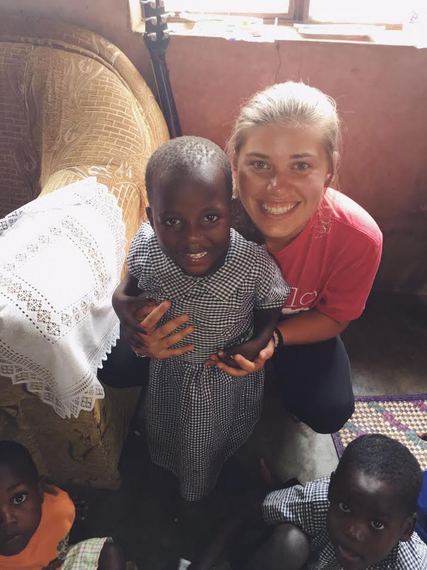 Gia and Little Girl
She could not have answered my question more perfectly.
What is it exactly that heals grief? The three sisters discovered that loss always remains part of who we are. They learned that to live is indeed often to lose. Yet they transcended their pain by reaching out to people who also suffer in so many different ways. Radical acts of love are the most liberating of all human gestures. Above any other they give meaning to our existence. To be loving, even imperfectly, is to be alive fully.
To the high plateaus, lake shores, rain forests and bustling cities of Uganda the three brave sisters delivered fragments of the irresistible spirit of the unforgettable Dr. Pete. Through them, he will continue to transform lives for the better for a long time to come. His mission is not over because theirs is only beginning.
Note: This African journey contributed to the work of Maternal Life International. The humanitarian medical organization, founded and directed by George Mulcaire-Jones MD, maintains a permanent presence in Uganda, Tanzania and Haiti. This particular training mission focused on teaching midwives basic ultrasound skills, infant resuscitation and treatment of post-partum hemorrhage. The latter is responsible for 40% of all maternal deaths in Uganda.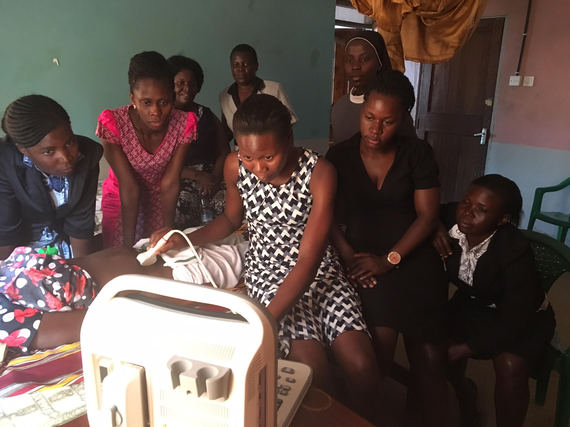 Midwives being Trained to Analyze Ultrasound Image
All photographs, courtesy of Gia and Marietta Sorini.
Related
Popular in the Community