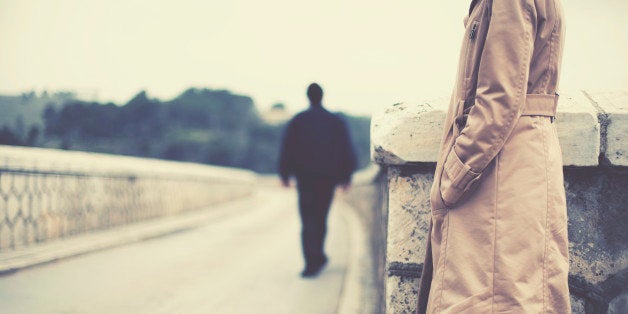 Before my divorce, I believed I was an experienced "griever."
I thought I knew all there was to know about grief: how it feels, how to handle it, and most important, how to survive it. While my life was beautiful in so many ways, I'd experienced quite a bit of heartbreak in my thirty-one years, with the worst loss of all being the unexpected death of a cousin who had been like a brother to me during our childhood.
When I heard the news of his passing, I was only three weeks shy of my college graduation. I had finals to study for, papers to write, and a dance recital to perform. I didn't care about any of that, though. My cousin was gone. He was gone.
I lay in bed all weekend crying and feeling as if God had punched me in the gut. I'd never before experienced grief in such a violent, visceral way.
It knocked me to my knees--literally--and I feared that it would swallow me whole if I didn't take control of the situation.
So, ignoring the sage advice of my girlfriends who told me "Let yourself grieve now," I had a stern talk with my new roommate, Grief. I told him to beat it, at least for the next few weeks until I graduated.
To my surprise, Grief listened.
It wasn't that I didn't continue to have meltdowns, but through the tears, I found the strength to take care of business so that I could graduate.
Then, just as my friends said it would, Grief resurfaced.
I carried the grief of losing my cousin with me for several years after his passing, and to this day, I miss him. I always will. But even though the grief was intense, it didn't capsize my ship. Amid this loss, I was still able to love and find the beauty in life, to feel gratitude and work toward my dreams. I didn't need to grab the wine bottle or take drugs or numb myself with Xanax.
The fact that I was able to stare Grief in the face and keep moving through life only reinforced a long-held belief I'd had about myself--that I could handle whatever curveballs life threw my way without falling into a lasting depression or needing antidepressants to survive the day.
And then, I got a divorce.
After twelve years with my husband, I knew that the grief over losing our marriage would be immense, but I still believed I was an expert on this grief thing, so I was certain I could withstand the storm.
What I learned rather quickly was that I was not, in any way, prepared for the storm of depression that would ensue over the next two years.
This would be the storm that would finally capsize what I'd always believed was an unsinkable ship--me.
Thankfully, friends and loved ones threw me life vests along the way to keep me from drowning. I sought out my own life vests as well in the form of therapy, yoga, meditation, healers, antidepressants, travel, and the most healing of them all--writing a memoir about my entire experience.
But even with all of those life vests keeping me afloat, I still have not managed to convince Grief to get the hell out of my house.
He's moved in. Permanently, it seems. And I have no choice but to live with him.
Grief and I have been cohabitating for a couple of years now, and it is only in recent months that I have stopped my desperate pleas asking him to pack his shit and go. Instead, I've made a space for him in my home. I even make him a cup of tea at night, and we chat like the old friends we are. Interestingly, taking a friendly approach toward Grief seems to have diffused him quite a bit. Although, when he does storm through me unannounced, I am no longer surprised by his dramatic antics. And I'm no longer angry that he's still here. Because I've realized something.
This intense grief I've experienced is a sign of great love.
If I hadn't loved my husband with my entire being, I wouldn't have felt such immense pain over the loss of our marriage. Yes, that love changed and shifted in the final years. Yes, there were problems we couldn't repair that led to the end.
But that doesn't mean that we didn't love each other. That doesn't mean that I don't still send him love and wish him only happiness and joy, because I do. That is unconditional love, after all.
With any loss we experience throughout our lives, we must always remember that suffering is universal. Grief is a part of the human experience. To deny or suffocate our grief is to deny our humanness. Instead, we must embrace our grief as a sign that love was shared, and perhaps, if we're feeling really friendly, invite him over for a cup of tea.
To take a quote on grief and love from my own true story, Meet Me in Paris:
"Where there is great love, there is also potential for great pain.

Because I have hurt so deeply, I know that I have also loved deeply.

And since love is the bedrock of my journey--of our journeys--I know my particular journey has been worthwhile. Worth every tear I've shed, every meltdown I've had, and every dose of Wellbutrin I've taken.

Love is worth it.

I know that now, and so I don't curse the journey. Not a single moment of it."