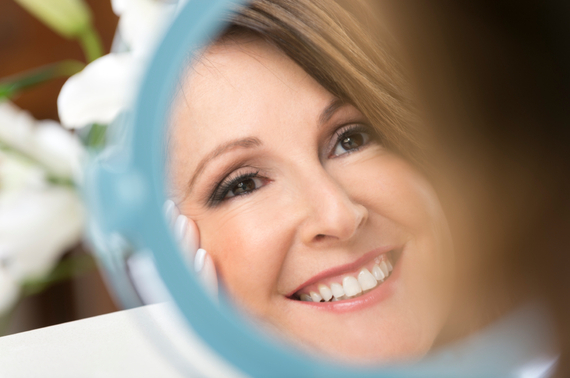 This morning as I was walking from the subway, a fabulously dressed woman in her early 30s paused briefly and said to me, "I love your style! You look so confident; it all works together. The earrings, the scarf, the boots. I love it."
She didn't know that I had tossed and turned all night after my 3 a.m. "anxiety gremlins." That I'd crawled out of bed that morning later than usual. That I had thrown on the first "professional outfit" I could grab. That I barely made it to the subway on time - with no breakfast or coffee to boot!
Nonetheless, her praise made me smile and stand a little taller. It's lovely when a stranger flatters you. And it's a real boost when friends, therapists, and family tell us that we're doing "so well."
Ultimately, however, the belief that we're doing well has to come from the inside. For many of us recovering from divorce, the dependence we had on our former spouse's opinion caused significant pain. So we should tell ourselves exactly what that adorable younger woman declared to me in the subway.
Moving forward, it's essential that we believe in our own strengths.

Here's what to do. I call it "talk to the mirror." It's part of my prep every morning -- including today! It may have made all the difference in the way I presented myself to the world, even though I was feeling rushed and frazzled.
Talk to the Mirror: Four Steps to Believe in You

Stand or sit up straight in front of your mirror and take a good, long look. That person you see is your biggest cheerleader, your best friend, your confidante, your secret to success and your guide to new adventures.
At first, you'll be tempted to focus on everything you don't like. Stand up against self-doubt and decide that you like what you see.
Look yourself in the eye and say the speech below with as much animation and conviction as you can. Wave your arms or point lovingly at yourself, if you like. You can even compose your own message as long as you tell yourself that you're wonderful. Remember, this is you to you. No one else will hear or see this.
Here's your mirror speech. Say out loud:
"I am so proud of you! Look at you! Look what you've accomplished. You've been through some major rough times, and you've come through it like a champ. You did it! No one else. Congratulations!
You are doing so well! This little thing that kept you awake last night? You can handle this just fine! Think about all that you've been through. You are NOT going to let this one get you down!
By the way, I need to tell you this: I love you! You're an amazing woman! Beautiful, strong, focused, in charge!
Now, step into your day knowing you can do whatever you need to do. Nothing's going to hold you back: not anyone or anything.
Watch out world, here you come! Go get 'em Tiger!"

If it means doing this every day until you feel your self-confidence returning in spades, do it! You'll find it'll make a significant difference in your self-assurance throughout the day.
Please scroll down to comments, and tell me what you say to yourself to inspire you!
By the way, if you like what you've read, stay tuned for my 30-Day Divorce Recovery package, which this post was adapted from. Available at the end of this month, it will give you a shot of inspiration every day for 30 days.
Is mirror talk not enough? Need more upbeat energy first thing in the morning? Get my morning inspirations to get you energized for the day ahead. Go here for my 30-day audio download of inspirational four-minute messages to kick start your day for 30 days.
Kat goes international! Her book, Exhale Midlife Body Blues, was featured in the Irish Examiner.