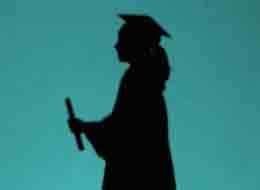 Whether you're a new graduate getting your first taste of the real world, or you've been out in that world so long you're pining for those carefree school days, there is wisdom to be found in the words that challenge new graduates to seize life with gusto. At this time of year, they can be found just about everywhere.
No matter where you are along the journey, the right words at the right time can often have a profound effect not only on your state of mind, but on your spirit. Graduation is a bittersweet, often overwhelming time, and no better one for some words of wisdom. After hearing a recording of a graduation speech Steve Jobs gave two years ago at Stanford, we couldn't help but want to share it with you, but then we wondered what other sage words were out there begging to be shared. So we rolled up our sleeves, sifted through dozens of commencement addresses and assembled our favorites here for you in this special blog. We know how hard it can be to keep perspective and stay motivated, whether you're just graduating or booking the flight to your reunion. So take a deep breath, read on, and like Thomas Friedman told the 2004 class of Washington University: Get moving.
"Sometimes life hits you in the head with a brick. Don't lose faith. I'm convinced that the only thing that kept me going was that I loved what I did. You've got to find what you love. And that is as true for your work as it is for your lovers. Your work is going to fill a large part of your life, and the only way to be truly satisfied is to do what you believe is great work. And the only way to do great work is to love what you do. If you haven't found it yet, keep looking. Don't settle. As with all matters of the heart, you'll know when you find it. And, like any great relationship, it just gets better and better as the years roll on. So keep looking until you find it. Don't settle."
"But nothing important, or meaningful, or beautiful, or interesting, or great ever came out of imitations. The thing that is really hard, and really amazing, is giving up on being perfect and beginning the work of becoming yourself."
"Do what you love, first, because in the world of [9-11] you have so much more power to do what you love; and second, because if you do what you love, you will always love what you do, and a hundred percent of people who love what they do end up thriving, either emotionally or financially. People who love what they do are always more adaptable and creative."
"For me, success is being able to give back to your friends, your family, your community, those in need and the world entire. Let me assure you, nothing in this life feels better than having the confidence that you can take care of yourself and your family and know that you can continue to grow and excel in your profession and as a person. This is my definition of success. But there's no magic potion -- no secret formula. There is absolutely no substitute for hard work. There is always someone right behind you, willing to work harder for what you have and what they want. Don't look over your shoulder and don't use or abuse others to get ahead. Keep your eyes focused on your goals and keep working for what you believe in and what you want to accomplish. Success is something that can never be measured by others -- only you can define and measure your own success.
"Because you are human beings you are going to meet failure. You are going to meet disappointment, injustice, betrayal, and irreparable loss. You will find you're weak where you thought yourself strong. You'll work for possessions and then find they possess you. You will find yourself -- as I know you already have -- in dark places, alone, and afraid. What I hope for you, for all my sisters and daughters, brothers and sons, is that you will be able to live there, in the dark place. To live in the place that our rationalizing culture of success denies, calling it a place of exile, uninhabitable, foreign."

Edward Rendell
Lafayette College
May 22, 2004
"The disgrace is not in failing at something you dream about and want to do. The disgrace is not having the courage to try in the first place."
"Start where you are and move forward. I suspect that not too many will be offered the CEO job in a major corporation or embark next week on founding the next Microsoft. Nor will you find yourself in a position to single-handedly influence the problems of our society. In fact the search for gainful employment and simply getting attached to the system will more than likely be exhausting at best, frustrating for sure, and in many instances downright discouraging. I urge you to draw on that reservoir of optimism I spoke of earlier and apply that entrepreneurial zest as you seek out a beginning role. Be willing to take a chance, to start at a modest level, and recognize that getting going is often your most important step."
"The word 'partner' is often used when a child begins school. A kindergartener cannot make a move without finding his or her partner. The partner is the security blanket -- the person who cushions insecurities and fears -- the person who gives their hand when you fall. In summer swimming lessons at the beach, the lifeguard blows the whistle at regular intervals to do the buddy check -- making sure everyone has a partner -- someone to help in a time of need. Early on we recognize that others help to support and nurture us. We gain advantage by working together. Life is a vast network of partnerships in which all of us are givers and takers. Partnerships may well shape your career, your personal life, and ultimately define the mark you make in this world."
"The reason I succeeded was because when the alarm went off at 5:25 a.m. for 30-plus years, I couldn't wait to get to work. I loved what I was doing, the people I was working with (my team), and the competitive game trying to beat P&G, a world-class competitor. That's the key to success. Find something you love doing with people you really like and the career success and money will just come with it."
"Your place of employment is where you spend the most time, energy and personal commitment. You should be proud of where you work. You should be motivated to help your employer. A job should not be just a paycheck, it should also be a passion."
Formal education will make you a living; self education will make you a fortune
-- Jim Rohn