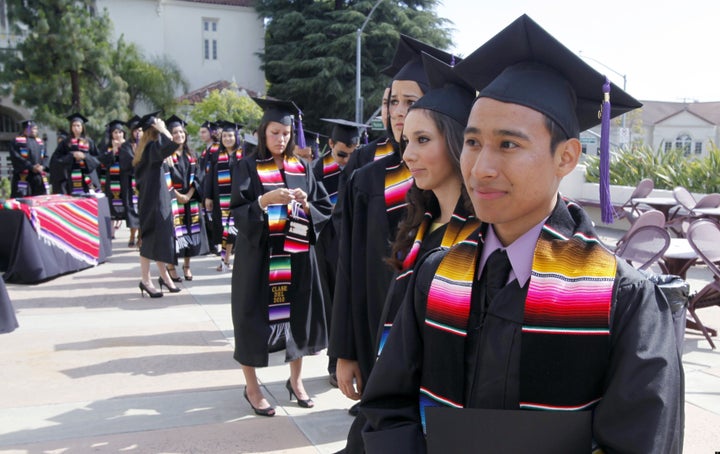 So you spend all summer interning (aka working for free or below minimum wage) and you either went back to school with a better understanding of what you want or you left thinking, "What do I do now?"
While some interns are lucky enough to get hired for their hard work, most employers either can't hire you because of budget reasons, a hiring freeze, or because they don't see the dollar value in your continued service. A new wave of Fall interns is likely making its way down the hall as we speak. . A recent HuffPost story revealed that 3 out of 4 Americans have been affected by joblessness so far. Good bosses won't promise you a job, anyway, but there is that sinking feeling in your stomach that comes when you realize that you've reached your limit, at least for now.
While packing your desk, getting reference letters and having your complimentary goodbye lunch with work friends, you're then faced with the question that will determine how you market yourself for your next job: How can I get paid for what I've been doing for free?
Chris Anderson summarizes this struggle for value in his book Free. Essentially, people aren't willing to spend money on something they can obtain for free elsewhere, so it's the seller's job to offer more. That's why many journalists today are against paywalls and subscriptions for general news and most models have failed. The ones that have succeeded so far, like Bloomberg, give audiences something they can't get anywhere else.
While interning, think ahead to the future when you walk out the door and how you can make the most of your exit, even if it doesn't mean an immediate job offer. Below are five tips to consider for your "effective exit."
1) Keep in touch with your colleagues and superiors because they are now your professional contacts. But don't just email them when you're scrambling to pay off your credit card bill. Send them updates every now and then on what you're up to and keep track of what they're up to and stay interested. Often, they are well connected with others in your field and if they can't offer you anything, they might know someone that will. Anyone will tell you that your biggest asset during a screening process is the blessing of someone they know and trust. Almost all of my interviews came from someone I worked with passing my information along to someone personally.
2) Transcend the limitations of the internship. If you think you can get hired for a job you've been doing for free, think again. Simply put, they will find someone else to replace you who is willing to work for free. Offer a unique skill, service or work ethic that goes beyond the intern call of duty to give yourself leverage when broaching the subject. If they realize they will lose something by losing you, they might make some wiggle room in the budget.
3) Collect your greatest accomplishments from your internship and use them to your advantage. The purpose of interning is to gain experience and perspective on your career, so if you hide your writing samples, videos, projects and assignments, then what was the point? Post your work on your social media, your blog and resume for the next time you hunt for an internship.
4) Schedule "exit interviews" with your immediate bosses and the senior management. This could be your one chance to talk to the CEO of your company, so make it worth their time. Upon leaving your summer internship, tell them if you're interested in doing part-time or full-time work in the future so they think of you when positions open up. Also have an honest discussion about the strengths and weaknesses of your experience to help them make it better for future interns. Many come from similar backgrounds or programs that helped them get the job, so be sure to ask your colleagues how they got their start. You can also pinpoint what skills you need to brush up on to stay in the running.
5) Lastly, incorporate your contacts, project results and experience into your next move. If you interned somewhere that honed a certain skill, strategize and make your second job about another skill relevant to your work. If you intern in the same area every time, it looks like one blur on your resume to employers. Diversify, figure out your weaknesses and promote the strengths you gained on the job.
If you're like many recent grads, this means taking the leap from the unpaid internship to the low-paid, long hours, prove-yourself starter job. It's your job to show them you're worth every penny.
REAL LIFE. REAL NEWS. REAL VOICES.
Help us tell more of the stories that matter from voices that too often remain unheard.