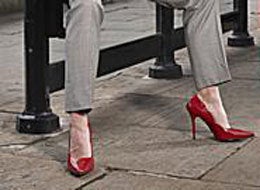 Feet -- gotta have them, but don't gotta love them, especially after decades of wear and tear. Hard to believe our moms used to plant loving little kisses on ours. But, over time, our feet may not only become unkissable, but worn out, misaligned and just plain painful to use. By mid-life, we may end up with feet only a fetishist could love.
Well, blame it on shoes that aren't the right size. Or blame it on high heels, pointy-toed shoes, bad genes or aging (which wears out the protective pads at the bottom of the feet). You can even blame the problems on over-zealous shoe salespeople who assure you with the look of an angel that the shoes pinching in the store will stretch out when you get home. That is some stretch -- the classic shoe store lie women may believe if the shoes are "cute".
And you can't just blame us women for being a little silly about shoe choices. Men who go gaga over high heels encourage women to end up with shortened leg ligaments and misshapen feet. (It's our version of Chinese foot-binding and why men should be quiet about the allure of stilettos. I wouldn't wear them for Robert Redford.)
Except for special occasions, forget high heels. (The Duchess of Cambridge is going to be footsore when she's 55.) And get your feet re-measured. They can get longer and wider over time. Buy shoes that are in the actual shape of your footprint, that feel good in the store. Buy nothing that's a maybe. Wear new shoes around the house for a while and if they don't fit, bring them back and try again. If you order shoes online at Zappos, they will take them back, no questions asked, and they pay the return postage, so no risk there. Almost all of the brands below are sold at Zappo's.
Believe it: Dress shoes can be comfortable

If you have hard to fit feet, but need a flat dress shoe -- listen up mothers-of-the bride -- try Ros Hommerson's Miracle shoe. Other brands that combine style with comfort include Vaneli, Stuart Weitzman, and Me Too. Ballet flats and skimmers are the things to look for. Maybe kitten heels if you need some height.
Much more informal for workplace and weekend wear are these brands, beloved of many and stars in my own closet: Merrell Encore, Clarks, SAS, Easy Spirit Traveltime, Hallux Fidelio sandals from Austria and, I confess, UGG's classic short boots and Ugg's Coquette slippers. Tourists and other people on their feet all day also love Keen, Teva, Mephisto All-Rounders, Hush Puppies, Aersoles, Crocs and Birkenstocks, Birks still here after all these years.
Clogs are the friends of nurses, chefs, dog walkers and others on their feet all day. Dansko, Sanita, Klogs and Clarks are among the best choices and www.clogworld.com the place to go if you can't navigate without clogs. Clogs have gotten less clunky and now come in colors, prints and patterned leathers.

Sport shoes are a cinch when it comes to comfort. Front runners here are Asics, New Balance and Brooks. Other people love the rocker shoes: their backs don't quite hit the floor. Me, I hate the rocker shoes -- like walking through an earthquake. But some are big fans. Different strokes for different feet.
Sock it to you

Now, comfort shoes, if they have enough room in the toebox, can be made even more comfortable with socks that are padded. Thorlo started the padded sock trend and was so successful that other manufacturers got on the bandwagon. You can always find the basic padded sport sock, but now padded socks come in black dressier versions. (Thorlo socks are worth every penny and last a long time -- if your mate doesn't make off with them.)
Drug store relief

A visit to the foot care section of the drug store may help with your walking comfort. Today, there are all kinds of foot gizmos designed to provide relief -- from extra padding for the soles to protection for corns and bunions, those lovely bumps that arrive when your feet decide to grow sideways. Many more options at www.footsmart.com.
Professional help

If home remedies and well-selected shoes don't help your mid-life feet, get thee to a professional. No, not a pedestrian. The word is podiatrist. A good podiatrist can help with problems of misbehaving feet. They may have products that drugstores don't carry and though they will not go all kissy-kissy over your tootsies the way your mom did, they may keep you on the road.
And that's the point -- keep on keeping on -- passing through the valley of corns and hammertoes and forward into life on the open road.
Mel Walsh is a gerontologist, author and columnist. Her book, HOT GRANNY, is available online at www.Amazon.com. Visit Mel at www.melwalsh.com.

REAL LIFE. REAL NEWS. REAL VOICES.
Help us tell more of the stories that matter from voices that too often remain unheard.