Every Summer, mountaineers from around the world flock to Chamonix, France to scale scores of 4000m peaks that pierce the sky like knives. Ropes, ice axes, crampons and assorted mountain gear permit these athletes to play at morbid heights while loved ones worry at home. What compels these mountaineers to take such risks? What does it mean to be a hero in the modern age?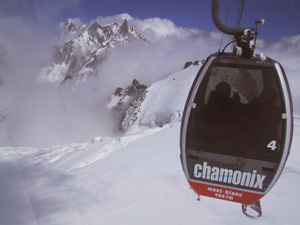 Chamonix, a town of 10,000 people in the Rhone-Alps region of France, is the birthplace of mountaineering. Regional tourism in the early 19th century led to the formation of the first guiding company, called "Compagnie des Guides de Chamonix" in 1821. Chamonix has become one of the most-visited natural sites in the world as tourists flock to view (and a brave few to ascend) Europe's highest mountain, Mont-Blanc (4810m). Alpinists do not consider Mont-Blanc a particularly difficult mountain to climb, yet it sparked the creation of the worldwide guiding and climbing industry. The first Winter Olympics took place in Chamonix in 1924. Rock climbing championships and emerging media projects like the Nissan Outdoor Challenge inspire individuals to defy gravity and rejoice in Chamonix's natural splendor. Death, however, hovers around every conversation.
High alpine risks include falling rock, avalanche, lightning and physical injury. Climbers tip-toe over wafer-thin sheets of ice that cover bottomless crevices (or cracks in the glacier). Handholds on vertical rock walls are sometimes smaller than the size of a quarter. Heat exhaustion, dehydration and nausea accompany the constant risk of altitude sickness. Local mountain guides are employed to take clients up and down the mountains safely using a rope and harness pulley-system, called a belay. Apprehensive guides often start expeditions well before dawn to minimize the chance of getting caught in the recurring afternoon thunderstorms that send lightning bolts down to earth's floor. In the face of all these dangers, many people opt not to climb with guides, but I do.
I returned to Chamonix this summer to overcome my fears after a near-death experience last year on the iconic "Dent du Geant", or Giant's Tooth (4013m). Last July I embarked on a series of climbs with my father (which has turned into a yearly activity for us). A surprise summer storm covered the peak in snow, yet my father and our French guide, Eric, decided to climb the peak anyway. I came along. We left the Torino Hut at 3am, which lies on the border of France and Italy and is accessible with gondolas from both sides to Pointe Helbronner. We crossed an open glacier under the moonlight and arrived at the base of the Dent du Geant at sunrise. Once we started climbing, my hands and toes quickly froze with the icy wind, and I slipped on a patch of snow above a rocky precipice. Eric acted quickly to hold me with a rope attached to my harness, but I had not tied the harness properly and it opened. The only thing that prevented me from tumbling 800m downward was to grab Eric's rope and clutch it between my fingers. I quickly retied my harness, secured myself against the rocks and let my life flash before my eyes. This is not a normal situation for anyone, and since it is the first time that it happened to me, I had to ask some very basic questions about myself. Who did I love? Who loved me? Why do people do this and how did I trust a complete stranger with my life?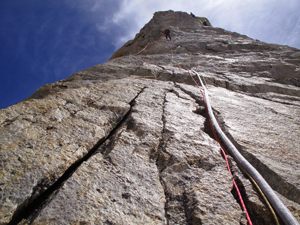 In a life-death situation, we immediately think about the people that matter most in our lives. These people have an immediate connection to our existence, which makes human relationships indispensable. This is what I call community.
In risky alpine situations, we succumb to nature's beauty, feel insignificant in the face of her grandeur and then learn to cherish every inch of solid rock beneath our feet. After the climbing accident last summer, I realized that I climb mountains as a reminder that nothing in life should be taken for granted. During a climb, our rope is our lifeline. In my case, I endangered myself through my own human error, which forced me to ask, "what does it mean to be a hero?"
In villages like Chamonix, mountain guides devote their lives to conquering new peaks and helping clients become heroes in their own minds. These guides grow up watching their relatives and neighbors scale incredible mountains. The individuals that go on to out-climb everyone else become local legends, yet they continue to inhabit the community alongside everyone else- bound to their alpine heritage. At the start of each climb we're simply clients, having hired our guide from the local service, yet this virtual stranger rapidly becomes a hero for us. He prevents unimaginable tragedies from happening.
When I think about my own urban upbringing, the heroes in my community weren't accessible like mountain guides. The mass-media will have us believe that our heroes are celebrities, millionaires and rock stars. I stopped seeing that there is room for the everyday heroes who make the world revolve. Am I the only person bothered by this?
Our daily actions and accomplishments seem minute when we compare them to the feats of those who grace newspaper covers and cereal boxes. I believe that many adults underestimate the influence that they can have on their communities, and particularly on a younger generation. We should not ignore the people around us in our search to be heroic, because most often our friends, family and neighbors cry out for a chance to connect with each other at a deeper human level.
I reached the top of Dent du Geant this year and rewarded myself with a view that stretched over the French Alps. Clouds floated below us and for a few brief moments I closed my eyes and felt like I was flying in the heavens. I entrusted my life to Eric the mountain guide, again, and in turn I become part of his life because he cared for my safety. Simultaneously, I realized that I grew up with a hero twice my age -- my father. He has always encouraged me to get out of my comfort zone and overcome my fears. I recognized that we are all guides and role models in one way or another. We don't have to look very far for heroes in the modern age, they are right here, in our midst.