"The San Francisco Bay Area is the playpen of countercultures" said Time Magazine's R.Z. Sheppard in 1986. Indeed, San Francisco has never been a city to stay quiet in times of injustice, and this was never more clear than during the beginning of the AIDS crisis.
A new exhibition "Life and Death in Black and White" captures the emergence of AIDS activism in San Francisco through civil disobedience and militant action. All 17 photographs on view were taken by five queer photographers in the 1980s and 90s and curated by historians Gerard Koskovich, Don Romesburg and Amy Sueyoshi. The exhibition is equal parts art and history -- its photographic memories are displayed chronologically, with text providing some context for those unfamiliar with the struggles of the time.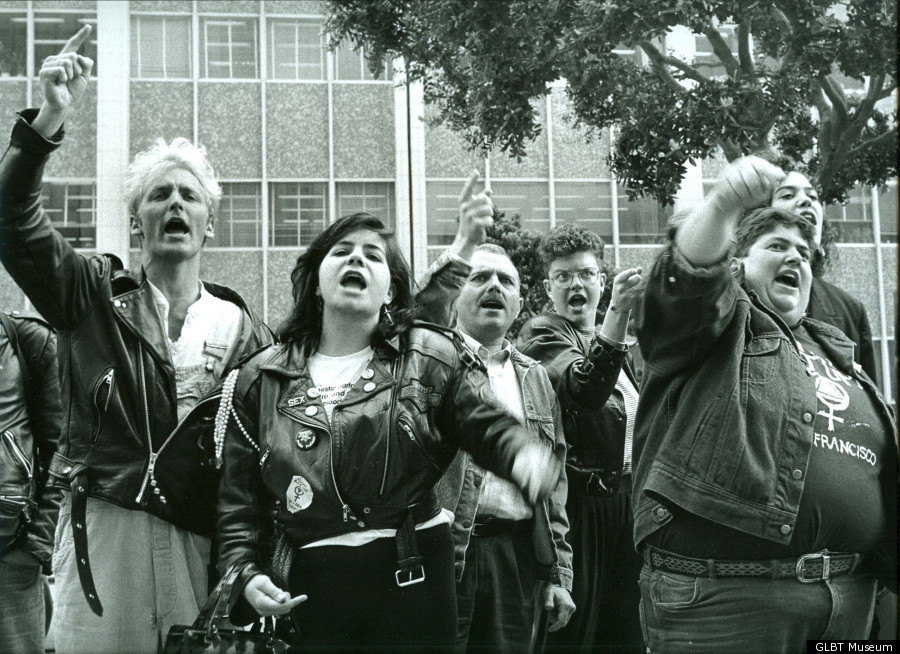 Jane Philomen Cleland. "Protesters Chanting 'Shame' During an ACT UP/San Francisco Demonstration" (circa 1990); vintage gelatin silver print, 10 7/8" x 13 7/8"; collection of the photographer. (Copyright © 1990 by Jane Philomen Cleland)
The collection provides climactic moments of activism, for example, when citizens chained themselves to the doors of the Federal Building on U.N. Plaza, to make themselves heard. From a blockade on the Golden Gate Bridge to an ACT UP demonstration, the exhibition highlights the pain, the rage and the bravery involved in the fight for AIDS awareness.
The crisp and clean black and white photos bring a feeling of control and simplicity to a time of chaos, when an unnamed disease targeted half of the city's gay men and government agencies seemed incapable of listening.
Yet in the darkest times come the brightest inspirations, as thousands of San Franciscans rose to the challenge and fought for their voices to be heard. The striking images capture protestors, students and policemen, chanting, fighting and just living their lives. In a way it is hard to believe these photos were taken so recently, from 1985-1990. And yet the photographs are good reminders of the fights we are still facing today, from marriage equality to the Occupy movement. These activists showed that civil disobedience can impact political outcomes.
"Life and Death in Black and White" features photography by Jane Philomen Cleland, Patrick Clifton, Marc Geller, Rick Gerharter and Daniel Nicoletta. It will show at the GLBT Museum in San Francisco until July 1.
Take a look at the activists that inspired a change below, and let us know your memories of the city at the time or your thoughts on the impact of organizations like ACT UP in the comments section.
PHOTO GALLERY
glbt museum
REAL LIFE. REAL NEWS. REAL VOICES.
Help us tell more of the stories that matter from voices that too often remain unheard.
BEFORE YOU GO