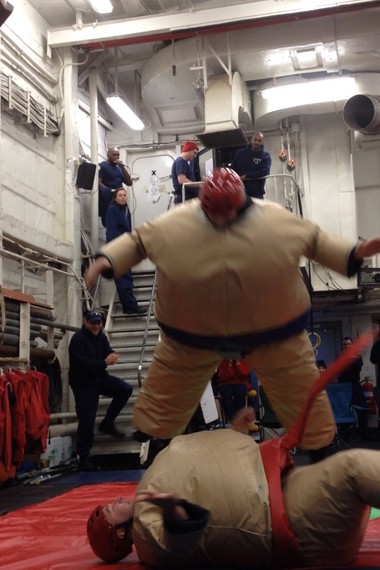 One, two, three, sumo! Every Saturday night onboard the USCGC Healy, scientists and crew members come together for morale boosting events such as sumo night, a talent show, and karaoke.
Today is day 51 at sea onboard the Healy, I can't remember the last time I blow dried my hair or put on make-up, I have mastered the quick water conserving "sea shower," and can rise to my top bunk in just two quick steps. Life at sea is a lot like middle school summer camp and it's not just the bunk beds and cafeteria style dining -- it's living with a collection of characters, working together, and learning to rely on each other.
Onboard the Healy are 51 scientists ranging in age from mid-20s to mid-60s with experience levels from graduate students to senior scientists. There are 93 Coast Guard crew members ranking from entry level seamen as young as 18, to officers, commanders, and of course the captain. Coast Guard members are stationed on the Healy for up to three years and work on the ship year-round whether in port or at sea. Gender balance within the science party is fairly even with 43 percent female, but women make up only 25 percent of the Coast Guard crew.
This expedition is a once in a lifetime opportunity that took years to plan and millions of dollars to implement. To take full advantage of our precious time in the Arctic the schedule is tight -- oftentimes we arrive at a new station just as work from the previous station is commencing. There is no such thing as an 8-5 workday on a research cruise, days often blur together and it becomes difficult to tell if the sleepy person munching on a bagel at dinner has been working for hours or is just getting up at 6 p.m. for breakfast. Between stations our message board reads, "Sleep now, and as much as you can!," a reminder of the long hours that lie ahead.
Safety:
On deck anti-exposure suits, hard hats, and steel-toe boots must be worn when deploying and recovering sampling equipment
Every day by 11 a.m. and 5 p.m. we must login and electronically sign an accountability form to ensure that all hands on deck are alive and well
Coast Guard members are constantly on rounds, checking every inch of the ship for any signs of fire or flood
Communication:
Everyone has a pager to quickly relay messages across the ship or to reach individuals directly
Our laptops and smart phones are connected to the ship's server to access email and the Healy's main communication webpage
Desktop computers in the lounges have access to the internet (within satellite range, south of 80 °N)
The "Board of Lies" is a whiteboard located in the main lab that lists the daily science schedule. It is rarely correct (hence the name) due to changes in arrival time or issues that arise during sampling. There is a camera aimed at the board that updates an image every two minutes so we can go online and check the schedule from anywhere on the ship
State rooms:
Rooms are located on the second, third, and fourth decks of the ship and shared between three individuals of the same sex
There is an upper and lower rack, and a bed we call the coffin. The coffin is a folded down couch covered by a low hanging shelf (we all feel bad/slightly guilty towards the person confined to this bed)
There are suite-style bathrooms between each room, six people to one bathroom with a shower the size of a broom closet
Laundry facilities onboard
Living spaces:
The crew and science party each have their own lounge. The Science Lounge has long tables and computers that serve as work areas. There are also couches, a TV, and a giant bean bag primarily used for napping
Each day a PDF version of The New York Times Navy digest arrives for snippets of news from the mainland, and most importantly cross word puzzles
Mike's Java hut is open around meal times and sells freshly made expresso drinks and snacks
There are two gyms onboard with plenty of cardio and weight training equipment, and Cross Fit and Insanity workouts are scheduled daily in the helicopter hangar. There is currently a Biggest Loser competition for those who want to trim down and an "Iron Sailor" competition for those who want to bulk up
Meals:
The Coast Guard works hard to feed us four great meals everyday: 0645-0745 Breakfast, 1100-1200 Lunch, 1700-1800 Dinner, 2300-2345 Midnight Rations or "Mid-Rats"
The desserts are excellent (did I mention there are two gyms on board?)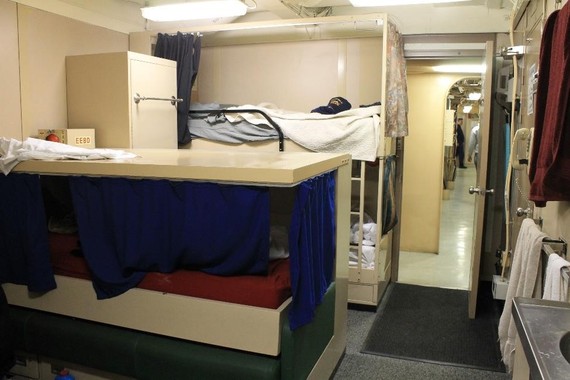 State rooms onboard the Healy. The "coffin" is in the foreground and bunk beds are in the background. Each room also has a sink and vanity.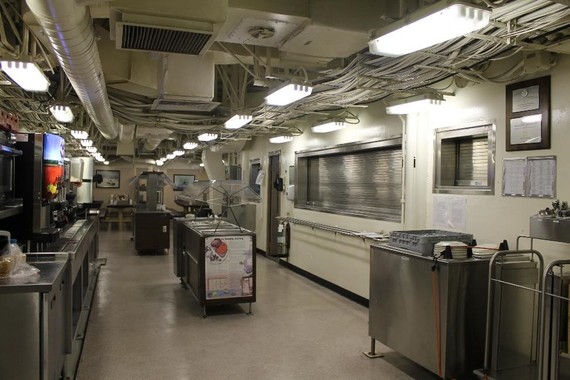 Cafeteria style galley where four meals are served every day.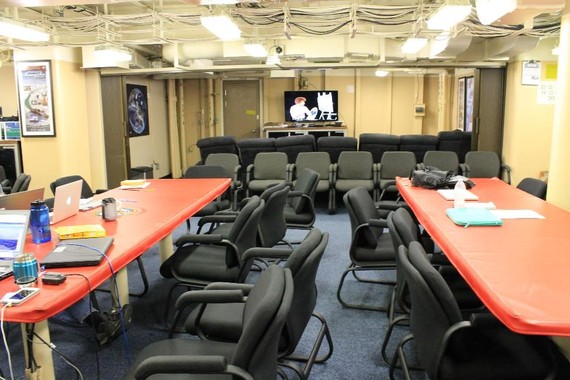 The Science Lounge serves as a living and work area for scientists.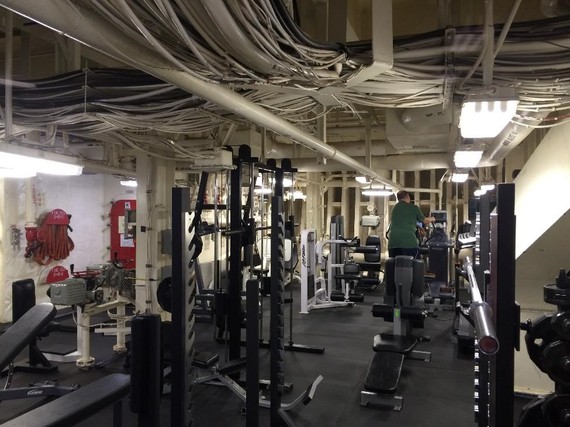 One of two workout facilities onboard.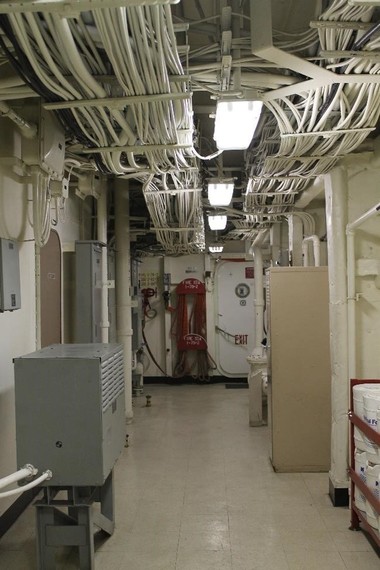 Walking from living quarters to the main lab requires passage through five water tight doors. The ship is compartmentalized by these doors to stop the spread of smoke, fire, or water in an emergency.
Calling all HuffPost superfans!
Sign up for membership to become a founding member and help shape HuffPost's next chapter