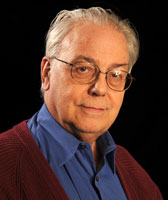 David Morrison has joined the SETI Institute staff as the Director of the Carl Sagan Center for Study of Life in the Universe. Appropriately, Carl Sagan's first doctoral student, Dr. Morrison is now in a unique position to revisit his original roots and succeed legendary SETI pioneer and mentor Frank Drake, who is retiring and now joins the SETI Institute Board of Directors.
Dr. Morrison is a leading space scientist and science manager. In addition to his new job at the SETI Institute, he retains (part time) his previous position at NASA Ames Research Center, where he is Director of the NASA Lunar Science Institute and Senior Scientist for Astrobiology. Previously, Morrison served as Director of Space at NASA Ames, and before that as Professor and Vice-Chancellor for Research at the University of Hawaii. Dr. Morrison is internationally known for his research on small bodies in the solar system, and he has published more than 155 technical papers and a dozen books, including five university-level textbooks.
David, you've been a long-time supporter of the SETI Institute, dating back to your arrival in the Bay Area in 1988. What initially captured your interest and continues to sustain that enthusiasm more than 20 years later?
The SETI Institute has partnered with scientists at NASA Ames in a teaming arrangement that has greatly benefited both organizations. The Institute played an especially important role in the development of the new multidisciplinary field of astrobiology. I always hoped to eventually find a way to work more directly with the Institute. The Institute has always had outstanding scientists, going back to the days of Barney Oliver and John Billingham, and it just keeps getting better over time.

Do you have an area of research that specifically fascinates you?
As one of the founders of the discipline of astrobiology, I am fascinated by the history of life on our planet and the search for life elsewhere. Although my background is in astronomy, I have come to recognize how fascinating and important microbes (bugs) are. For more than 75 percent of our history, all life on this planet was microbial, and even today it is the microbes that dominate the terrestrial biosphere. We expect the same situation on other habitable worlds; therefore much of astrobiology is focused on determining the habitable conditions for microbes, and then figuring out how to detect their presence on other worlds.
I have also taken on the informal job of protecting our planet from asteroid and comet impacts. In 1991, I chaired the first NASA panel to evaluate the impact hazard and suggest ways to deal with it. The first task, of course, is to find threatening objects. I am proud that NASA's Spaceguard Survey has already shown that there is no "dinosaur killer" projectile out there today to threaten us. We have also very nearly eliminated the risk of global ecological damage by impacts from mile-wide or larger asteroids. Now the challenge is to survey the smaller asteroids and plan how to deal with impacts that might happen with very little warning.

What do your friends say when you tell them you're involved with the SETI Institute?
My friends think maybe I was a little crazy to accept a second full-time job (in addition to NASA) without even a pay raise. But what I am doing is very exciting, and as time goes on I expect to transition out of some of my NASA responsibilities so I can devote more of my energy to the Carl Sagan Center.
What do you think are the Institute's greatest assets and how might we apply these assets to inspire young people?
One of the Institute's strengths is our education and outreach program. It is hard for me to imagine any field of science with greater popular appeal than study of the origin and evolution of life, and consideration of possible "little green men" on other worlds. We have great opportunities to excite kids about science and contribute to the overall scientific literacy of Americans.
The Institute has talented people, in both science and education. It also has a uniquely compelling "story" -- to understand the origin and evolution of life and to search for evidence of life beyond our home planet. What could be more fun than that?
How would you like to see the SETI Institute's Carl Sagan Center evolve?
The scientists working in the Carl Sagan Center are essentially self-supporting, obtaining their own grants to pay for their work. The fact that they can succeed in a very competitive environment means they are among the best space scientists anywhere. But they could be even more productive if we had an endowment or some other means to supplement their support, especially for young people just starting their careers in scientific research.
What first sparked your interest in science?
I have been fascinated by science, and especially by astronomy, since I was in grade school. A lot of kids want to become scientists, but many of them outgrow this. I did not. My interest in space science got a tremendous boost when, at age 18, I was invited to join a United States research expedition to the South Pacific to observe a total eclipse of the Sun. Special programs like this that expose young people to real research scientists are important for inspiring the next generation of researchers.
What do you do in your free time?
Travel and photography are my main hobbies. With my wife Janet Morrison, I have traveled all over the planet. Our recent trips to exotic locales include the Silk Road in China, Bhutan and Ladakh in the Himalayas, the Antarctic Peninsula and the ice fjords of western Greenland, Burma-Laos-Vietnam in South-East Asia, and all of north Africa, from Morocco and Algeria, across Tunisia and Libya, to Egypt and Saudi Arabia. We love rivers, and have traveled on the Li and the Yangtze in China, the Mekong and Irrawaddy in SE Asia, the Nile and Zambezi in Africa, and the Amazon in Peru. I also made a unforgettable boat trip down the Grand Canyon on the Colorado River. I use these travel opportunities to take digital still photos and high-definition videos. I also enjoy cooking and watching classic films (which are now in HD).

What book are you reading now?
I am reading the memoirs of Ulysses S. Grant and a fictional biography of Marcus Cicero by Robert Harris called Imperium, I have also become a fan of the mystery novels by Alan Furst set in Europe just before the beginning of World War II.
REAL LIFE. REAL NEWS. REAL VOICES.
Help us tell more of the stories that matter from voices that too often remain unheard.