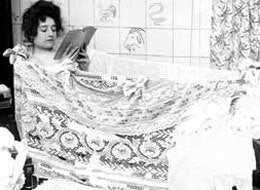 We just came across an excerpt in The Times from a book called The Dirt on Clean: An Unsanitized History, which made us think of you, dear readers, because our recent post "The Case For Not Washing Your Hair" reallllly seemed to resonate. And, seriously, thank you for your honesty. But now we're asking you to come clean again: how often do you wash your body? Generally speaking, it seems the answer depends on where you live--and when you lived.
For the modern, middle-class North American, "clean" means that you shower and apply deodorant each and every day without fail. For the aristocratic 17th-century Frenchman, it meant that he changed his linen shirt daily and dabbled his hands in water, but never touched the rest of his body with water or soap. For the Roman in the first century, it involved two or more hours of splashing, soaking and steaming the body in water of various temperatures, raking off sweat and oil with a metal scraper, and giving himself a final oiling - all done daily, in company and without soap.

Even more than in the eye or the nose, cleanliness exists in the mind of the beholder. Every culture defines it for itself, choosing what it sees as the perfect point between squalid and over-fastidious.

....Most modern people have a sense that not much washing was done until the 20th century, and the question I was asked most often while writing this book always came with a look of barely contained disgust: "But didn't they smell?" As St Bernard said, where all stink, no one smells. The scent of one another's bodies was the ocean our ancestors swam in, and they were used to the everyday odour of dried sweat. It was part of their world, along with the smells of cooking, roses, garbage, pine forests and manure. Twenty years ago, aircraft, restaurants, hotel rooms and most other public indoor spaces were thick with cigarette smoke. Most of us never noticed it. Now that these places are usually smoke-free, we shrink back affronted when we enter a room where someone has been smoking. The nose is adaptable, and teachable.
Click here to get the book.
And please tell us how often you shower below in comments. Again, we're not here to judge, so please be honest. Thank you.