Co-authored by Martina Buchal, Winner of "Your Big Year." World Merit Global Ambassador

Miserable and broken, four years ago I turned to a friend and said: "I just can't. I can't keep doing this. I can't keep feeling this way...and I think its killing me."
"Shhhhh..." she murmured. "You don't have to Audrey. Live your life by design. Your design. Not someone else's default."
I wish I had listened to her then. But I didn't. I had to fall on my face a few more times and have a major breakdown (aka: life epiphany) before I took her advice and decided to design the life that I wanted to live.

Through these last few years, personal development has been my number one priority and focus. Relearning and breaking old habits hasn't been easy but its been worth the work. This New Year (like the last few) I didn't make New Year's Resolutions. I set intentions around a loose framework and look forward to seeing them manifest. For 2014, I invited mentors into my life. Some of these I learn from in business. Some I learn from in personal development and admire their commitment to living mindfully. Some are spiritual teachers, and some are women that are living their life by design.
Maybe I'm hoping for a little osmosis, but having fellow women in my life that I admire who live lives of design and purpose elevate us all to strive a little further and push past the comfort. Martina Buchal is one these women. She is this year's World Merit Global Ambassador.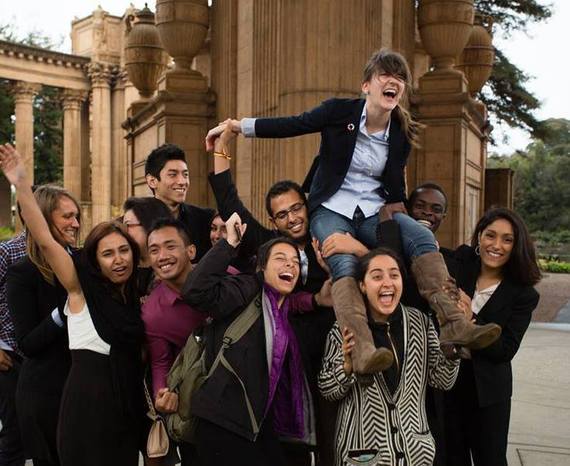 (Photo by Dean Maddocks for World Merit) *Martina being carried by her fellow 11 finalists
In her own words, here's her life by design:
I was young when I set out to be the best human rights lawyer the world has ever seen. With a passion for fairness, balance of power, and a will to protect the less fortunate, I studied towards my B.A. Honours in law and entered the legal realm...and quickly realized that lawyering was not for me. I am a great advocate, but a lawyer I am not. So, after writing the LSAT and applying to law school, I decided to do something else. Instead of adversarial legal argument, I decided I would help people come together instead. I would help people interact and collaborate - and I would do it through conflict resolution and peace building. I sought out mentors and began my training. All that was missing was a forum to help me make a difference. That's when I stumbled across World Merit.
World Merit is an international community of over 60,000 millennials collaborating to make a positive change in the world. It's slogan says that this is where "talent meets opportunity." I thought I had talent so, of course I signed up. I also signed up for one of their worthwhile opportunities: a competition to travel the world as the Global Ambassador of World Merit under the title of Your Big Year.
6 months, much hard work, and several interviews later me and 11 other finalists were flown to San Francisco for a week-long challenge of the Your Big Year finals.
I won, and I couldn't be more grateful.
As you can see, not only is her story inspiring, but I'm looking forward to bearing witness to her "Big Year", because life by design doesn't just happen, we have to actively be a part of creating our own opportunities.
Calling all HuffPost superfans!
Sign up for membership to become a founding member and help shape HuffPost's next chapter