Warm May sunshine bathed Dolores Park. Ryan reveled in how, only halfway through the work week, the "gay beach" was still awash with scantily clad bodies sprawled out on colorful blankets or oversized towels. A gentle breeze carried the smell of marijuana .
Like hundreds of others in every direction, Ryan soaked in the uncharacteristically beautiful midday rays. Yawning audibly, his mind drifted to Art.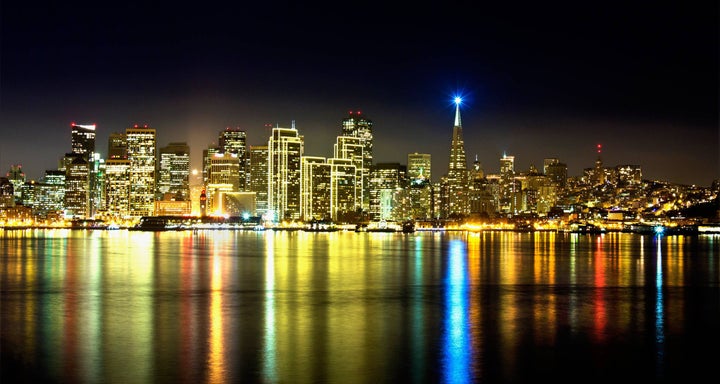 Two days before, their first official "date" had gone very well. Though it ended with only a hasty peck on the lips when he dropped the actor off at his apartment building, their online communication continued -- at an even greater pace than before. Both were good signs, Ryan thought.
A man's voice startled Ryan from his daydreams, as he jolted upright just in time to see a fit body in red running shorts charging toward him. Instinctively, he threw his arms up to shield his face as something whizzed past. He heard a soft thud next to him.
Ryan removed his hands to find a muscular brown body had crash landed in the grass, just two feet away. Fifty yards across the field, a group of men were laughing nervously, staring at the situation.
"Carlos, are you ok?" one called.
In response, the disheveled Latino triumphantly lifted a soccer ball with one hand and flashed a thumbs up with the other. Panting, he rolled over to face Ryan and smiled.
"What about you?" he asked, only a hint of an accent in his voice as eyes the color of milk chocolate glinted in the early afternoon sun, "Are you ok? I thought the ball was going to hit you in the head."
The men's gaze locked in a moment so obvious even Ryan couldn't mistake it. He smiled.
"You saved me," Ryan said, "What a gentleman!"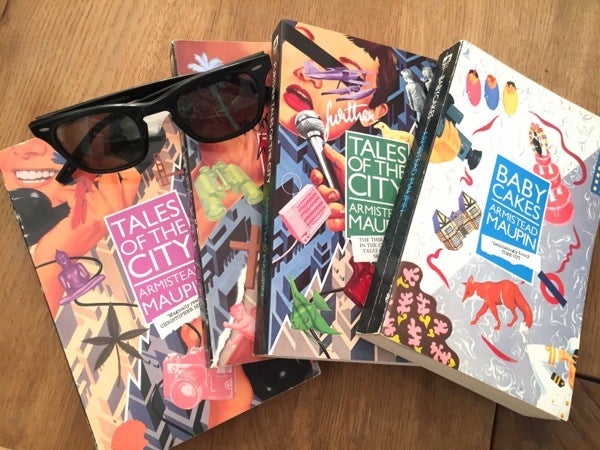 Forty-five minutes later, Carlos' telephone number stashed securely in a pocket of his khaki cargo shorts, Ryan started his trek back toward the Jeep. Located mere blocks from Dolores, where spots were scarce, he'd parked in The Castro and enjoyed the leisurely walk.
Now heading back, he appreciated the steep decline of Church Street between 19th and 18th, which was far preferable to the walk up it earlier. Halfway down the hill, he noticed a rummage sale.
Growing up, Ryan and his grandmother -- "MaMa," which his family pronounced "Maw-Maw" -- spent many Saturday mornings "garage sale-ing." Coming from a lower middle-class upbringing, the majority of clothing he'd worn during childhood was second-hand.
Sometimes, as a kid, it bothered him, but as an adult he'd grown to love a bargain. Though he already had an entire house full of furniture still packed snugly in his Sunset District bedroom, he now gingerly sifted through boxes of cast off sale items, ready to uncover a treasure.
Disappointed to find nothing, Ryan was ready to move on when a stack of books caught his attention. A little reading material for afternoons in the park was the one thing he did need, and he was immediately drawn to a series with vibrant artist renderings of San Francisco on the covers.
They were Tales of The City, More Tales of The City, Further Tales of The City and Babycakes. A New York Times review emblazoned on one cover declared them author Armistead Maupin's "extended love letter to San Francisco." Though Ryan had never heard of the books or the author, the plot outlines on the backs certainly captured his imagination.
"Is a buck for all four too much?" asked the woman running the sale. "You'll love them!"
"Sounds like a steal!" Ryan said, handing her a dollar and sliding the books into his backpack. "I can't wait to read them."
He started the first installment over lunch, and it was all Ryan could do to tear himself away to go to work two hours later. As a recent transplant himself, the author's stories of Mary Ann, Mouse, Mona, Mrs. Madrigal and more were exactly the type of adventure he moved to The Bay hoping to find.
"I can barely put it down," he admitted that night at the office when his coworker Linda saw Tales of The City open on his desktop. "I read 40 pages during my dinner break!"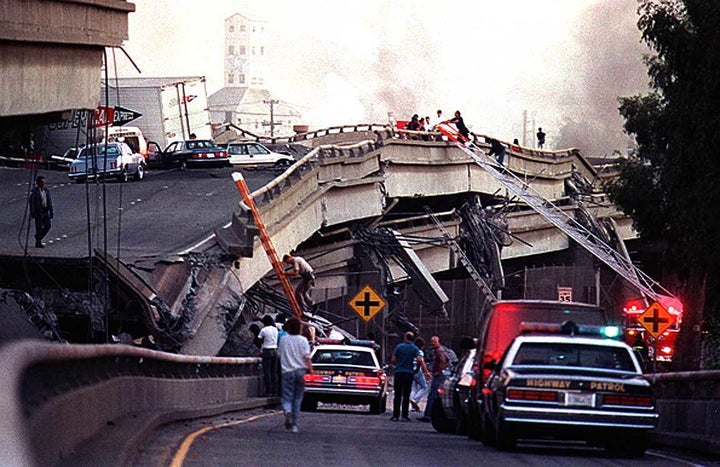 Though he still had limited knowledge of her private life, making small talk with Linda was easy. After hearing of his purchase earlier in the day, she raved about the books.
"San Francisco really is a magical city," he told her, "Every day since I arrived, I feel like something crazy and exciting has happened."
"And, if you're lucky," she assured him, without looking up from a project she was working on, "That won't ever change! I still feel that way most of the time."
Linda read the books shortly before arriving in San Francisco from a small Midwestern town a decade earlier, Ryan learned. Less than a month later, The Bay was rocked by the 1989 Loma Prieta earthquake.
It was the West Coast's most devastating earthquake in nearly a century. Houses toppled, and it even caused an upper section of the Bay Bridge, which connects San Francisco and Oakland, to collapse onto the highway below.
The TV news announced four were killed in San Francisco's Marina District, inciting fear "The Big One" might be next. In the wake, many fled for higher ground, Linda told him, but even that couldn't shake her resolve.
"What was I going to do?" she asked, "Go back to Nebraska?! I don't think so!"
In fact, Linda told him, it worked to her advantage. When real estate rates plummeted, she swooped in on a Mission District apartment for a fraction of the previous rental price -- and hadn't moved since.
"The chick who lived there before barely bothered to pack before she left," Linda told him with a hearty laugh, followed by a loud smoker's cough. "You'd have thought she was running from The Amityville Horror. I'm still sleeping in her bed!"
Later in the evening, Linda and he were alone together in the office once again. Cleo managed to sneak out hours early, per usual. Earlier in the week, Linda hinted that there was more to their Australian colleague's frequent absences than first met the eye, and Ryan was overcome with curiosity.
"Maybe it's none of my business," he ultimately said somewhat hesitantly over his shoulder, as the two sat back-to-back, "But I'm dying to know what's up with her."
The clacking of fingers on her keyboard came to a prompt stop. Linda's chair groaned as she swiveled her thick body to face him.
She was wearing a frumpy black dress, matching tights and her trademark Mary Janes. This particular pair featured a pattern of red roses cut into the leather toe area. Black cat-eye prescription glasses with small jewels on the sides framed her round face. Her shoulder-length, platinum Betty Page cut was askew.
"It isn't any of our business really, except she's kind of made it our business because it is all so public," Linda said. Her blue eyes seemed extra bright at the prospect of gossip.
"So what do you want to know about first?" she asked, "The drinking and drugs -- or the affair?"
Ryan's loud gasp was drowned by the ringing of his office phone. He hesitated to answer, wanting to hear the story, but Linda waved for him to take the call.
"McKennon & Associates, this is..."
"Can it!" the voice on the other end snapped. "I've heard it a million times."
It was Gene. Though they scarcely knew each other, and Ryan still wasn't fully accustomed to the Asian's brash attitude, he certainly appreciated his lone "friend" on the West Coast.
"I thought you were going to call me earlier," Ryan said flatly. "You didn't even answer my emails. What's up with that?"
"I was busy, which I'm sure you'd know nothing about," Gene said with only a tinge of sarcasm. "I'm a very important woman around that office, you know. I'm the..."
"West Coast Travel Manager," Ryan finished for him. "You've literally said it every time we've spoken for the last two months."
"At least it is finally setting in!" he replied, "Now about tomorrow -- meet me at The Leather Curtain after work."
Then it struck Ryan. When Gene and he previously met at My Place, a thick, black leather curtain blocked foot traffic along Folsom Street from seeing the scandalous happenings inside the SOMA bar. Likewise, remembering Gene saying how judgmental his husband was, Ryan was sure he couldn't know their plans.
"Oh...The Leather Curtain," he repeated. A loud "gegegege" escaped Gene on the other end.
"And this time," Gene said emphatically, "Please don't show up looking like you've stolen a middle school cheerleader's outfit!"
With a click, the line went dead. Ryan shook his head in disbelief, then smiled.
Newly inspired by Tales of The City, he was seeing things through new eyes. Every outing could lead to his next big adventure by The Bay, Ryan realized. Maybe things in San Francisco were finally starting to come together!
"Tales of The City" is the 18th installment of "Life By The Bay," a semi-fictional anthology documenting Pollo Del Mar's nearly 20 years as a San Francisco resident. "Pollo Del Mar" is the pen name of author and journalist Paul E. Pratt.
To read more work by Pollo Del Mar, including links to celebrity interviews & all previous installments of "Life By The Bay," click here.