So many questions about gender identity found a place in 2014's headlines that, as the world put last year to rest and got on with the business of 2015, I couldn't help but think back to a particular week last fall. October in San Francisco always evokes images in a resident's mind of:
The Blue Angels buzzing around the Bay during Fleet Week.
Sailors clad in dress whites who (in the post "Don't Ask, Don't Tell" era) can freely socialize in gay bars where their presence will please a population that loves the sight of a man in uniform.
Louise M. Davies Symphony Hall all lit up to look like a giant pumpkin.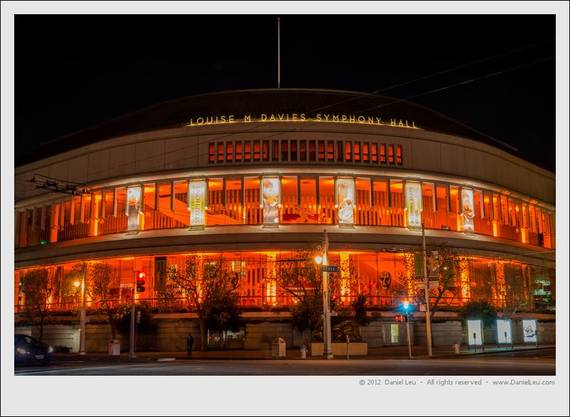 Louise M. Davies Symphony Hall in October (Photo by: Daniel Leu)
Busy costume preparations for Halloween celebrations.
The sudden onslaught of pumpkin-flavored everything.
San Francisco City Hall basking in the glow of orange lighting.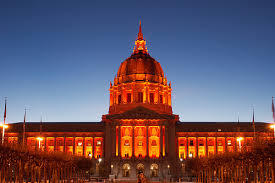 San Francisco City Hall in October (Photo by: Ramses Bulatao)
At that time, two of the Civic Center's stages were awash in gender confusion. Over at the War Memorial Opera House, two countertenors appearing in traditional male costumes had to cope with a confused mezzo-soprano seeking revenge in yet another trouser role. Meanwhile, at the New Conservatory Theatre Center, one of the Bay area's most talented drag artists was holding center stage in the kind of hysterical farce in which one of the more clueless characters is described as "an 11-inch dong that deserves to have my luggage tags hanging from it." To everyone's relief, subtlety was away on sabbatical.
The San Francisco Opera was presenting the company premiere of George Frideric Handel's romantic farce, Partenope, which had its premiere in London some 284 years ago on February 24, 1730. The opera's American premiere did not take place until 1988, when it was staged by Opera Omaha (in 1998 it was co-produced by the Glimmerglass Festival and the New York City Opera).
Directed by Christopher Alden, the current production originated as a co-production between the English National Opera (where it premiered in October of 2008) and Opera Australia, which subsequently staged the work in Melbourne and Sydney. It may be the only operatic production whose press notes include a statement that "singing from behind the bathroom door is slightly amplified."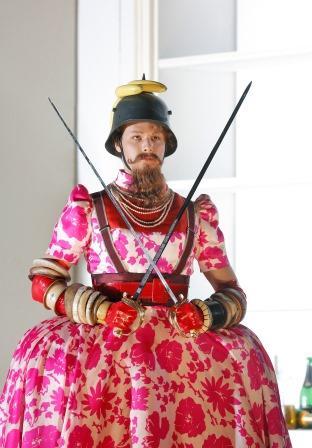 Philippe Sly as Ormonte in Partenope
(Photo by: Corey Weaver)
Heavily influenced by the Dadaism and Surrealism movements of the early 20th century, the opera's plot has been updated to a 1920s Parisian salon where parties and card games are hosted by Partenope (who, in the original version, is the Queen of Naples). While everyone loves Partenope, she's not always sure whose love she can trust or, for that matter, whose love is worth reciprocating. As a result, much of the opera's action is based on misguided lovers chasing after those who either should not or can not return their affection. As Alden notes:
"Partenope is a subversive, urban, gender-defying work that is witty but, at the same time, raises questions about societal assumptions. The libretto turns the norm around so that the powerful monarch in this piece is a woman. The men are all vying for her political/romantic favors and, like anyone in power, Partenope can never be sure whether these people are attracted to her or her power. Handel takes that from the story and writes music that makes her a fascinating, sympathetic, three-dimensional character.

There's a very camp aspect to Handel's operas, especially this piece. It can't be proven that Handel was gay, but he was an unmarried man who chose to live in a sophisticated city, who had unmarried male friends in his circle and his relationship with powerful divas was a big part of his life. The idea is not to airlift the piece into a specific modern context. It's a very open-ended visual context that allows the audience to focus on the relationships and on the text and the music."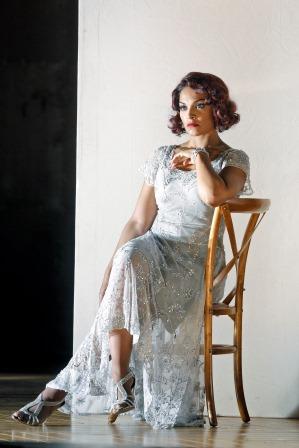 Danielle De Niese as Partenope (Photo by: Corey Weaver)
Over the years, Alden's productions have been known for their gimmickry. Although his Partenope employs all kinds of modern touches from toilet humor to tap dancing (and has characters freely throw glasses and bananas against the walls), each sight gag is carefully calibrated to frame a character's motivation, frustration, and sense of inadequacy or rage. The audience around me chuckled in glee at many of Alden's gimmicks, clearly enjoying a night of Handel more than they had ever anticipated.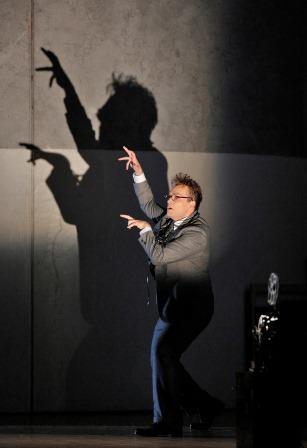 Alek Shrader as Emilio in Partenope
(Photo by: Corey Weaver)
When push comes to shove, the quality of the singing is one of the biggest concerns in any production of a Handel opera. While strong performances came from mezzo-soprano Daniela Mack (doubling as Rosmira and Eurimene) and countertenor David Daniels as Arsace (the lover who humped Rosmira and then callously dumped her after falling for Partenope's charms), I was shocked by the mushy coloratura work that compromised so much of tenor Alek Shrader's performance as Emilio. Baritone Philippe Sly's Ormonte (both in and out of drag) added a nice sense of balance to the ensemble.
Much of Alden's production requires singers who can not only act, but can move like dancers. Danielle De Niese had a luscious, intensely feminine appeal in the title role (wearing Jon Morrell's costumes with a rare sense of style and grace). As far as I'm concerned, however, the evening's top honors went to countertenor Anthony Roth Costanzo who, as the timid and lovesick Armindo, not only sang magnificently but handled his tap dancing chores and pratfalls as if he had been born to physical comedy (not something one can say about most opera singers).
Anthony Roth Costanzo as Armindo in Partenope
(Photo by: Corey Weaver)
I was particularly taken with Andrew Lieberman's set designs for this production. Conductor Julian Wachner kept the opera's momentum moving forward without ever overpowering his singers. Here's some footage from San Francisco Opera's production of Partenope:
For nearly two-thirds of the 20th century, the Cunard Steamship Company was the dominant brand in transatlantic travel. Long before Cunard Line became a subsidiary of Carnival Corporation, the company's advertising campaigns were based on the simple slogan: "Getting There Is Half The Fun!"
That motto could easily have been applied to Act I of the New Conservatory Theatre Center's production of Charles Busch's stage farce, Die, Mommie, Die! (which, at its 1999 premiere in Los Angeles, was subtitled The Fall of the House of Sussman). For Act II, let me quote Alan Yuhas's take on the opening night performance of the Metropolitan Opera's controversial production of The Death of Klinghoffer: "It had all the deft touch of a sledgehammer."
Believe it or not, that's a compliment for Die, Mommie Die!'s director, F. Allen Sawyer, who took Busch's catty romp and used it as a template for the best kind of camp madness. Set in 1967, the plot revolves around a toxic Beverly Hills family whose lust for wretched excess is, at the very least, excessive. With references to numerous bitch fest B-movies from the 1950s as well as an ancient Greek tragedy, the cast of characters includes:
Sol Sussman (Joe Wicht), a fabled Hollywood producer whose luck at the box office has run dry. Head over heels in debt to the mob, Sol has been unable to finance his artistic dream of having Elizabeth Taylor star in a biopic about Billie Holiday. To make matters worse, a private detective has confirmed Sol's wife's infidelity (she's been screwing her sexy tennis instructor). Meanwhile, Sol's constipation has become the bane of this angry old Jew's existence.
Edith Sussman (Ali Haas), Sol's father-worshipping, mother-hating, Electra-like daughter who has some unresolved issues of her own to deal with.
Lance Sussman (Devin S. O'Brien), Sol's ditsy gay son who has been experimenting with drugs, finding new ways to express himself in a college theatre department, and who can be obsessively captivated by the pull-chain switch on a table lamp in the family's living room.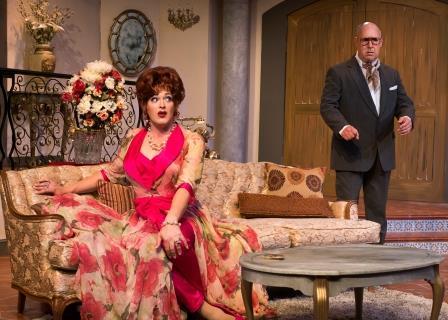 Angela (J. Conrad Frank) and Sol (Joe Wicht) in a scene
from Die, Mommie, Die! (Photo by: Lois Tema)
Angela Arden (J. Conrad Frank), Sol's diva-like wife who is desperately hoping to make a comeback on the cabaret circuit and has even landed a contract to perform at a small hotel in the Catskills.
Tony Parker (Justin Liszanckie), the not-very-bright gigolo who has been shtupping Angela while trying to convince her to move to New York with him where he hopes to resurrect his acting career. Tony is more than willing to put his hefty endowment to use titillating Edith and Lance if the ends will justify the means.
Bootsie Carp (Marie O'Donnell), the wise-cracking Thelma Ritter-like maid who, for years, has been dividing her affection between her employer and Richard Nixon.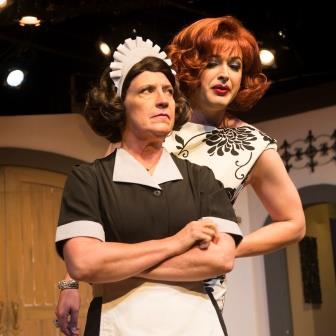 Bootsie (Marie O'Donnell) and Angela (J. Conrad Frank) in
a scene from Die, Mommie, Die! (Photo by: Lois Tema)
Clues drop with a resounding thud throughout Busch's play.
Who knew that Angela had such skill at throwing knives and scissors?
Or that she could be driven to murder Sol with a silvery suppository (the size of an extra-large burrito) that had been laced with arsenic?
Why would Angela recoil at the sight of the LP recording she once made with her long-deceased identical twin, Barbara?
And why does Angela deliver so many lines in Act II as if she were channeling Bette Davis?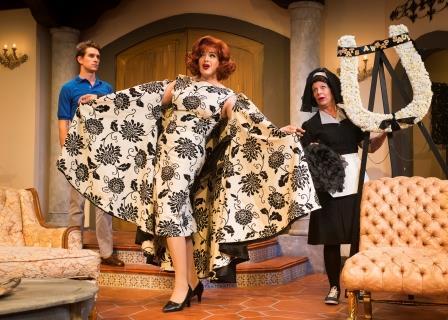 Devin S. O'Brien, J. Conrad Frank, and Marie O'Donnell in
a scene from Die, Mommie, Die! (Photo by: Lois Tema)
Thanks to her enterprising children (who slip some LSD into Angela's evening cup of coffee), plenty of secrets are revealed against the background of Kuo-Hao Lo's deliciously vulgar unit set. While many may assume that the role of Angela would forever belong to its creator, Charles Busch, New Conservatory Theatre Center triumphantly cast J. Conrad Frank as Angela.
Over the years, Mr. Frank has been perfecting his own cabaret act as the failed Russian opera diva, Countess Katya Smirnoff-Skyy (who is now forced to work at the cosmetics counter in Macy's). With a series of gowns designed by "Mr. David," the statuesque Mr. Frank dominated the stage in the manner of a performer who knows his way around high camp, low morals, divine outfits, and operatic posturing. His comic timing was rock solid. His Angela knew how to milk a line (as well as Tony Parker's prized piece of anatomy) like a champ.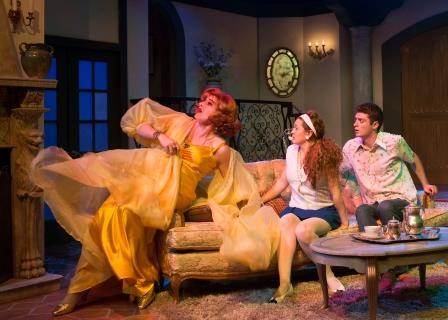 J. Conrad Frank, Ali Haas, and Devin S. O'Brien in a
scene from Die, Mommie, Die! (Photo by: Lois Tema)
Although far more sinister than Madame Arcati's séance in Blithe Spirit, Angela's Act II acid trip is every bit as hilarious and revealing. In a comedy built to showcase and revolve around a fading star, Mr. Frank knew how to work Angela's diminishing force of gravity for all it was worth. The rest of the cast orbited around her with maniacal glee, with particularly energetic performances coming from Ali Haas and Devin S. O'Brien as Angela's scheming children. I also very much enjoyed Marie O'Donnell's performance as Bootsie.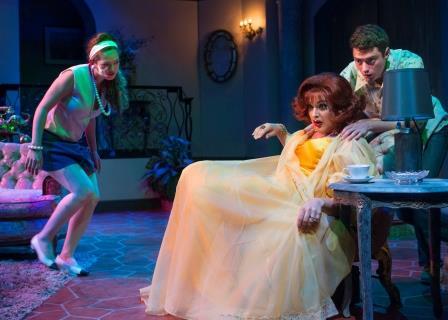 Ali Haas, J. Conrad Frank, and Devin S. O"Brien in
Act II of Die, Mommie, Die! (Photo by: Lois Tema)
Calling all HuffPost superfans!
Sign up for membership to become a founding member and help shape HuffPost's next chapter