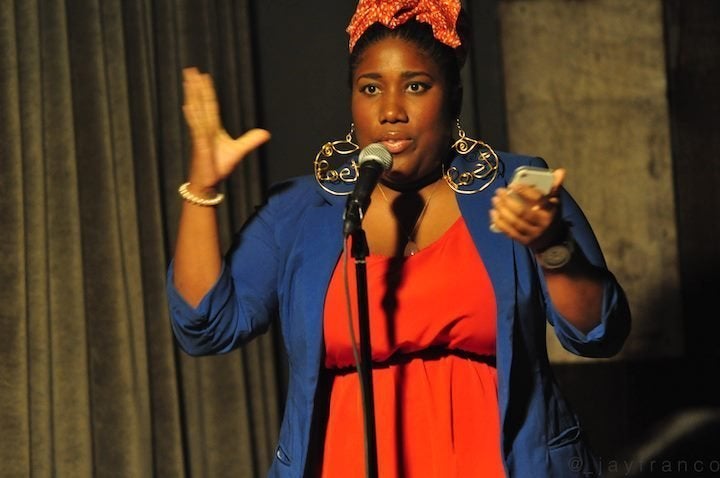 The poet who changed my life is Miss Quote, a Jamaican-born poet who got her start on the spoken word scene in Florida. She was the featured performer at the The Inspired Word, an open mic series held in a Lower East Side bar in New York. By her second poem, I knew we were going to be friends. What stood out to me was her self expression.
I remember almost not going to the event and arriving late. I was circling the streets unable to find the location. My hair was doing that half-curly, half-straight thing, my makeup was faded. I was wearing a kind of nerdy, ill-fitting knee-length pencil skirt in a place fit for something more flowy. Miss Quote was wearing a vibrant blue dress and bright red lipstick. If I was Liz Lemon, she was Aretha Franklin. Yet by the end of the night, we were both singing R-E-S-P-E-C-T.
When God told me we would be friends, He meant it. It was months after the inspirational spoken word experience and Miss Quote and I are sitting in a Cuban restaurant not far from where we first met. Her real name is Tianna Cohen Paul. Even in conversation, she rhymes and speaks in verses. Telling a story of a former colleague, she says, "She never learns her lessons. She misses her blessings." I inhaled across the table. There it was. That unfiltered, deep and passionate soul I learned to embrace in myself and others from that point on. When she unleashes her soul, she helps to releases mine.
I'll never forget a line in a poem when Miss Quote said, "I quit every job out of spite. This is my birthright". She was referring to writing and performing spoken word. It was the game changing moment in poetry where the underdog player had just intercepted the ball that was always theirs to begin with. All of the sudden, I was a poet's proud cheerleader. We were winning. Her nonprofit is Fly By Mic, a community activism organization powered by performance poetry. In 2011, she performed spoken word in 57 cities. One line from a poem in her chapbook Anarchy of a Bitten Tongue is "I tore away your body to get to your naked soul. It is the same reason we pick a flower and put it to our nose. Spiritual instinct I suppose."
Based on the fire in her poetry and the raw creative energy of the event, I realized I needed to change what I do in life. Why didn't I know these young, soulful, spiritual people surrounding me? More importantly, why doesn't everyone know the work of Miss Quote and other modern poets?
Beloved encounters with poetry and poets often stay hidden in our hearts. The sincerity. The meaning. Why we read it. What it means to us. Where we were physically and emotionally when it hit us. When we answer the question of what poem changed our life, all of these other answers pour out.
Check out how some readers are answering the question of what poem changed your life below. I'd love to hear yours. This way, what is hidden in your heart and mine can be found.
Related
Popular in the Community