I knew that I was going to be tattooed long before I even thought about being a writer. I can remember the moment like it was yesterday, I was listening to "Girls Girls Girls" by Motley Crue with a friend in his room, and on the wall was a poster of the band. They were standing on stage, half naked, and covered in tattoos. Maybe I'll get tattoos like that someday, but by the time I was almost of age, which is 18 in most states, it wasn't just a thought. It was a definite. My interest in Motley Crue may have waned over the years, but I wanted some ink, and I wanted it now.
So I did the stupid thing, and got tattooed at a terrible studio when I was 17. It was unsafe to say the least, and I'm fortunate that nothing bad happened. Luckily, the tattoo was simple enough that it would have been difficult for anyone to foul up, and I didn't come down with any communicable disease. That said, if the tattooist smokes in the studio, you can definitely do better. My tattoo, the logo for my first band, was awesome and I couldn't wait to get more. Unfortunately at the time (and luckily in retrospect), I was broke, so more ink had to wait.
But it didn't have to wait long. Just over six months later, and a few weeks before my 18th birthday, I went from customer to body piercer in the blink of an eye. I was shopping for ear jewelry one afternoon, and literally talked a customer at a shop into letting me work on him in lieu of the piercer that was about to butcher his navel. A bold move, and not one I'd recommend, but I was hired on the spot.
I waited to get sleeved until I was 21 years old. My first below the shirtsleeve tattoo was done by Craig Driscoll, on my left elbow. It hurt like crazy. Craig was a jackhammer around, over, and what felt like at times underneath my funny bone. I can honestly say that was my first truly painful piece of artwork. The theme of that tattoo ended up deciding what the rest of my left forearm was to turn into, a cartoonish native warrior with a viney jungle-esque background. Though Mr. Driscoll started this theme, my friend Shawn Heath completed the majority of the work. With one arm almost totally covered, I decided that I was only 21, and could wait to get the other arm done. But that was not to be.
Like any professional industry, there is an upper echelon of tattoo artists, and my friendship with a young artist from Chicago, Jon Clue, lead to meeting a true icon of the industry, Guy Aitchison. I got lucky, and Guy's sometimes years-long waiting list was to be cracked by yours truly when he and his wife, the also very talented tattoo artist Michele Wortman, came to my studio to do a guest spot.
Guy tattooed the backside of my right forearm with an amazing work of subterranean rocks and light, the caves of another world, were one feeling particularly poetic. My now-wife had planned to be tattooed by Michele at the same time, but before the session started, my not-yet-wife and I decided to have our engagement rings tattooed on by the couple, a pair of infinity symbols, hers by Michele, mine by Guy.
Other memorable tattoos were still to come: a worm from the Dune books on my right forearm was my first literary tattoo, and it was inked at a stage in my life where I wasn't even thinking about writing, much less putting in the necessary hours with the ever demanding, ever blinking cursor.
Sentimental additions came easily; shortly after we were married I added my wife's name in a heart on my arm, and my daughter's first and middle names were placed across my wrists just after her third birthday.
On my left hand there is a book to symbolize a love of reading and a hope for writing, on my right a bird with a ribbon bearing my lucky number. Those two pieces were 10 years in the making, my wife insisting I wait until my thirtieth birthday to cover my hands. I had a patience she wasn't expecting, and either the book or the lucky number seems to have done the trick as far as writing goes. The back of my neck wears a wooden spoon crossed with a wooden hammer, an ode to my maternal grandparents with my mother's maiden name running through it. Most recently, I got the logo for my publisher tattooed on my right ring finger, another engagement of sorts--a celebration of my first book deal. A moment that any writer would agree is worth inking in history.
It was with these all too visible images in mind that I began to write my second novel, A Good and Useful Hurt [47North, $14.95]. Surely years of living and breathing this stuff would make creating a horror novel based on the denizens of a tattoo shop easy, welcome fodder. Instead I forced myself to relive half a lifetime of memories, people, situations, trauma, blood and ink. What was too private, what was too out there? When it came down to it, I picked the truth whenever possible. As it turned out, writing was more similar to getting tattooed than I ever would have imagined. It can itch, it can be painful, but the really good stuff lasts forever. At least for me, the best tattoos and the best writing all seem to hurt.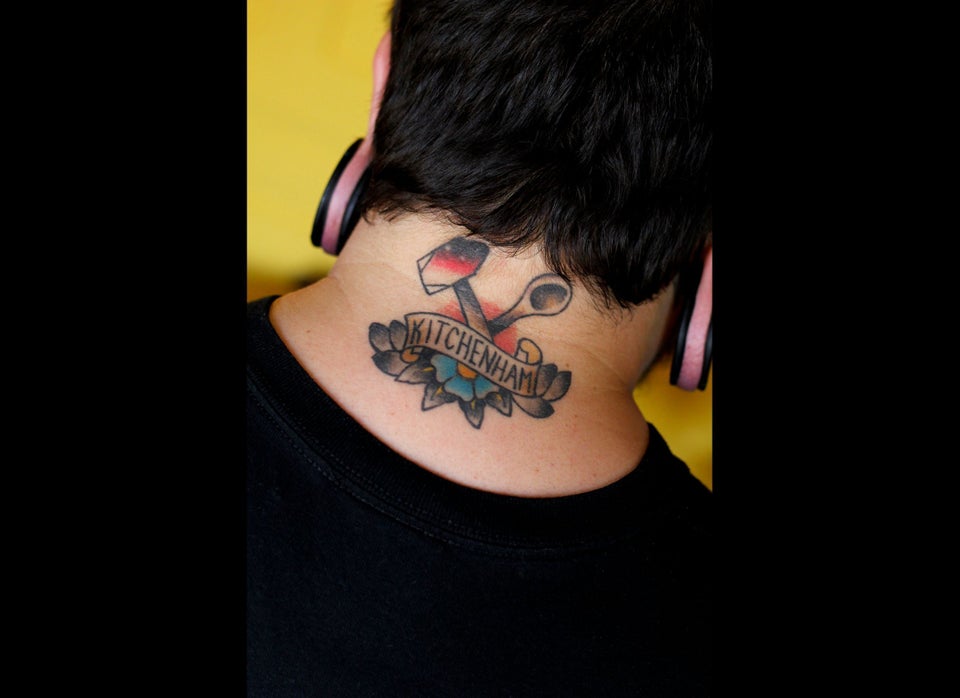 Gallery
Popular in the Community