 It's mid-afternoon on Monday, April 18, 2016 in West Baltimore. At the busy intersection of Pennsylvania Avenue and W. North Avenue, the atmosphere seems normal. MTA buses are packed with people making their daily commute and the street corners are filled with hustlers selling everything from "loose ones" (individual cigarettes) to jumbo lump crabmeat. Nearly one year ago, this intersection served as the epicenter for the unrest that pervaded the city following the death of Freddie Gray.
The CVS Pharmacy that was looted and set on fire has been torn-down and rebuilt. The glass doors and windows of the ACE Cash Express that were shattered have been replaced. The ingraining image of the Baltimore police car being stomped on and broken into has undergone a facelift: two new squad cars now reside in its place. These renovations are an aesthetic change from the post-apocalyptic landscape that plagued this area for the better part of 2015. But underneath the surface of reconstruction looms a feeling of disarray.
Freddie Carlos Gray, Jr., was a 25-year-old black American man who grew up in the poverty-stricken neighborhood of Sandtown-Winchester in West Baltimore. Born a twin to parents Freddie Gray, Sr., and Gloria Darden, Freddie was raised in a broken home infested with lead paint. Throughout his late teens into adulthood, he would often find himself on the wrong side of the law. Having been arrested on drug charges on different occasions, his final arrest came on April 12, 2015.
According to a police report, after an officer made eye contact with Freddie Gray he took off running. After detaining Gray, Baltimore police claimed that he was arrested for possessing an illegal knife. Baltimore State's Attorney Marilyn J. Mosby denounced the claim. What was even more confusing--and what became the center of national attention--was how Freddie Gray sustained a spinal cord injury that ultimately led to his death on April 19, exactly one week after his April 12 arrest. What is clear, though, is that after being placed into the paddy wagon, Gray was not strapped into a seatbelt. A violation of department policy. Many believed that officers took Gray on a "rough ride." Worst fears were realized when the state medical examiner's office ruled Freddie Gray's death a homicide in June.
The initial protests that ensued after Freddie Gray's death were, for the most part, peaceful. But on April 27, 2015, the day that the Gray family laid his body to rest, the energy in the city shifted completely.
I remember that day as if it were yesterday. Everything seemed to happen so fast. One minute, I got word of a purge flyer--calling for high school students to meet at Mondawmin Mall-- making its rounds on Facebook. Not too long after, loud, aggressive chatter coming from the mall's subway station traveled down in echoes, approximately six blocks to my front porch. As the melee made its way down to Pennsylvania Avenue, the sound of the spinning rotor blades on police and news choppers alike grew louder and louder. It was an out-of-body experience: witnessing the area of Baltimore I've known as hearth and home for 28 years, go to wrack and ruin in less than two hours.
While some people saw an opportunity to loot, there were others who had just reached their breaking point of social injustice. Years of police misconduct, broken educational systems and high unemployment rates had finally come to a head. Enough was enough. In his 1967 speech, "The Other America," Dr. Martin Luther King, Jr., proclaimed: "A riot is the language of the unheard." Were people finally listening now?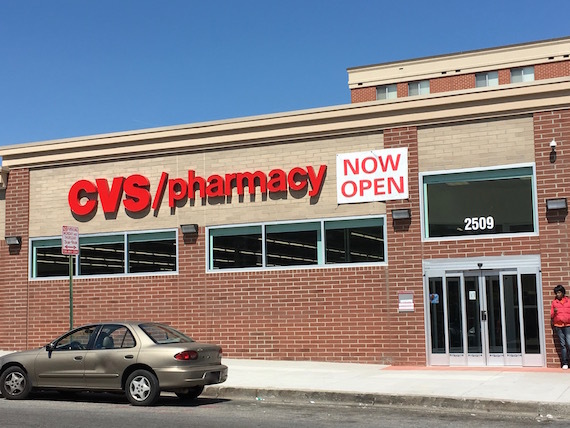 In the months following the unrest, homicides and shootings increased while arrests plummeted. The year ended with 344 homicides, the highest per capita rate in the city's history. The majority of the victims were young black men.
The Baltimore Sun reports that as of March 26, 2016, homicides were up more than 10 percent compared to the same time last year. The publication also reported an increase in employment for the month of March. How many minority applicants are getting hired, though, is left to be said. The forthcoming multibillion-dollar Port Covington redevelopment project looks to add more jobs to the city also.
As Baltimore improves on its socioeconomic development, justice for Freddie Gray remains in limbo. While his family was awarded a $6.4 million-dollar civil settlement, all six officers charged in Gray's death have yet to be found guilty. In the criminal trial of William Porter, the first officer charged, the judge declared a mistrial after the jury could not reach a unanimous decision on any of the four charges against him. Whether or not Porter will face a retrial is unknown at this point, but a judge recently granted a motion to compel Porter's testimony at two other trials. The trial of the second officer charged, Edward Nero, is scheduled for May 10.
The mayoral primaries are being held nearly a year to the day of the city's unrest. A year after incumbent mayor Stephanie Rawlings-Blake faced heavy criticism from Baltimoreans for her lethargic approach to the uprising. Blake has chosen not to seek reelection. In the face of last spring's tragic events, this may be the biggest mayoral election the city has ever had.
The struggle for justice and equality seems to be a never-ending one. Just last week, video of a Baltimore City police officer using excessive force on a young black man who refused entry into his home without a search warrant went viral. But the struggle extends far beyond Baltimore. It travels to Florida with Trayvon Martin, Chicago with Laquan McDonald, Cleveland with Tamir Rice, Ferguson with Michael Brown, New York with Eric Garner, makes a pit stop in Hollywood at the Walk Of Fame, and reaches its final destination at eternity--in the book of martyrs.
ALL PHOTOS BY MATTHEW COOPER
Popular in the Community