[This article, the third of a five-part series, originally appeared in the January/February 2017 issue of inMotion, the bi-monthly publication of the Amputee Coalition. Contact the Amputee Coalition to learn how you can get involved in lowering the bar for people living with limb loss and limb difference.]
It was a decade ago, a new year, January 2, 2007. Aaron Holm was at work in Minneapolis that morning when he received a call from his assistant who was stuck on the freeway with a flat tire. Aaron says, "I think she was six months pregnant at the time so I knew we needed to get her out of there."
He went to the aid of his assistant and had removed the flat tire when his life changed forever. While bending over to put the tire in the trunk of the car he was struck from behind by a vehicle traveling 55 miles per hour. He was pinned between the two cars with both legs crushed. He lost one leg at the scene and the other in surgery hours later. He recalls thinking he would never walk again. Fully conscious on the shoulder of I-394, he told me "I also thought, 'Oh my God, it's a new year. I have a full medical deductible to meet.'"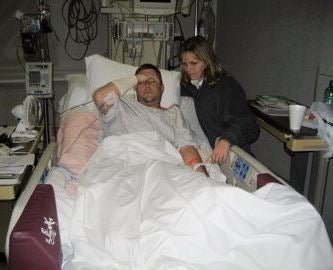 Looking back through a ten-year lens, we chuckled about that, but as he related his story I thought of a friend in Vancouver, an above-knee amputee with a different story. She was reimbursed by the British Columbia Ministry of Health for osseointegration surgery performed two months ago in Sweden. She has dealt with many things but medical costs aren't at the top of her list. There is nothing easy about losing a limb. The very real financial cost for many working Americans exacerbates a loss that is hard enough on its own.
Aaron told me his three children, who were six, five and two years of age at the time of his accident, were at the front of his mind from the moment he saw his destroyed legs. Five days passed before the children were allowed in to see him in his hospital bed. "At their age," he said, "they really just wanted to see their dad. They were curious about the accident and my injury but their mom prepared them. The oldest could process the information more than the other two, but really none of them was put off by it. They just knew Daddy had a bad accident and they were happy to know I was coming home soon."
In fact Aaron was home just 19 days after the accident. On his first night home he joined his children in their upstairs bedrooms and put them to bed after reading a story. Aaron's children remain at the center of his very busy life today. The children are active in sports and the community and Aaron attends their events, wearing shorts whenever possible. "For the kids and their peers, my legs are normal. They've always known me this way. They don't really notice it anymore and that's how it should be."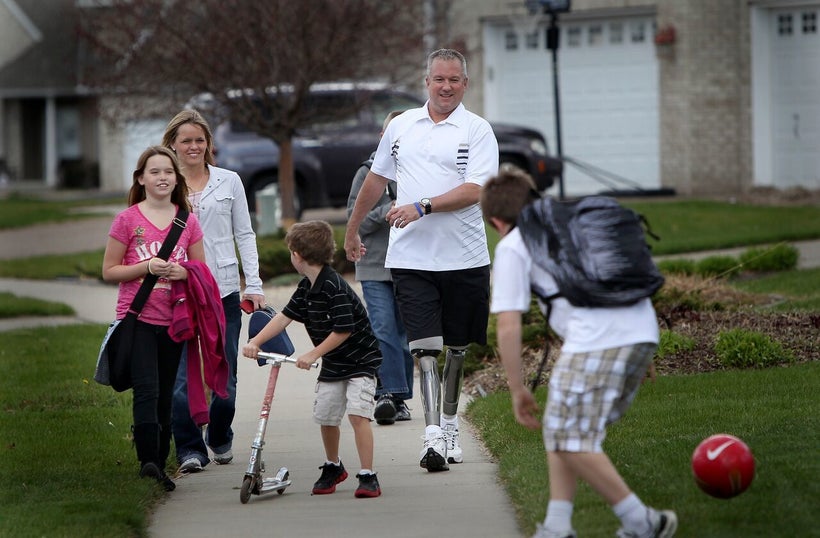 "It's important to me to be involved in the kids' lives," Aaron told me. "Their dad has different legs. They know that, but honestly I think they forget about it most of the time. I speak at their schools and they like sharing my story. It gives me an outlet to promote awareness and inclusion."
I asked Aaron if those of us living with limb loss have a responsibility to help normalize our reality for the community at-large. "I think we do," he said, adding, "My first goal 10 years ago was just to walk. But what technology can do for us now makes it possible for us not only to ambulate, but to really live. I can chase my kids. I can lead an active life and the more people who see that, the more normal it becomes."
Aaron's normal life keeps him active in the world every day, his legs on display. He now works as the Manager of Consumer Marketing and Engagement for Ottobock, makers of the microprocessor knees that make his active lifestyle possible. He plays sled hockey, swims and rides a hand bike but his passion is golf. "It's was a big part of my therapy," he says. "I really struggled with it. How does a double-amputee swing a golf club? I worked at it until I found out what my legs could do. Each time I reached a new plateau I pushed a little further until I knew the limits of the legs and understood how to get them to do what I needed them to." Those of who never hit a good drive with two legs could learn a thing or two by watching Aaron's swing.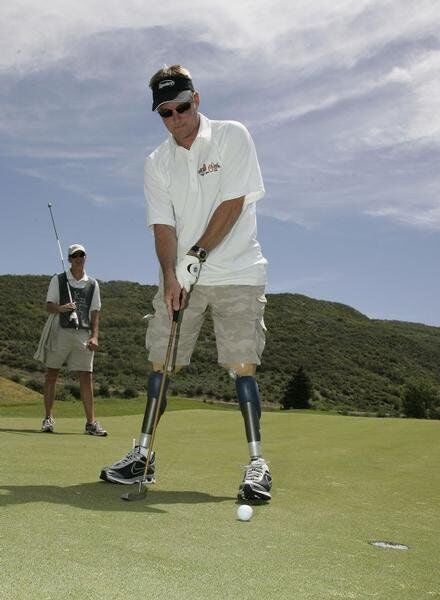 His work takes Aaron into the world as an advocate and spokesperson for the limb loss community and his own proficiency sets an example for what is possible. He is also the founder of a Minnesota-based nonprofit organization, Wiggle Your Toes, which helps people deal with life after limb loss by providing practical answers, tips and solutions, empowering them to take action and move forward with confidence. The charity was born in the days following his accident. He founded it from his hospital bed while assembling teams of friends and loved ones to hel him begin charting a course to his own new normal.
Aaron's involvement in adaptive sports and an active life occupies much of his time. He oversaw the prosthetic support team at the 2016 Invictus Games in Orlando and looks forward to his involvement in this year's games in Toronto. "We're basically a pit crew providing support to the athletes," he said. "Last year we had an athlete scheduled for a sprint event at 8:00 in the morning and at 7:00 she came to us with a broken prosthetic. We were able to get the leg repaired and fine-tuned and she made her race on time."
In 2016 Aaron was also involved in advocating and protesting against the proposed Medicare local coverage determination (LCD) for lower limb prostheses. The proposed LCD placed extreme limits on eligibility for prosthetics, set lifetime maximums for lower-limb prosthetic users and created filters, barriers, requirements and thresholds to effectively eliminate reasonable access to prosthetic benefits. The LCD proposed unprecedented reductions in prosthetic benefits and would have set a standard for private insurers at a time when technological advances have begun to restore countless people to active, healthy, productive lives.
Aaron joined hundreds of other advocates in Washington last August for Hill Day, a rally organized by the Amputee Coalition. Participants insisted that their prosthetic limbs are not luxuries and took their message to the open hearing on the LCD in Maryland. At the hearing, Aaron and many other advocates got a chance to confront decision makers considering the LCD, which was proposed by NHIC Corp., the contractor that administers the program providing durable medical equipment to Medicare recipients in Connecticut, Delaware, Maine, Maryland, Massachusetts, New Hampshire, New Jersey, New York, Pennsylvania, Rhode Island, Vermont and Washington.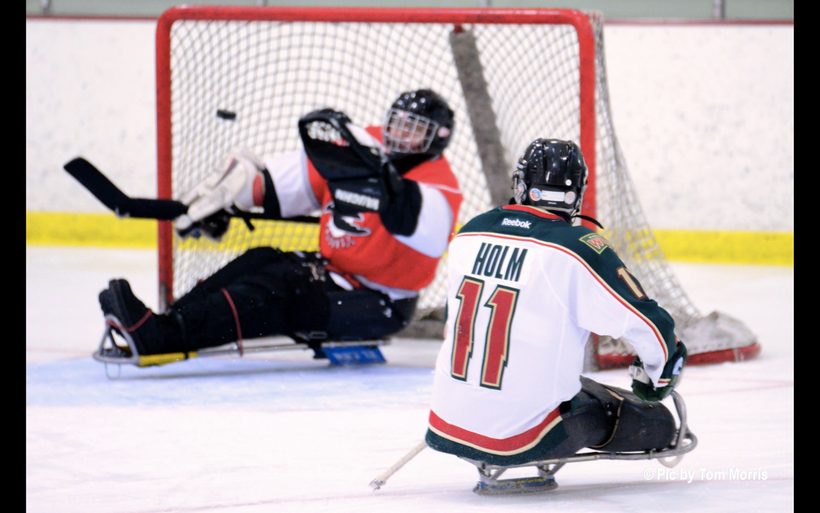 The proposed changes would have immediately affected residents of those states and would have created a model for contractors nationwide. Proponents' views were reflected in a statement by the Centers for Medicare & Medicaid Services that said "CMS believes that Medicare beneficiaries will continue to have access to lower-limb prosthetics that are appropriate. [T]he intent of this proposed LCD is not meant to restrict any medically necessary prosthesis." In reality the changes would have dramatically restricted access to necessary prosthetics through what most detractors believe was a thinly-veiled cost-cutting strategy.
"I think they were just cutting where they thought they could cut," Aaron said, referring to the LCD's draconian cost-saving measures. "I was stunned to discover that we [amputees and advocates] weren't invited to advise on the policy before it was proposed. How could they recommend a policy that didn't include consultation with anyone affected by it?"
For Aaron, setting any arbitrary limits on coverage misses the point. "I think we need to assess two things," he said. "We need to look at patients' lifestyle before limb loss and their potential to lead active lives afterward. What we can do now is nothing like what we had to settle for in the past. We can run. We can climb stairs. We can get back to work. Without the products I wear I would be forced into a sedentary life. As it is, I work, I'm paying taxes and I'm giving back. It's a simple equation."
The possibilities of life after limb loss are increasingly apparent. Aaron is one of a multitude of amputees living a life in plain view. He believes the visibility of amputee spokespeople is important to preserving access to prosthetic benefits and opening doors to the future.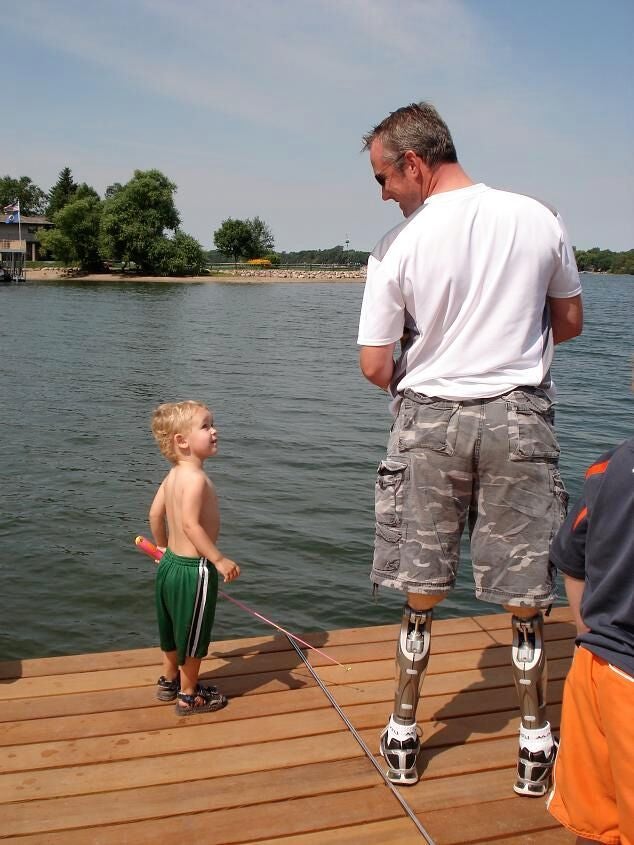 Massive, sustained advocacy and input effectively halted the implementation of the LCD, although it remains on the table and could be revisited in the future. Aaron is driven to educate policy makers and the public in general in order to ensure that prosthetic technology remains in reach for all those who need it. "At a hearing to push for prosthetic parity in Minnesota I was asked by a member of the panel to explain the difference between prosthetic and orthotic," he said. "This was a person making decisions about prosthetic and orthotic benefits. We have a lot of work to do educating people in power."
I asked if Aaron thought there were any foreseeable implications of the 2016 presidential election. "One thing," he said, "is that we have to keep working and advocating. I think our access in the long run will depend on how willing we are to stand up and show what prosthetics can do for the user."
He notes how far prosthetic technology has come in a very short time. Today it's not just about being able to walk. New products mean new goals and we're already at a point where limb loss doesn't mean disability."
Despite his optimism, Aaron concedes that reduction in benefits is a real possibility. "The LCD was a case of freeing up funds wherever they could. Money is at stake and that motivates people."
Aaron believes keeping a high profile is important, but the benefits of prosthetic technology for active users are only visible if they are willing to put their lives on display. For advocates, the benefits of an active life and awareness of the actual cost savings that come with it will help direct policy going forward. "We used to cover up our prosthetics," said Aaron, "because they were something people weren't used to seeing. We need them to get used to it."
Note – I am grateful to Ottobock, makers of my own C-Leg 4 prosthetic knee, sponsors of Aaron Holm and active amputees around the world. To learn about Ottobock's industry-leading prosthetics and orthotics for upper and lower limbs, visit them at www.ottobockus.com.
Calling all HuffPost superfans!
Sign up for membership to become a founding member and help shape HuffPost's next chapter
This post was published on the now-closed HuffPost Contributor platform. Contributors control their own work and posted freely to our site. If you need to flag this entry as abusive,
send us an email
.