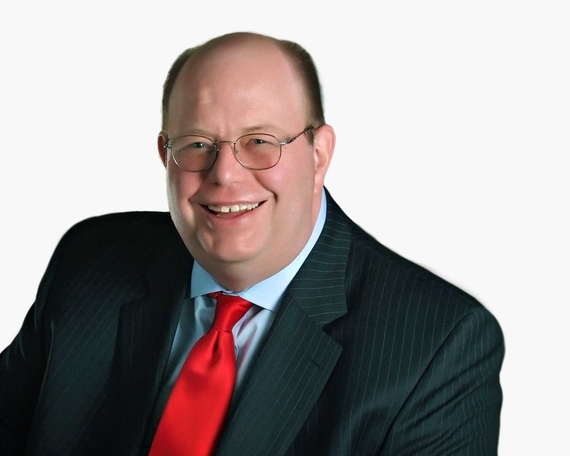 "Gonna take your mama out all night
Yeah we'll show her what it's all about"
-Scissor Sisters
"Me babe, steppin' out
Into the night
Into the light"
-Joe Jackson
I'm a life insurance agent.
It's taken me 33 years and 12 days to admit that.
Ironically, there has never been a time in those 33 years and 12 days where I did not make a living selling life insurance products.
I've called myself other titles, masking that my income comes from the life insurance industry. It's been far cooler to list my other occupations such as syndicated columnist or best-selling author. Telling people about what to do when you win the lottery is a great conservation starter and has brought me international recognition, but the occasional lottery winner that makes their way to me is not a primary occupation. I have 12 different occupations, but I started in the life insurance business 33 years ago and never left.
I've just never wanted to admit it.
There are multiple reasons why my lifetime occupation became a semi-hidden secret. The industry itself went through the same kind of identity crisis. I started with Mutual of New York, the oldest mutual insurance company in the United States. The MONY name was widely recognized (but often confused with New York Life) and even had its own pop single as Tommy James (of Tommy James and The Shondells) wrote the song "Mony, Mony" (later a hit for Billy Idol) after seeing the MONY building in New York.
During the 17 years I was with Mutual of New York, they called themselves MONY, MONY Financial Services, and wound up as the MONY Group before they were purchased by AXA. I own several insurance policies with MONY and I still get bills under that name, even though they come from an AXA service center. I feel like someone drinking a beer like Blatz or Schlitz where the brand is marketed by a different brewer.
I was lucky to hit the life insurance business when big companies were pushing the "career agent" concept. I went through four years of an intense training program. MONY spent thousands for me to take the classes to get three professional designations and paid for my Master's Degree in Financial Services. They sent me to training seminars all over the country and the education within our agency seemed to be non-stop. Very few companies do that now.
We would have 100 people start training at our agency and three would be around four years later.
It was like the Green Berets; those that survived the training system did incredibly well. If you drop into any major city, you will find that the most knowledgeable life insurance agents came out of that agency system. This means they are old. I'm 55 and was at the tail end of that intensive method of training. A 2012 article in Life Insurance Selling said that the medium age for a Million Dollar Round Table member, which is the elite of the life insurance business, is 56. It also noted that the number of independent agents has been steadily declining, which is ironic as the industry is one of the few places in the financial services world that needs to be adding members..
There are reasons people shun a career in life insurance. Most companies operate on a commission only basis and people want the security of a steady paycheck. Life Insurance seems simple on the surface, but to make it to the top level you have to study and never stop studying. I used to think it was hard to build up a client base, but not now. There are so few people going into the life insurance business that the market is undeserved. I frequently ask my friends when the last time a life insurance agent called on them. It never happens.
A major reason that people shun being a life insurance is the stereotype of an agent is Ned in Bill Murray's movie Groundhog Day. Obnoxious, pushy and doing anything to get a sale. It's a lot easier to call yourself a financial planner than to be in that guy's league. I've seen agents sell products that aren't suitable and worry more about making a commission than meeting a person's needs. You see that in every occupation, but there is not a balancing media figure in life insurance. There is no such thing as a nationally known life insurance agent and the presidents of life insurance companies are unknown too. Thus, Ned becomes our face to the world.
There are a lot of licensed agents because banks and companies target the middle of the economic scale, but most of those agents aren't experts. They learn how to sell a few products along with a bunch of non-related products.
Even the best don't call themselves life insurance agents. A normal practice is to dress themselves up in fancy titles like "wealth creation experts" or "estate planners." There was a character in the Alan Alda movie The Four Seasons who introduced himself as an insurance agent and his soon to be ex-wife said, "You're not an estate planner, you're an insurance salesman." The insurance salesman remark was meant as a putdown. Maybe it should have taken the mojo to stand up in pride for his profession.
I came into the business before Groundhog Day, but the stereotype was firmly in place. My father was a bookie, foresaw the rise of legalized gambling and wanted me to use his contacts in Las Vegas to get into the casino business as it was ready to launch. A visionary move if I wanted to be in family business but I didn't. When I told him I was becoming a life insurance agent, he totally flipped out. He would have been happier if I had become a loan shark or a Mafia hit man. He kept hoping that I would quit, never referred any of his friends to me and didn't buy a policy until I had been in the business eight years. Three years later, he died of prostate cancer and I delivered the death benefit to my stepmother.
I made it to the Million Dollar Round Table during my second year and had a lot of well-known and wealthy clients, who included a sitting Governor, but I never identified myself as an agent. I did financial planning and investments, but what was really successful was my career as a structured settlement consultant. Structured settlements are funded by life insurance annuities, but I was the first in Kentucky to specialize in structured settlements and we grew nationally. Ultimately, I got away from helping individuals with life insurance as I focused solely on structured settlements and annuities. Still life insurance products.
Since I sat on the advisory boards of a couple of insurance companies and made it to the Quarter Century Club with the Million Dollar Round Table, I stayed keenly in touch with what was happening with life insurance, and a lot of good things are happening. The price of insurance, especially term insurance, has gone down dramatically, and it's much easier for people with ailments to get a policy. Some people who hated cash value insurance started to like it again after their investments were hammered in 2008 and the interest rates at banks are near zero.
I heard Ralph Nadar lecture when I was in graduate school at Vanderbilt and he wrote a book bashing the life insurance industry as it was a popular thing to do at the time. Andrew Tobias wrote a great book on the topic. In the 1980s, A football coach in Georgia named A.L. Williams started a company that promoted "buy term and invest the difference" like it was a religious mantra.
After three decades of working with lottery winners and injured people, and seeing 70 percent or more run through the money in five years or less, I can tell you that even if they buy the term insurance, very few are "investing the difference." As Will Rogers noted, most of them are spending money on things they don't need to impress people they don't know.
They need life insurance, but very few will have have much, or any, when they die.
Nadar saw the insurance industry from his inside-the-beltway lens. Because of its economic power, the insurance industry has big clout in Washington, but Ralph said that he thought career agency systems existed so that the big companies would have at least one agent in every Congressional District. Ralph has done a lot of wonderful things to help consumers, but he missed on the idea of career life insurance agents. As a consumer advocate myself, I see that we need knowledgeable people to educate people about how life insurance can help them. Washington and putting stuff out on the internet is not the answer. People need real life advisors who know the options and how to meet needs.
One of my reasons for "coming out" is that in doing my own consumer advocacy (an unpaid but passionate hobby), I see the aging and declining pool of professional life insurance agents as a critical need. It's been a decades before I let people know that I know the business.
One of the biggest points of contention is how life insurance advisors are compensated. Most are agents who get commissions. There are life insurance consultants who can take a fee to give advice about life insurance. There aren't many of them, but I am licensed by my home state of Kentucky as one. Some states require a separate license, some don't, and the ones that do normally allow an out of state consultant to get licensed in their state.
I'm not that hung up about the fee versus commission controversy. The battle is fought in the securities industry as well. Just because someone is paid a fee does not make them knowledgeable or honest. Just because someone accepts a commission does not mean they are a crook. I know excellent people on both sides of the argument.
The best way to determine honesty is by checking credentials and professional reputation. Get a referral from a happy client.
I run into a lot of people who live by the "buy term and invest the difference" mantra. Some of them are investment people who will make money in fees if people buy other products. Some of them sincerely believe that all the people they meet will invest with discipline and not use the money to take a trip to Disney World. A lot of people near the financial profession really don't understand life insurance and it is easier to ignore it. Insurance companies ought to work to make their products simpler but they seem in an arms race with other competitors to add the most bells and whistles to their policies. Just get us something simple that will be in place when the client needs it.
I'm sure that some might think that my use of the term "coming out" is demeaning to gay people who have struggled with keeping their sexuality in the closet. One of my closest friends came out years ago, at a time when my generation and neighbors weren't accepting. Thus, I became a staunch supporter of gay rights as civil rights long ago and know how difficult it has been for my gay friends to come out. My father wasn't happy about me going into the life insurance business, but I wasn't barred from Thanksgiving dinner or anything like that. I've had gay friends whose families refuse to speak to them, but being who they are, and being proud of who they are, is an important part of someone's self-esteem and self-identity.
As a heterosexual grandfather, I am using the term correctly. The life insurance business is a part of who I am. I've been in it 33 years and 12 days and hope to get another 33 years and 12 days in it. I've made a difference in a lot of people's lives and I know it. On the other hand, there has always been shame in embracing the title. Some friends are stunned to find out that I really know a lot about life insurance. Even though it has been the foundation of my life's work. I don't seem to lack in self-esteem or self-identity, but until I am 100 percent transparent about what I do, there is something lacking.
As noted, there are not many well-known life insurance and annuity advisors, anywhere in the world. I have the media platform and desire to be a role model, and maybe I can inspire others to do what I have done.
Be a well-educated life insurance advisor. It's is a great profession. And the world needs you.
Don McNay, CLU, ChFC, MSFS, CSSC is a life insurance advisor based in Lexington, Kentucky. He has Masters Degrees from Vanderbilt University and the American College. You can write to him at don@donmcnay.com or read more about him at https://www.youtube.com/watch?v=pkMgs3lFwkQ
Related
Popular in the Community