A glass of crisp white and a rocket salad. And the potato mash, please. I haven't met a potato I didn't like. Famished each afternoon of my recent magical mermaid holiday, I sat down with wet salty hair, ordered and devoured. Swimming burns so much energy. I watched the beach full of swimmers and surfers. This is one wave of heaven, for me I thought, as I scribed notes on my pile of 4 X 6 cards. Noting and documenting my time in Oz waters, while watching it. I am lifted up this day. I met Mark and I get it. The magnificent pull of the sea. The perfect simple elegant solution to all that troubles us. Move in the water. Per Mark's prescribing wisdom: I ate. I slept. And then I swam. Again and again.
My unexpected trip to the southern seas, brought me face to face with my undiagnosed fear of the ocean. My water coach is humbled by the ocean. It's largeness and beauty is ever changing. We leave our land life stresses in a tumbled jumbled pile with our flip flops and stripped off clothing. We leave it behind and trade in for feeling and being alive. Our focuses are honed while at the same time we can zone out in the fanciful slow motion of our under water world. The issues on land wait at the shore for us to tend to later. For now, one stroke at a time is top of mind. Sound is muffled and we can hear our inhales and exhales as if they are coming through earphones set on low volume, an echo keeping us lulled and alert at the same time. It feels, to me, like a spontaneous moving meditation.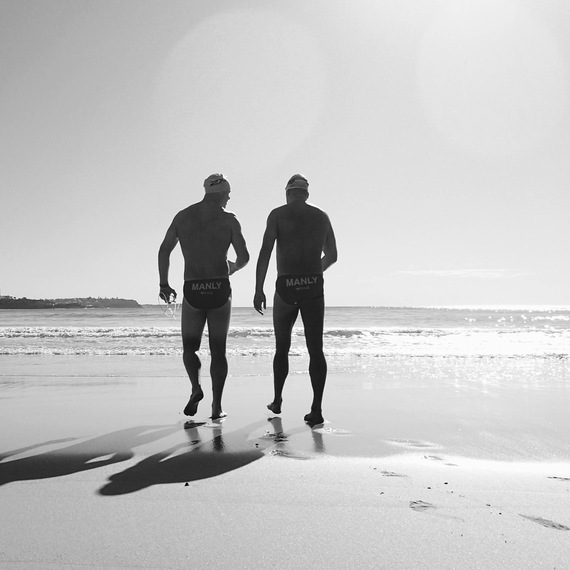 Mark teaches and trains the right way, in the water, always. Everyone from newbie's like me, to competitive athletes. Laila, my hostess and Bronze level Manly Beach life saver, invited me to the water. Mark instructed us on stroke and breath. After some basics (exhale, 1-2-3 strokes and an inhale, flutter feet calming, and so on), Mark took us out deeper into Cabbage Tree Aquatic Reserve. My cells turned inside out that day, in a magnificent manner, a few weeks back. I find it astounding that such simple, lovely, being present moments can ignite game changers in our lives. I went back into the sea for more of its transformative super hero power, each day, so I could store extra up for when I went back to my land bound life in the U.S.
Swimming freely in the ocean is an exhilarating experience. Jump in. That's Mark's bottom line. Once one is comfortable in the water, the sea can transform your body and mind.
I called my coach yesterday. He held a sacred 28 minutes on land between swims for our follow up interview. Mark shares, I believe in what I do. Sun and water makes me tick. This is my purpose. I traded in my chef's hat for a swim costume. I am always in the water with my clients, 1-2 arm lengths away. The answer is not in your apartment. Yes, swimming is hard, especially when there is fear or there isn't an easy exit, up the ladder as in the case of the confines of a swimming pool. There are many little adjustments we must make when we swim. As we do in life. Each movement is connected. There is usually a high level of anxiety in the sea for newcomers. Especially, if they don't breathe properly. It comes out in their body language.
In order of importance, Mark says, first Ocean Confidence must be attained then Stroke Development. How to feel and be safe has to happen before one can concentrate on proper elbow angles and such. An exit strategy is important. Having a plan to swim from point A to point B is very crucial to success in the sea. There can be a massive fear of the unknown. One just needs to be open and honest about it. Address it and you can move through it. Know what is down there. Look at what you fear. There are no pool walls to cling to. There is a lot to overcome. Patience. Relax and appreciate where you are.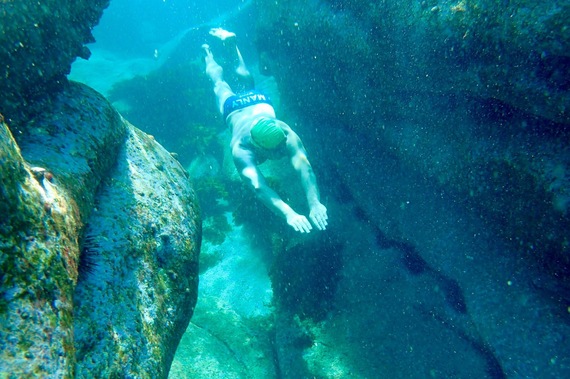 Mark, like fellow Manly swimmers and rescuers feel the shark gets a bad rap on land. We are swimming in their back yard, Mark insisits. We are visitors to the sea creatures' territory and we must respect that. You have a higher chance of getting hit by a shopping trolley than being eaten by a shark, Kay. He has a point, media doesn't often report the shopping cart injury incidences, just the jaws chomping stories.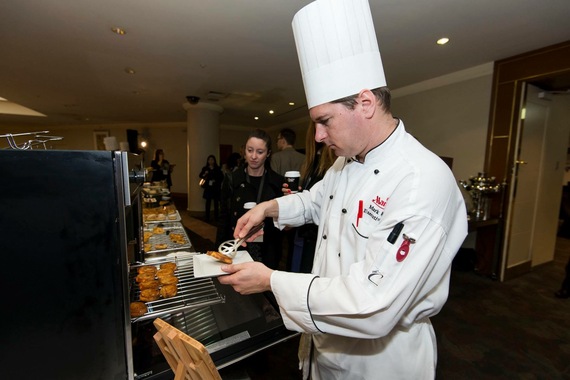 Mark witnesses health miracles everyday. Beside the physical wellness attributes of swimming in the sea, transferable confidence is evident. Mark himself took to the sea and dropped his ferociously high blood pressure down to normal levels and found his purpose. The sea is a positive environment. This is a sport you can fall very hard for, Kay. This is a positive environment in which to thrive. He took a risk listening to his inner voice, inviting him to the sea. He had spent years as a world-class chef and the hours and stress took a toll on his health. The beach, the water, is, now, his passion. Mark is, after all, a double Aquarian. He is wiser now, knowing one can make a living with what one loves to do. Mark's mission is to connect people to the ocean, to the beauty, to the healing and to the joy the sea can bring.
You can see it in there eyes, he enthuses. Those that swim in the sea. The possibility they see for themselves. The wonder. The confidence. This keeps Mark in the water. The knowing he sees each day, the knowing that he is helping influence the wellness of those that he coaches. Mark lifts me up with his genuine desire to bring people the possibility of living a life in full tilt, water wing free.
My last day, summer camp sad me swam out for one last kilometer off the Manly shores with my coach. Mark says, to start, KK, look down. Open your eyes. Exhale. Slow down. Bend that left elbow a bit more. I feel freedom and joy mix in with the melancholy. He offers me his towel when I get out. The sun dries the rest of the sea into me. I will rinse off later. I am hungry and need a little nap.
Life, truly, is simple. Eat for fuel and joy. Sleep to restore and dream. Swim to transform your body and soul. Repeat.
Mark Bemer Website
Written by Kay Tacke Morse
Photo Credit to Jennifer Gwynne
Related